Practice Fusion Wants to Be Free
A startup grows by giving its technology away to doctors
Suzanne Allard Levingston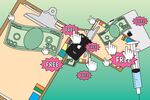 The San Francisco headquarters of Practice Fusion contains a vivid reminder of the startup's lean early days. Sitting in the lobby is a red and white 2001 Ducati 996S motorcycle under the words "Be Scrappy." Ryan Howard, who founded the medical software company in 2005, once covered payroll using the insurance payment he received for an accident he had on that bike.
In 2007, Practice Fusion's Web-based electronic health record (EHR) system was used by 92 medical professionals. Today the company has a customer base of more than 100,000 doctors and clinical office staff, making it the fourth-largest vendor of EHR systems for physicians in the U.S., according to industry researcher SK&A.
What sets the 350-employee startup apart from its much larger competitors is that it makes its product available to doctors for free. Howard, a former IT consultant to a large Bay Area medical group, says that he tried charging $300 a month for access to Practice Fusion's system, far less than competing products offered by Allscripts Healthcare Solutions, Epic Systems, and McKesson.
Even that, though, proved too high for doctors, a high proportion of whom own their practices and must foot the bill for technology upgrades. So a few months after the launch, Howard dropped the price to zero. Practice Fusion's business model "is completely disruptive to the industry, and the company is growing by leaps and bounds," said Ryan Daniels, a partner at investment bank William Blair who tracks several of the publicly traded electronic health record providers, in an e-mail.
The company makes money by charging more than 70,000 pharmacies, 300 diagnostics labs, and 21 imaging centers for access to its captive community of medical pros. For example, labs pay for the convenience of transmitting test results rather than faxing them, while drugmakers pay to deliver targeted ads to doctors. For an additional fee, companies can use a Practice Fusion tool to sift through its trove of more than 80 million patient records to identify patterns, such why  doctors might be choosing one drug over another. The data is stripped of any information that would reveal the identity of the patients. The company is also working with insurer Aetna to identify at-risk patients to head off costly trips to the emergency room. "We are the single-most active place doctors are online on a daily basis," he says. For businesses trying to reach them, "that's incredibly enticing."
The closely held company does not release financial information, but a company spokesperson says revenue almost tripled last year. Growth is being driven in part by 2009 legislation designed to speed up the digitization of health care through a multibillion-dollar carrot and stick system of government incentives and penalties. In the U.S., "health care is really just starting to enter the information age," says Andrew Berens, a senior analyst at Bloomberg Industries.
Practice Fusion has raised $149 million from venture capital firms. Approximately half of that came through a September 2013 financing round led by Kleiner Perkins Caufield & Byers that valued the company at $700 million, according to a person familiar with the deal who asked not to be identified because the information was not public. "Practice Fusion has been raising money at a pretty steady clip," says Raj Prabhu, chief executive officer of consulting firm Mercom Capital Group. "They've been talked about all over the place as one of the top contenders to go public" perhaps in 2014 or 2015. Howard was more circumspect, saying an initial public offering could take place sometime in "the next few years."
Although it operates in a field rife with concerns over privacy and data security, Practice Fusion has so far managed to avoid controversy. There was a minor brouhaha in 2013 when it rolled out a system that allows patients to write reviews of their doctors. After several physicians complained, Practice Fusion posted a statement on its website noting that doctors had been given a year's notice that patients would offer feedback and had the right to opt out.
That hiccup didn't dampen Andrew Bronstein's enthusiasm for Practice Fusion's product. A computer-savvy orthopedic hand surgeon in Las Vegas, Bronstein bought a computer system seven years ago. As it was being installed, his IT vendor went bankrupt, leaving him with password-locked equipment and a bank loan. When Bronstein heard about the free Practice Fusion system a few years later, he decided to try it. It took just a few hours on a Sunday night to adapt the site's templates for his practice, Bronstein says. The orthopedist's digital conversion went so smoothly that during a family vacation to San Francisco in 2010 he showed up at Practice Fusion headquarters to shake Howard's hand.