The Ski Resort Fight Over Park City Mountain
Park City was a quiet town. Until Vail Resorts arrived like an avalanche
By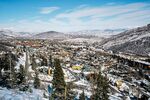 The best way to get from Main Street in Park City onto the slopes of Park City Mountain is to climb two flights of stairs to the top of a parking garage, put on your skis, and board the Town Lift for a 15-minute ride to midmountain. From the three-person chairlift, you can see the entire town of Park City (pop. 7,800) behind you, including the old-fashioned marquee of the tiny Egyptian Theater, which becomes the focus of international attention when the Sundance Film Festival comes to town for 10 days every January. Park City proudly considers itself more sophisticated and fun than the rest of Utah, home not only to Sundance but also to a brewing company that makes and sells Polygamy Porter ("Take some home for the wives") and to Utah's first distillery since the 1870s. It's a place so appealing that jet-setters from both Hollywood and the Republican Party can vacation side by side in peace. Will Smith and Mitt Romney own homes there; Taylor Swift has come for Christmas.
Silver mining put Park City on the map in the late 1800s, but now its chief asset, outside of Robert Redford, is its three ski resorts and thousands of skiable acres. Park City Mountain, at the center of it all, gets as much snow as Colorado's biggest resorts, with fewer crowds. On a recent visit at the start of the season, there were no lift lines, and the only sound was the steady hum of chairlift motors, punctuated by the holler of a skier or the dull whoomp of snow falling off trees. For 50 years, Park City Mountain Resort (PCMR) has operated those lifts, groomed the slopes, patrolled the bowls. The resort celebrated its golden anniversary in December with a funk band and fireworks. It has also declared its intent to run the mountain for another 50 years. At the moment, that future is very much in doubt.

PCMR doesn't own all of Park City Mountain. Just up from the base of the Town Lift, an unmarked boundary divides the land that the resort owns around the base from the rest of the land, which it leased until recently from United Park City Mines. In 2003 a Canadian company called Talisker purchased United Park City Mines and, with it, the resort company's lease. The rent was about $155,000 per year, with an option to renew every 20 years until 2051. (Talisker declined to comment for this story.)
When it came time to renew the lease in the spring of 2011, the resort made what general manager Jenni Smith now calls "a clerical error." Smith, who has worked at PCMR for 34 years, teared up when she talked about it. PCMR sent the written intent to renew two days past the official expiration of the lease. For eight months, Smith didn't think much of it, and over the summer, PCMR invested $7 million in mountain improvements, including rebuilding a chairlift.
In December, John Cumming, chief executive officer of the resort's parent company, Powdr, says he received a letter from Talisker contending that PCMR had not legally renewed. The mountain was no longer its to run. The next 18 months were painful, according to Cumming and Smith. They argued that they had renewed; they also offered to renegotiate, to raise their annual payment to several million dollars. Talisker refused, and the tenant and its landlord went to court.
At the end of May 2013, as part of a $25 million-per-year deal with Talisker, Colorado-based Vail Resorts assumed the rights to Park City's disputed terrain and to the legal fight. Three months later, acting on Vail's behest, the Summit County sheriff arrived at Powdr's office with an eviction notice. "Unfortunately, this is no longer just a good-faith disagreement," the notice read. "[We are forced] to take a different approach to our dispute and long-term relationship." The resort had a new landlord—and a harsh reminder of the shifting realities of the ski business, which every year is less local and quaint, and more like any corporate dogfight.
 
 
Vail Resorts is the New York Yankees of the ski industry. Its flagship, Vail, manages to be both the most popular—it boasts more than 1.6 million skier days per year—and the most expensive. In high season a single-day lift ticket costs $139. Until the initial public offering of Intrawest on Jan. 31, Vail was the only publicly held ski resort company. It operates several resorts besides Vail, including Breckenridge, Beaver Creek, Keystone, and Heavenly Mountain. Together they are 5 of the 10 most visited ski resorts in the country, and 3 of the top 4. Vail also develops, owns, and manages hotels, condos, restaurants, and retail stores that surround its mountains.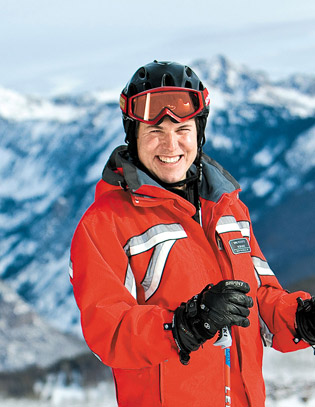 Rob Katz is the architect of much of Vail's success. Katz was just four years out of college and working at the newly formed Apollo Management in 1992 when the private equity firm acquired what was then called Vail Associates. Katz was part of the team that took Vail public in 1997. After the terrorist attacks on New York in 2001, Katz moved with his wife and two sons to Boulder, Colo., and took a half-step back from Wall Street. But he stayed on Vail's board, and in 2006, at age 39, he assumed the role of CEO.
Under Katz's leadership, Vail acquired five ski areas in the U.S., including two in Lake Tahoe and two in the Midwest, and added 730 acres of terrain to its existing resorts. He's also selling season passes more aggressively than ever. In an industry at the mercy of the economy and the weather, Katz is working to smooth out the company's financial performance. Vail's stock rose 39 percent and hit an all-time high in 2013, and analysts expect it to keep climbing. Investors are thrilled.
Others have not always been. Vail regularly tangles with conservationists and made national news in 1998, when members of the Earth Liberation Front set fire to several structures on Vail Mountain to protest the resort's expansion, which activists said would threaten the endangered lynx habitat. More recently it angered others in the Colorado ski industry when it withdrew from the state's ski tourism group, arguing that it could get more for its marketing buck elsewhere.
Even when Vail isn't an active provocateur, it attracts attention. The ski industry's biggest problem is that the number of skiers in the U.S. has flattened, partly because skiing is so incredibly expensive. A week of skiing for a family of four could easily cost $10,000—and it might be bitter cold, and the snow could be terrible. Vail's solution is to make it cheaper to get on the mountain, and then make up the difference on lodging, ski school, and other amenities.
In 2008 it introduced the Epic Pass: For as little as $689, skiers can buy a season pass to all of its 10 ski areas, with no blackout dates. Considering that a single-day lift ticket at most of Vail's resorts costs more than $100, for anyone who wants to ski more than a few days a year, the Epic Pass is actually a screaming deal. It's also a lot less than the price of a season pass at other big resorts. The lowest price for an all-access season pass to Stowe in Vermont, for example, is $1,719; at Aspen in Colorado, it's $1,649. Like Costco, Vail is competing on both price and volume: The Epic Pass makes skiing cheaper and encourages people to ski more days. When they do, they will spend more money on hotels, restaurants, and ski school, which Vail runs, too. Meanwhile, putting passes on sale at deep discounts in the summer and early fall gives the company a steady cash flow that's less subject to Mother Nature. Sales of the Epic Pass have gone up every year; in 2013, season pass sales rose 13 percent, the biggest jump so far. Competing resorts have begun to assemble their own multimountain packages, and Vail's approach may represent the direction of the industry.
 
 
Vail got the lease to most of Park City Mountain's terrain when it acquired Canyons, a mountain resort 4 miles northwest of Park City. Among the three ski areas that call Park City home, Canyons is considered an underachiever. It gets roughly half as many skier visits as Park City Mountain, even though it has more terrain. The resort's management has changed four times in the past 20 years, and every new owner gave it a new name. ParkWest became Wolf Mountain, which became the Canyons. Talisker made it simply Canyons.
The resort still has problems, but they are exactly the sort that Vail knows how to fix. It's easy to add snowmaking, improve the lodges on the mountain, and move chairlifts and trails to declutter the main thoroughfares. Then there are the 4 million square feet of real estate zoned for development, the pedestrian village at the base of the mountain just begging for better restaurants and more high-end stores, and the almost-finished golf course designed to lure summer conference-goers and wedding parties.
Katz had been a suitor of Canyons for years; practically every time it changed hands, he was in the mix. (When Talisker outbid Vail for the resort in 2007, Vail sued. The case was settled out of court.) To take over Canyons in 2013, Katz also agreed to take the lead on Talisker's lawsuit with Park City Mountain Resort. "Our goal here was not the litigation," Katz says. "Our interest was in Canyons. But the owner of Canyons also owned the other land, and he was very adamant about keeping it all together."
For the complete package—a 50-year lease to run Canyons with six options to renew, plus the rights to Park City Mountain's terrain—Vail Resorts agreed to pay $25 million a year. Katz insists that Canyons will break even this year and be profitable within two, but he may be the only person in the ski industry who doesn't think he overpaid. The big metric in the ski world is skier visits, and Canyons does about 435,000 a year, which is not that many for a resort of its size. Katz himself has said that, in general, Vail is not interested in resorts that do fewer than 500,000 skier visits and that the company's profit engines really start humming when skier visits hit 1 million, as they regularly do at its Vail, Beaver Creek, and Breckenridge resorts.
In any case, there is no mystery behind the steep price: the option on Park City Mountain. Vail Resorts' portfolio is made up of siblings—Vail and Beaver Creek; Keystone and Breckenridge; Heavenly, Northstar, and Kirkwood. Katz has been upfront about wanting to have more than one resort in Utah. Park City is Canyons' most obvious match; Katz has, over the years, made overtures to Cumming, as CEO of Park City's parent corporation, about buying the resort outright.
Park City residents greeted news of Vail's arrival with mixed emotions. Everyone is eager to see Canyons meet its potential, and Vail has as good a reputation on the environment and community development as any large resort company can expect to have. At the same time, it's a big company with big plans for a small town, and it's engaged in high-profile litigation with a local institution, none of which makes Vail easy to love. "People here are smart enough to understand that business is business," says Max Doilney, a lifelong resident who owns a restaurant at the base of Park City Mountain. "But we would all like to think that in a small community like this, we could rise above."
That doesn't seem likely. After Park City Mountain Resort received its eviction notice, Smith, the resort's general manager, called Vail bullies. In November, Cumming wrote in a guest editorial for the local newspaper, "As for Vail and Talisker, I hope they realize their efforts to take over PCMR are futile. … We will not allow this resort to be stolen or destroyed, and we realize what is at stake, for you and for us."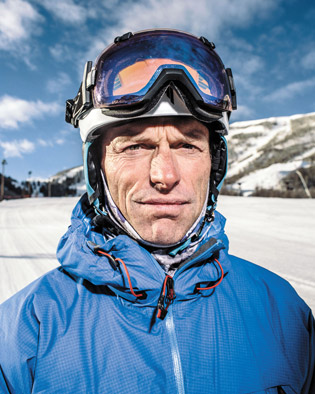 In the early 1990s, Cumming was in his 20s, bright, rangy, and still what he calls "a mountain goat," guiding climbing trips in the summer, working ski patrol in the winter. He is also the son of Leucadia National co-founder Ian Cumming, one of the most highly paid executives on Wall Street in 2012. When John was interested in creating an outdoor apparel company, he did so with his dad's help. The company, Mountain Hardwear, would eventually be purchased by Columbia Sportswear for $36 million in 2003, but while he was waiting for Mountain Hardwear to mature, a mutual friend introduced him to Nick Badami, longtime owner of Park City Mountain Resort. Over the course of two seasons, Cumming worked ski lifts, taught ski school, answered phones, and apprenticed himself to Badami.
By 1994, Badami was ready to sell. Cumming—with his father and brother—were ready to buy. They formed Powdr and acquired a controlling interest in Park City Mountain. Badami stayed on as CEO and made Cumming president. For four years, the two worked from the same desk.
In the past two decades, Powdr has grown to nine resorts in five states, including Killington in Vermont. Cumming—and the company—keep an intentionally low profile, but Powdr is a ski conglomerate, too. Until this year it owned more resorts than Vail (although much less real estate), and like Vail, it has not always been welcomed by locals. When it took over Killington, Powdr came under fire for its refusal to honor the "lifetime passes" some locals had purchased from a previous owner. Its 2001 acquisition of Oregon's Mt. Bachelor was contentious, and last year a community group formed to explore buying the mountain as a public collective.
Cumming has kept lift ticket and season pass prices solidly midrange: low enough to be competitive, not so cheap that it's a bargain. He says his focus is cash flow and has eschewed the real estate development that other ski companies embrace, keeping the business model simple. He has encouraged the general managers who run his resorts to create programs for first-time skiers, to get them comfortable and bring them back. Unlike Vail, Powdr as a company is so decentralized as to be all but invisible at the resort level. There are fewer than 40 corporate employees, including Cumming. The business is closely held, but Cumming says its model has worked.
"People think we're a couple of ne'er-do-well brothers doing whatever comes along," he says. "It's not that simple. … Ski resorts are not a chain of fast-food restaurants. Each one of these mountains is a community of people, and I think you need to manage it as such."
It gets more complicated, though, when it is Park City, Cumming's specific community of people. When Cumming learned that Vail Resorts would be taking over Canyons and the disputed lease, he was actually relieved. The ski industry is small, and everyone knows one another. Cumming liked Katz and hoped that, as the CEO of a publicly held company, Katz would be willing to negotiate in a way that Talisker had not. Cumming was wrong. In a conference call in September, Katz announced that Vail Resorts had set aside $5 million to fund the ongoing litigation.
 
 
In a hotel ballroom at the base of Canyons in early December, Katz hosted a welcome session for Canyons' resort employees. There were soft drinks and shots of fruit punch poured from an ice sculpture carved to look like the resort's logo. Front office folks, lift operators, and ski patrollers, some still in snow pants and winter boots, settled in to watch a Vail Resorts promotional video that was part vacation highlight reel, part company facts and financials—sort of an investor presentation as produced by ski film director Warren Miller.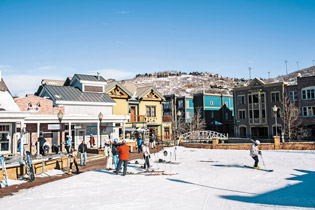 The event was part of Katz's ongoing effort to restore some goodwill. In addition to the firefight with Park City Mountain Resort, Vail laid off 42 Canyons employees, consolidating much of Canyons' human resources, information systems, and sales with its corporate headquarters outside Boulder, Colo. At the same time, Vail added Canyons to its Epic Pass, a boon to Canyons loyalists. And in early October the company pledged $500,000 in cash and in-kind donations to 10 Park City charities, a gesture that was widely acknowledged as both generous and opportunistic.
After the video, Katz, in black jeans and a striped shirt, took the stage and talked about Vail's ambitions in Utah. He took questions on development plans and subsidized staff meals. Eventually he tackled the elephant in the room: the litigation with Park City Mountain Resort.
"PCMR employees have it rough right now. I feel for them. I really do," he said. Vail Resorts quickly withdrew its eviction notice, and Park City Mountain opened on time, but no one knows what will happen next season. Katz shifted to his standard refrain on the subject: "If you forget about who owns what, who pays what, who runs what, all of that—if you're a guest, the opportunity to have 7,300 acres of skiable terrain, managed in a consistent, high-quality manner, is a win. It's a win for the whole industry, and it's a win for Park City."
How the dispute resolves itself in that "win" is a puzzle. The land in question comprises about 85 percent of Park City Mountain—the upper 85 percent. The base area, which includes parking lots, lift-ticket offices, and retail, is controlled by Powdr. So are the water rights, without which it is impossible to make snow. You can't run a resort without access to water or a base area. Neither can you run a resort without terrain. Even if Vail prevails, nothing is settled.
Katz attests that there are lots of ways for the two companies to work together. In essence, though, they boil down to this: Park City Mountain continues to lease the terrain from Vail; or they sell or lease the base area and water rights to Vail. At the moment, both scenarios seem equally unlikely. A Vail spokeswoman says the company is still interested in finding a resolution, but Cumming says Vail has not been receptive to what he says were offers above and beyond the full market value, and he has been equally unmoved by Vail's offers to buy the base, which he says were offensively low.
"What Vail is banking on is because I love this community so much, I will give in, sell it to them at a discount or something," Cumming says. "The problem is, we won't do that. We won't let our embarrassment and horror cloud our business judgment. And so we'll be right back where we started."
Cumming does have a version of a nuclear option. In 2011, Powdr bought an adventure sports camp business called Camp Woodward. At its locations in Pennsylvania, Southern California, and Beijing, there are programs in freestyle BMX, skateboarding, and inline skating. At Boreal and Copper Mountain, two Powdr ski resorts, there is a focus on skiing and snowboarding. If push comes to shove, Cumming says, he can turn what is left of Park City Mountain Resort—the base—into a Camp Woodward: "The Olympic half-pipe is right there; it's on our land. We have terrain features all over the place. We train skiers on our land, and we'll keep doing that." He adds: "I will be horrified and appalled if they force me to do just that."
Park City Mountain Resort has said it would like a jury trial. "We think it would be a great thing to present this case to the people of Summit County," says Alan Sullivan, a lawyer for Powdr and PCMR. But that likely wouldn't start until the fall, by which time season passes for the 2014-15 season will be on sale. Even then, the court case may only make clear what the lease requires. The rest will be up to Cumming and Katz.
An uneasy peace has settled in Park City for the time being. For each of the past two years, Park City Mountain Resort has issued its season passes with a disclaimer about the lawsuit; with an appeals process, it could be doing so for years to come. Meanwhile, longtime residents admire Vail but express more than a little trepidation about it assuming control over so much land. Vail Resorts, after all, makes its money on development around the base, not skiing. "I'm glad Vail is here," says Jana Cole, who moved to Park City with her husband in 1972; today they own four ski shops in the area. "I want them to own a resort in Park City. I don't want them to own two."
Before it's here, it's on the Bloomberg Terminal.
LEARN MORE