Barbarians at the Suit Racks
Your guide to the epic Jos. A. Bank-Men's Wearhouse takeover battle
By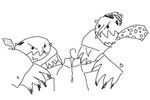 With the Feb. 1 headline that Jos. A. Bank Clothiers is considering acquiring Eddie Bauer to make itself less acquirable by Men's Wearhouse—which Jos. A. Bank attempted to acquire in October—the merger marathon of the menswear industry has officially entered bedroom farce territory. While M&A obsessives have followed every offer and counteroffer in the Men's Wearhouse–Jos. A. Bank saga, now entering its fifth month, ordinary citizens can be forgiven for confusion about what is going on. Here are some answers.
Who are these guys again? Men's Wearhouse and Jos. A. Bank sell inexpensive suits and rent low-cost tuxedos. They're the No. 1 and No. 2 retailers in men's specialty apparel, with revenue of $2.5 billion and $1 billion, respectively.
Does this involve the bearded guy who says "You're gonna like the way you look—I guarantee it" in those ads? Not anymore. George Zimmer, the founder of Men's Wearhouse, was fired as executive chairman in June, just before all this got started.
All … what, exactly? Seizing on that upheaval, Jos. A. Bank quietly offered to buy its bigger rival for $2.3 billion. Men's Wearhouse said no—publicly, and even rudely, calling the bid "opportunistic" and "subject to unacceptable risks." Not to mention "inadequate"—five times.

Sounds pretty emphatic. What could happen after that? Jos. A. Bank Chief Executive R. Neal Black and his team didn't want to take no for an answer. They encouraged Men's Wearhouse shareholders to pressure their board and said they'd be willing to raise their bid if they could get a look at the Men's Wearhouse books. The target got slightly less combative—the new CEO, Doug Ewert, limited himself to just one "inadequate" when he responded—but the result was the same. Jos. A. Bank's offer expired Nov. 15.
The companies' stocks jumped when a deal seemed possible. Won't investors start to get antsy if it looks like it was all for naught? That's exactly what has happened. Hedge fund Eminence Capital bought a 9.8 percent stake in Men's Wearhouse and told the board it had been "disingenuous at best and reckless and misinformed at worst" in rejecting the Jos. A. Bank offer. And Eminence, now the largest shareholder, threatened to take over the Men's Wearhouse board if a deal wasn't struck.
A lot of activist hedge funds beat their chests these days. Did that accomplish anything? Big time. On Nov. 26, Men's Wearhouse made a $1.6 billion counteroffer to buy Jos. A. Bank. Both companies' shares shot up. M&A experts call this the Pac-Man defense—the hunted becomes the hunter.
LOL, what's it really called? It is really called the Pac-Man defense. Dating to 1982, when Martin Marietta used it to fend off an unwanted offer, the strategy has been attempted only a handful of times. Jos. A. Bank rejected the counteroffer; then Men's Wearhouse upped its bid, and said it would appeal to Jos. A. Bank shareholders directly. Now both retailers have poison pill defenses in place—provisions aimed at blocking takeovers.
Exciting! How big is this deal? Will they make a sequel to Barbarians at the Gate? "This is a nothingburger," says Robert Salomon, a management professor at New York University's Stern School of Business. "A blip on the radar. It makes for interesting theater, but in the world of M&A this is barely an average-size deal." The Men's Wearhouse offer is No. 28 on Bloomberg's list of global deals that have been completed or are pending in 2014. And remember, this is men's value suiting—not RJR-Nabisco or a geopolitically significant oil merger.
Right. So where do things stand now? "Pac-Man defenses can lead to wars—each party tries to convince shareholders that they're the better management team," says Alex Edmans, a finance professor at the London School of Business and the Wharton School. If Jos. A. Bank succeeds in buying Eddie Bauer or another retailer (Brooks Brothers is also potential target, Bloomberg News reported on Feb. 3), it could make itself too big to swallow by its one-time prey.
Theater aside, would a tie-up be good business? "The logic of the deal makes sense to the market," says Spencer Klein, a partner and co-head of M&A at law firm Morrison & Foerster. Analysts are generally favorable, suggesting the combined businesses could drive better bargains with suppliers, eliminate redundant stores (they have a combined 1,744), and uncover other savings.
Anything else truly bizarre to add? On Sept. 12, Men's Wearhouse announced subpar earnings, in part due to low growth in tuxedo rentals. "We believe," Ewert said, "that the number 13 in 2013 is causing a small but meaningful number of brides to avoid getting married this year."
Before it's here, it's on the Bloomberg Terminal.
LEARN MORE