The West Bank Puts Israeli Exports at Risk
The SodaStream controversy draws attention to a boycott
By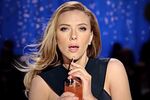 Haitham Barakat doesn't know Scarlett Johansson. But the Palestinian from Ramallah finds himself in common cause with the Hollywood star in defending the West Bank factory of SodaStream International, his employer.
Johansson's role as celebrity spokeswoman for the Israeli maker of carbonated drink machines led to a public split on Jan. 29 between the actor and Oxfam International, the British relief service that had used her as a goodwill ambassador.
Five days before, Johansson had praised SodaStream as a company "building a bridge to peace between Israel and Palestine, supporting neighbors working alongside each other." Oxfam says SodaStream and other Israeli businesses operating in the West Bank "further the ongoing poverty and denial of rights" of Palestinians by occupying territory they claim for a future state. Barakat just wants to work. "They should leave us alone here, because there are no other jobs for us," he says.
Oxfam's differences with Johansson reflect the growing controversy over the occupied West Bank and the Israeli companies that do business there. For a decade supporters of Palestinian statehood have been waging a grass-roots economic war against Israel, modeled after the assault on apartheid-era South Africa. Activists have urged retailers, academics, entertainers, and churches to blacklist Israeli businesses and institutions that operate in the West Bank and East Jerusalem, territory captured by Israel in the 1967 war but claimed by Palestinians. Some want to extend the embargo on trade to all of Israel, and not just the settlements, which the global community considers illegitimate, if not illegal. Israel and its backers assail the campaign for singling out the Jewish state for punishment while ignoring dictatorial regimes with dismal human-rights records.

The economic impact of the boycott movement over the years has been minor. The campaign is gaining traction, however, in Europe. This raises the prospect that the European Union, Israel's largest trading partner, might finally do what Israeli authorities have been trying to block for years: revise its preferential trade agreement with the country to reflect its opposition to the settlements.
Israeli Prime Minister Benjamin Netanyahu said on Feb. 2 that "attempts to impose a boycott on the state of Israel are immoral and unjust" and that they encourage the Palestinians "to adhere to their intransigent positions." U.S. Secretary of State John Kerry, who has been mediating talks between Israelis and Palestinians, issued his own warning that Netanyahu's government faces "an increasing de-legitimization campaign," which includes boycotts, if Israel fails to reach a deal.
Only a few businesses have been directly affected by the protests, including SodaStream and skin-cream maker Ahava Dead Sea Laboratories, which in 2011 shut a London store targeted by demonstrators. "I can't say there have been any big damages to companies," says Israela Many, deputy chief executive for economics at the Federation of Israeli Chambers of Commerce.
In recent months, though, the boycott movement has scored some higher-profile victories. Norway's $811 billion sovereign wealth fund, the world's biggest, renewed its ban on investing in Africa Israel Investments and Danya Cebus, Israeli construction companies that build outside the 1967 borders. Dutch asset manager PGGM said it would not make new investments in Israel's top five banks because of "their involvement in financing Israeli settlements." Last year, Dutch water company Vitens ended its partnership with Israel's Mekorot water utility over the settlement issue.
More worrying to Israeli officials was a decision by the EU in November to issue new grant guidelines for a €70 billion ($95 billion) research program. The guidelines specify that none of the program's funds can be awarded to Israeli universities or companies with operations in East Jerusalem and the West Bank. On Feb. 3, Lars Faaborg-Anderson, the EU ambassador to Israel, warned the country in a televised interview that it risks increasing isolation from "private economic actors" in Europe, including consumers, companies, and pension funds, "if the [peace] process falters and the settlement expansion continues."
Israeli Finance Minister Yair Lapid, who supports Kerry's efforts to reach a deal with the Palestinians, has put a price tag on the potential impact if peacemaking fails and Europe punishes his country by revoking its preferential trade agreement. He estimates that if exports to Europe, which account for about a third of Israeli sales abroad, fell 20 percent, Israeli economic output would decline by 11 billion shekels ($3 billion), or about 1 percent, a year. He warns that almost 10,000 people in the country of 8 million would immediately lose their jobs.
Lapid says discussions in Europe over changing the trade agreement are "on the table," a claim denied by the EU's spokesman in Israel, David Kriss. "If there isn't a peace agreement," Lapid said in a Jan. 29 speech, "Israel's economy will face a dramatic reversal that will significantly hurt the pocket of every Israeli."
BOTTOM LINE -
The bottom line: Israeli exports to the EU will be under assault if the boycott of companies operating in the West Bank intensifies.
Before it's here, it's on the Bloomberg Terminal.
LEARN MORE