Blockbuster Is Still a Hit—South of the Border
The video chain lives on in Mexico, with few rivals and less streaming
by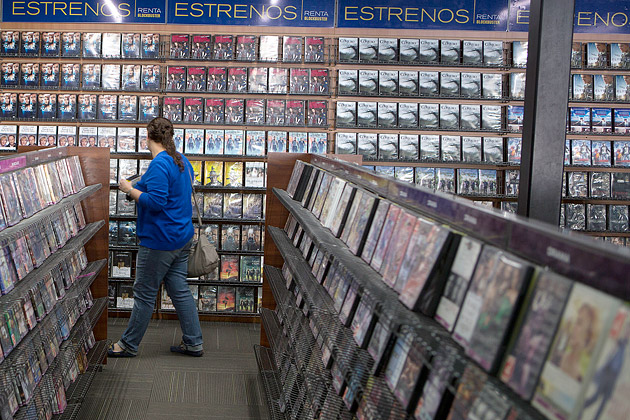 In the U.S., trekking to the local video rental store is seen as a throwback to a bygone era only missed by the aging or uncool. Don't tell that to Jose Molina as he stands in line at a Blockbuster store in Mexico City's Roma district—a neighborhood of cafes, street fairs, and century-old homes near the city center. The student and part-time call-center worker, waiting to return FIFA 14, a soccer game for Microsoft's Xbox console, routinely uses the store to try out new releases. "It usually takes me about four to five days to finish a game, so it's convenient," Molina says. "If I like it a lot, then I'll buy it."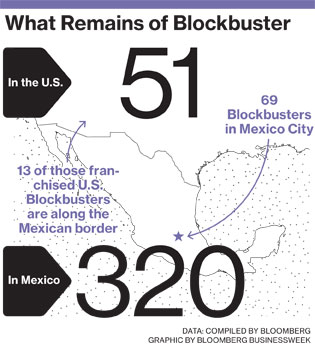 After deciding to shut its 300 remaining company-owned U.S. Blockbuster outlets in November, Dish Network—which bought the chain out of bankruptcy in 2011—agreed to sell the Mexican stores for $31 million to Grupo Elektra, a retail and financial company controlled by billionaire Ricardo Salinas. (About 50 owned by franchisees or licensees remain open in the U.S.)
The Blockbuster name has more panache in Mexico, and many of its stores there are located in well-heeled neighborhoods, says Juan Elizalde, an analyst at Banco Ve Por Más. Renting movies and video games also is still seen as a viable business model in the country, and Blockbuster Mexico's outlets could be used by Elektra to create something more ambitious, Elizalde says. "They're seeing potential in the client base and the value of the brand," he says. "The stores in Mexico haven't had the same problems. They still generate cash flow. It's attractive."
The Dish deal brought Elektra 1.6 million Blockbuster members and 320 stores, boosting its retail square footage by 7 percent. Blockbuster Mexico generated $117.7 million for Dish in the first three quarters of 2013, a gain of more than 3 percent from the year before. That was only 1 percent of Dish's revenue and would represent about 3 percent of total sales for Elektra.
The Mexico City-based company wants to use the chain as a venue to sell electronics and financial services such as online banking. Elektra also could use Blockbuster Mexico to promote original content that appears on TV Azteca and the Totalmovie pay-per-view movie system, which are owned by other branches of Salinas's empire.
"Adding Blockbuster gives Elektra a new dimension in a higher market segment that we haven't focused on before," says Luis Nino, the chief executive officer of Elektra's Banco Azteca division. "We want to offer [customers] the possibility to buy new products and access their banking information online." The acquisition will help the company elevate its clientele, Nino says. In Mexico, Blockbuster members are seen as higher-end consumers than Elektra's traditional retail customers, who may spend as long as two years paying off a flat-screen TV at $5 a week.
The Mexican Blockbuster stores already carry numerous goods, ranging from DVD players to Angry Birds plush toys to spicy tamarind candy. Pride of place still goes to DVDs, though, with new releases such as Matt Damon's Elysium and horror film The Conjuring lining the walls. The chain even offers to pick up customers' rented movies at home for 10 pesos (75¢).
It costs about 45 pesos to 50 pesos to rent a recently released DVD, with rentals lasting one or two nights. Higher-resolution Blu-ray discs cost as much as 60 pesos, and video games range from 60 pesos to 100 pesos. Blockbuster Mexico rented more than 5 million movies and games in 2013, generating about 2.3 billion pesos in sales, according to Elektra.
That's a pittance compared with the chain's glory days. Blockbuster had annual revenue of almost $6 billion and about 9,000 locations in the U.S. when the company was spun off by Viacom in 2004. Then streaming video services such as Netflix devastated the industry. Dish decided to close its final U.S. locations after divesting Blockbuster's other international assets, including operations in the U.K. and Scandinavia. The last U.S. company-owned store went dark in January.
For now, Blockbuster doesn't face the existential crisis in Mexico that it did in its home market, Elizalde says. Outerwall's Redbox, which operates automated DVD kiosks in the U.S., isn't available in Mexico. Services such as Netflix have rolled out in Mexico, but only 31 percent of the nation's households had Internet service last year. Per capita income also was less than 20 percent of that of the U.S., making entertainment services more of a luxury. Bootleg videos are common: Nine out of 10 movies purchased in the country are pirated copies, according to the Mexican Business Coordinating Council.
Still, even loyal Blockbuster customers know they have other options. At the Roma store, Molina says he typically downloads his favorite TV show, The Walking Dead, at home. The reason: He can avoid worrying about late fees.
Before it's here, it's on the Bloomberg Terminal.
LEARN MORE