Google's Giant $1 Patent Victory
A breach of contract case was a win for the company and its users
By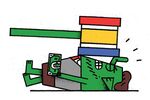 When Google reached a licensing agreement with Beneficial Innovations in 2010, it hoped the patent holding company's lawsuits against the search engine's customers would stop. Since 2007, Beneficial had targeted the Internet giant and several customers in lawsuits over patents relating to online gaming and advertising. Some of those sued included users of Google's DoubleClick ad product.
Google paid to license the patents at issue in those cases on its own behalf as well as its users'. Even so, the legal assault by Beneficial, a so-called patent troll that files infringement suits in search of settlements, continued. So Google sued for breach of contract. On Jan. 23 a jury in Marshall, Tex., agreed with the Mountain View (Calif.)-based company that the terms of the 2010 deal had been breached. The nominal damages—$1—were more than enough in this case, since Google's real objective was to enforce the terms of the deal and not back down.
"Beneficial went back on the terms of its own license agreement, pursuing our customers for simply using our licensed services," Matt Kallman, a Google spokesman, said in a statement. "This is a great outcome that the jury worked hard to get right."
Beneficial's lawyers argued in court documents that the Google customers it went after were only licensed under certain circumstances that didn't apply in the case. Beneficial lawyer Elizabeth DeRieux of Capshaw DeRieux in Gladewater, Tex., didn't respond to a request for comment.
Adobe Systems has also fought patent trolls on behalf of customers in court and before the U.S. Patent and Trademark Office. "We have the resources, we understand the technology, we know how our product is supposed to be used, and we're in the best position to defend our customers," says Dana Rao, associate general counsel at Adobe.
Apple has defended developers against litigious patent holders as well. In 2011 the company intervened in a case on behalf of iPhone and iPad developers who had been sued by patent holder Lodsys. The tech giant claimed that the developers were protected by its license with Lodsys and tried to invalidate the patents. Lodsys, however, settled with the developers, effectively pushing Apple out of the case. The patent holder continues to pursue other developers.
Google's approach makes good business sense, says Robert Stoll, an intellectual-property lawyer in Washington. "People want to make sure they've got their reputation maintained with their user community," he says. "I wouldn't be buying their products if they didn't step in to protect me." Plus, by resolving the issue with a single suit, Google avoided potentially paying the legal costs for customers targeted by the litigation. That can be required of companies in such cases.
Under federal patent law, if a company proves its product doesn't infringe a patent, then all its customers are off the hook. Should the company invalidate the patent, then anyone sued by the patent owner would be in the clear. Adobe is a party to several similar cases scheduled for trial later this year, according to Rao. "We'll use all of the tactics to try to take down the patent trolls," he says. "The problem is that, while we're able to step in and defend our customers in many district courts, the pace of these litigations is just growing."
Beyond litigation, the tech companies are backing legislation before Congress that they say will curb the types of lawsuits filed by Beneficial. The bill would put lawsuits against end users on hold until litigation is resolved between the manufacturer and the patent owner. In the meantime, more suits like those filed by Google and Adobe could be in the offing.
BOTTOM LINE -
The bottom line: Google and other technology companies are fighting back against patent trolls that target customers.
Before it's here, it's on the Bloomberg Terminal.
LEARN MORE