Ford, GM Brace for Impact in Argentina and Venezuela
by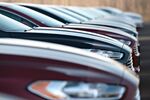 In the car business this year, financial engineers may be just as important as their mechanical counterparts. As plummeting emerging-market currencies broadside major automakers, the company that has the most finely tuned policies for pricing and hedging exchange-rate risk stands to win big … or at least lose the least.
The challenges were abundantly clear in the past few days, as Ford Motor and General Motors talked about their struggles in South America–specifically Argentina and Venezuela.
Last year, inflation in Venezuela hit a blistering 56 percent, outpacing every economy in the world, while prices surged 28 percent in Argentina. Ford and GM have manufacturing facilities in both countries but also import quite a few vehicles. Forced to decide between raising prices to keep up with inflation and accepting a lower return, U.S. automakers have done a little bit of both (and probably hustled to lock in exchange rates before they stretch further).
This morning, GM said that despite raising prices in South America, its profit from the continent dropped 80 percent to $27 million in the fourth quarter.
Last week, Ford acknowledged it had also revved up prices, but that didn't prevent it from swinging to a $126 million loss in South America in the recent quarter, from a $145 million gain a year earlier.
On top of currency instability, economic growth is slowing down drastically in both countries. That's made for some cautious consumers. Both companies are moving fewer vehicles in the region. GM sold 260,000 cars and trucks in South America in the fourth quarter, a 7 percent decline, while Ford's sales skidded 10 percent to 104,000.
And neither company is confident conditions will improve. In early December, Venezuelan President Nicolás Maduro promised to sign a law that would allow the government to fix car prices, in a bid to freeze rampant inflation. Meanwhile, Ford (along with 14 analysts surveyed by Bloomberg) estimates that Venezuela will devalue its bolivar against the dollar yet again, and as a result the automaker is baking into its forecast a $350 million drag on profit.
"We've been in Argentina 100 years, so we've been through this before," Ford Chief Financial Officer Robert Shanks said on a conference call last week. "But it takes a lot of work."
General Motors, meanwhile, acknowledged that the political climate in the region has grown "more volatile" in recent weeks.
The one bright side is that a machine is starting to look like a relatively safe place to park some money in these countries. Consider it a semiprecious-metal play. Shanks even said there's evidence that a tiny car bubble may be forming in Argentina at the moment.
"People want to put their currency or their value in something hard," he explained.
But if the currency craziness continues, convincing customers to kick out a few more pesos or bolivars won't be the issue; the problem will be finding customers with any cash left.
Before it's here, it's on the Bloomberg Terminal.
LEARN MORE