ECB Keeps Rates Unchanged as Growth Counters Price Risk
Stefan Riecher, Jana Randow and Jeff Black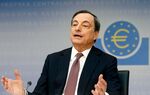 The European Central Bank kept interest rates unchanged as officials chose to set aside concerns that inflation may stay low for too long.
The 24-member Governing Council, convening in Frankfurt today, left the main refinancing rate at 0.25 percent, a decision predicted by 62 of 66 economists in a Bloomberg survey. The rest forecast a cut. The ECB also held the deposit rate at zero and the marginal lending rate at 0.75 percent.
Signs of a pick-up in the economy and the central bank's prediction that inflation will gradually rise from a four-year low toward the ECB's target of just under 2 percent gave President Mario Draghi reason to hold fire on rates. Even so, with price gains at less than half that level and turbulent global markets threatening the region's recovery, he may announce other policy measures as soon as today, according to economists from Scotiabank to ABN Amro Bank NV.
"Speculation about possible additional policy easing has increased," said Frederic Pretet, a Paris-based strategist at Scotiabank. He expects the ECB to cut rates in March or April and says Draghi may further strengthen his forward guidance or end the sterilization of crisis-era bond purchases when he holds a press conference at 2:30 p.m.
The euro rose more than a quarter of a cent after the ECB's announcement and traded at $1.3524 at 1:48 p.m. Frankfurt time.
The Bank of England kept its benchmark rate at a record-low 0.5 percent, while its bond-purchase plan stayed at 375 billion pounds ($611 billion).
Weekly Absorption
Draghi is trying to guide the euro area through a fragile recovery and an extensive health check of the banking system while ensuring he still has the policy tools to react to any worsening of the economic outlook.
Inflation unexpectedly slowed to 0.7 percent in the 18-nation bloc last month. The last time the figure was that weak was in October, when it dropped to the slowest since 2009 and contributed to a surprise November rate cut by the ECB.
The central bank last month strengthened its forward guidance when Draghi "firmly" reiterated that he would keep interest rates at current levels or lower for an extended period.
"There is a powerful case for the central bank to do more," said Nick Kounis, head of macro research at ABN Amro in Amsterdam. "There's a high chance they will ease policy somehow."
Fragile Recovery
The option to end the sterilization of bond purchases became more likely after Germany's Bundesbank expressed support in the absence of inflation risks. Halting those weekly absorption operations, intended to soak up money created by the now-terminated Securities Markets Program, would add about 175 billion euros ($237 billion) to the financial system, doubling the amount of excess liquidity.
At the same time, some economic and financial indicators support the case for holding off from any new policies for now. Gauges of euro-area manufacturing and German business confidence are at the highest levels in 2 1/2 years. An ECB survey showed the region's banks expect to stop tightening corporate credit standards this quarter, a move that could help rekindle lending.
Swings in interbank borrowing costs have eased. The interest rate that banks charge each other overnight fell to 0.13 percent on Feb. 4, the lowest level in a month. The rate, known as Eonia, surged as high as 0.36 percent on Jan. 20 and was above the ECB's benchmark for four straight days in January, the longest run since 2011. It was at 0.15 percent yesterday.
Better Understanding
Governing Council member Klaas Knot said in an interview with Bloomberg News published on Jan. 25 that policy makers are studying money-market movements and they should refrain from adding stimulus until they have a better understanding of its driving forces.
Other measures that policy makers may have discussed include a negative deposit rate, more long-term loans to banks, and asset purchases. All of this comes against the backdrop of the ECB's check on lenders' balance sheets before it becomes the region's bank supervisor in November. The review may cause banks to rein in lending as they seek to avoid being deemed to have insufficient capital.
External factors are also a risk, such as a slowdown in the developing economies that helped sustain euro-area exports. Emerging-market stocks had the worst start to a year since 2008. The euro has dropped 1.9 percent against the dollar this year.
Sentiment has soured as the U.S. Federal Reserve starts tapering its stimulus on the path toward an exit from ultra-loose monetary policy. That threatens to push up global market rates, undermining the ECB's effort to keep borrowing costs low.
"We expect the ECB to add more liquidity later in spring," said Anatoli Annenkov, a senior economist at Societe Generale SA in London. "A refinancing rate cut by 10 to 15 basis points could happen earlier if core inflation dips further and if money-market tensions remain."
Before it's here, it's on the Bloomberg Terminal.
LEARN MORE