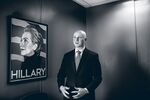 Adam Parkhomenko really, really wants Hillary Clinton to be president. He's been enamored of her since she visited his elementary school in the Virginia suburbs of Washington in 1995. He says he doesn't remember anything in particular Clinton, then first lady, said that day; she just made a lasting impression on him. Enough so that in 2003, when he was a 17-year-old high school senior, he started a "draft Hillary" movement to prod the New York senator into challenging President George W. Bush, who was running for a second term. Parkhomenko started a website, votehillary.org, and drove his parents' Camry to New York to sell Clinton buttons and bumper stickers outside a Democratic candidates' debate. After Clinton declined to run, Parkhomenko put off college and went to work for her Senate reelection campaign.
A decade later, at 28, Parkhomenko is still at it. Last year he started a super PAC, Ready for Hillary, to raise money and sign up voters in hopes of encouraging Clinton to run in 2016. His girlfriend, Kirby Hoag, is in charge of the readyforhillary.com store, which sells Clinton-branded iPhone cases, beanies, and, optimistically, champagne glasses. Parkhomenko makes frequent appearances at fundraisers, telling would-be donors that Clinton is the ideal candidate to speak to young people. "She was someone who included my generation at the table, gave them a voice, and made an equal playing field where we were able to truly make a difference," he explains at the group's sparse headquarters in Arlington, Va., where boxes of bumper stickers and T-shirts spill into the hallways. He started the super PAC because "I felt I couldn't be at peace without showing her that her base still loves her and that it has expanded so much," he says. "I want to give her every reason to run."
Although Ready for Hillary gives off a low-rent, homemade vibe, it's rapidly grown beyond its beginnings as the passion project of a die-hard fan. Some of Bill and Hillary Clinton's most trusted allies—including consultant James Carville and strategist Harold Ickes—have signed on as advisers, transforming the group into an unofficial outpost of the Clinton political operation and a money-raising machine.
Super PACs can't coordinate with or donate to candidates, but they can raise and spend unlimited money on their behalf. Ready for Hillary signed up more than 1.6 million supporters in 2013 and raised $4 million, according to Federal Election Commission filings. It has 15 employees and gets advice from top Democratic consultants Jeremy Bird and Mitch Stewart, who helped Barack Obama topple Clinton in 2008 and win reelection in 2012. Clinton friends are giving money and support, among them Bill Clinton's former political director, Craig Smith; Tracy Sefl, who helped run Hillary Clinton's 2008 campaign; Emily's List founder Ellen Malcolm; and billionaire investor George Soros.
"The joke among Adam's friends is he's been training to do this for a decade," says Sam Arora, a former Clinton campaign aide who's now a state legislator in Maryland. After Parkhomenko's first failed effort to get Clinton to run in 2003, Patti Solis Doyle, Clinton's political director, hired him as an intern, and he eventually landed junior staff positions on Clinton's Senate reelection campaign in 2006 and her 2008 presidential bid. "It seems to me he is taking all of the lessons he has learned over the years from various campaigns and putting it into Ready for Hillary," Solis Doyle says. Parkhomenko says Clinton was forever badgering him about going back to school, but "I wanted to experience the real world." He certainly didn't stick with it for the money. In his four years as a Clinton campaign aide, he made about $60,000, according to federal filings.
Even after Obama locked up the 2008 Democratic nomination, Parkhomenko kept angling to get Clinton into the White House. He formed a political committee called Vote Both, which he hoped would pressure Obama to choose her as his running mate. It raised about $8,000 and attracted around 40,000 supporters. On the wall of Parkhomenko's office hangs an autographed photo of him with Clinton. She inscribed it, "I'd like to start a 'Draft Adam for Anything' campaign!" When Parkhomenko ran for a seat in the Virginia legislature in 2009, Bill Clinton and General Wesley Clark recorded robocalls on his behalf. He lost and finally went back to school.

Parkhomenko is now a full-time criminology major at George Mason University in Virginia, though the super PAC takes up most of his time—especially since the Clinton people turned it into a major fundraising outfit. By early 2013 he'd managed to sign up several thousand supporters and raise several thousand dollars. Then Smith, the former Bill Clinton aide, approached Parkhomenko and offered his help. "I read about it in the papers and then talked with other friends of mine who were just hearing about it, too," Smith says. He called Parkhomenko and asked, "Are you willing to have someone like me involved?" Soon other Clinton stalwarts began signing on. Ickes, a heavyweight fundraiser and former White House chief of staff to Bill Clinton, encouraged big donors to write checks to the group. Carville sent e-mail appeals to Hillary loyalists. Veteran Clinton and Obama campaign operatives set up a nationwide operation to sign up supporters and collect their e-mail addresses.
While Parkhomenko organizes parties for young people—ticket price: $20.16—the older pros hit up rich Democrats to host dinners where guests pay thousands of dollars a plate. Democratic fundraiser Carol Pensky held an event for the group at her Washington home in December. She praised Parkhomenko and told the audience that he'd been to her house once before, in 2006, when she held a fundraiser for Clinton's Senate reelection campaign. Back then, Parkhomenko was stationed in the garage, checking coats.
Before it's here, it's on the Bloomberg Terminal.
LEARN MORE