At Obamacare Small Business Exchanges, Sign-Ups Are Off to Slow Start
Obamacare marketplaces are drawing few takers
By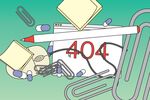 Small business enrollment in Obamacare health plans is off to a slow start. The debut of the federal insurance marketplace for companies with fewer than 50 employees has been delayed till November. Only 14 states managed to get their websites up and running by the original October deadline. And in those that have, the response has been tepid: In Kentucky, just 14 companies have signed up. Colorado's marketplace has enrolled 127 businesses and Connecticut's just 106. "We've dropped the ball on the small business side," says Kevin Counihan, chief executive officer of Connecticut's health exchange, Access Health CT. "This is an area where we need to execute better."
Under the Affordable Care Act, companies with 50 or more workers must offer affordable health insurance by 2015 or face a fine of as much as $3,000 per employee. Businesses with fewer than 50 employees—which employ 31 million people combined, according to 2011 U.S. Census Bureau data—aren't required to offer medical coverage. But if they do, their plans must now meet Obamacare standards, which mandate coverage for maternity care and prescription drugs. The 2010 health-care law created the Small Business Health Options Program (SHOP) as a tool to help small business owners shop for coverage compliant with the new rules.
SHOP's troubled rollout has been overshadowed by the website glitches that plagued the federal- and state-run exchanges that sell policies for individuals. Most of those consumer marketplaces are now operating normally. The U.S. Department of Health and Human Services reported on Jan. 24 that a total of 3 million people had signed up for individual coverage through the Obamacare exchanges.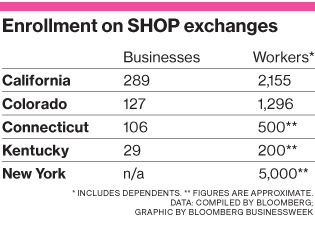 This fall the Obama administration decided to delay the launch of the federal online exchange for small businesses by a year, so it could focus on fixing healthcare.gov, the marketplace for individuals. That means that in 36 states, including Texas and Florida, companies will not have online access to information on the Obamacare plans until November. In the meantime, employers seeking to purchase SHOP policies will have to work with insurance brokers, says Aaron Albright, a spokesman for the U.S. Centers for Medicare and Medicaid Services.
The smaller the company, the less likely it is to offer health insurance, according to the Kaiser Family Foundation, a nonprofit that studies health issues. In 2013 just 45 percent of workers at firms with fewer than 10 employees had insurance, according to Kaiser's annual survey of employer benefits. The proportion of those with health benefits rose to 85 percent at companies with 25 to 49 workers and hit 99 percent at companies with 200 or more employees.
Many small business owners opted to renew existing policies at the end of last year, before the new ACA standards for health plans took effect. WellPoint spokeswoman Kristin Binns says that in Kentucky the insurer saw strong early renewals of its plans, reducing interest in those it sells through the state's marketplace.
John Humkey, owner of Employee Benefit Associates, an insurance broker based in Lexington, Ky., says he's signed up only one small business client, a local microbrewery, for Obamacare. The company primarily wanted to take advantage of a tax credit worth as much as 50 percent of the cost of premiums for enterprises that can meet certain conditions. Most business owners aren't interested enough in the credit to jump through the hoops, Humkey says: "They're working hard to manage their business, their focus is not on trying to understand the health-care law in order to put together a benefit package."
David Allen, CEO of Flatirons Practice Management, a medical billing company in Boulder, Colo., says he tried using the state's health exchange to buy a new policy for his employees and didn't like what he found. While the premiums on some of the plans available through the exchange were lower than what he now pays, the deductibles were too high, he says. "It felt like the wrong thing to do, because we were shifting the burden off of me to my employees," says Allen. Instead, he renewed his 2013 coverage until the end of October. He might be attracted back to the exchange, he says, if it offers a product "more consistent" with his current plan, for which he estimated his company will pay about $117,000 this year. That's about 22 percent more than last year, Allen says, an increase he blames partly on requirements of the health-care law.
Unlike individuals, businesses with fewer than 50 employees face no deadline to sign up for coverage. Exchanges can sell small business plans year-round, while enrollment for individual plans closes on March 31. All of that could mean enrollment in SHOP exchanges won't take off until the end of the year, says Carrie Banahan, executive director for Kentucky's health exchange, Kynect.
Counihan, of the Connecticut Obamacare exchange, plans to improve his agency's relationships with insurance brokers and expects the exchange's offerings may look more attractive next year when small businesses no longer have the option of renewing old policies that don't meet the new standards. "I have no doubt we're going to do better," says Counihan. "We feel a business and moral obligation to really provide viable products to these folks."
BOTTOM LINE -
The bottom line: Sign-ups on Obamacare exchanges that sell plans for small business have disappointed so far.
Before it's here, it's on the Bloomberg Terminal.
LEARN MORE