Marijuana Decriminalization Advances in Washington, D.C.
William Selway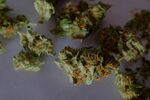 The city council in Washington, D.C., took a first step toward decriminalizing marijuana in the nation's capital amid a widening U.S. push to loosen sanctions against users of the drug.
The District of Columbia council, on an 11-1 vote, gave initial approval yesterday to lowering the punishment for possession of as much as an ounce of marijuana to a fine, instead of potential jail time. The bill faces a second vote before it goes to Mayor Vincent Gray for approval. The Democrat is in favor of the change.
A movement to soften or eliminate marijuana laws has been stoked by legalization in Colorado and Washington state, the first states to allow its sale for recreational use. While the drug is still illegal under federal law, the Justice Department hasn't moved to stop those states from proceeding.
Fifteen states, including California, have already lifted criminal penalties for possession of small amounts of the drug, according to the Washington-based National Organization for the Reform of Marijuana Laws, which advocates legalization.
In the District of Columbia, council members in favor of changing the law cited concern that the criminal penalties disproportionately affect blacks, who are statistically more likely to face arrest for drug charges than whites.
President Barack Obama, in an interview with the New Yorker magazine published last month, citied similar concerns about how marijuana laws are enforced and said he didn't think the drug was more dangerous than alcohol.
Before it's here, it's on the Bloomberg Terminal.
LEARN MORE