Boeing Said to Win $3.9 Billion Max Order From SpiceJet
Anurag Kotoky and Julie Johnsson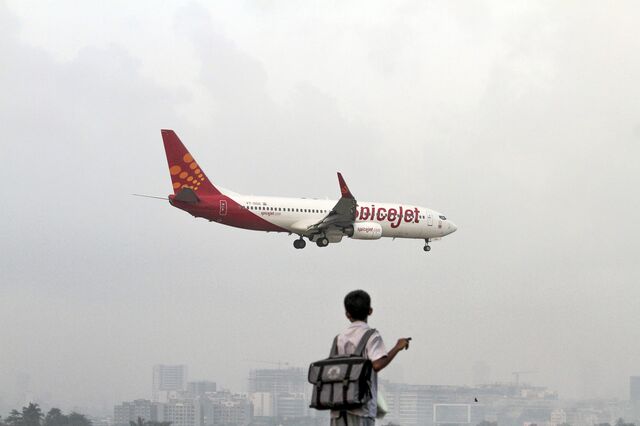 Boeing Co. is poised to win an order for 38 of its 737 Max jets valued at about $3.9 billion from SpiceJet Ltd., the Indian budget airline controlled by billionaire Kalanithi Maran, people familiar with the plan said.
The deal consists of 30 new orders and swapping an existing purchase of eight 737 NG jets for the upgraded Max model, said the people, who asked not to be identified as discussions are private. The transaction may be announced as early as next week at the Singapore Air Show, two people said.
A 737 sale will keep SpiceJet as a Boeing customer after the airline said last year it was considering switching to Airbus Group NV planes. The fleets of India's discount airlines already are tilted toward Airbus, whose jets are used by IndiGo, the country's biggest domestic carrier by market share, and Go Airlines (India) Ltd.
Doug Alder, a spokesman for Chicago-based Boeing, declined to comment. S.L. Narayanan, chief financial officer at SpiceJet parent Sun Group, didn't respond to two calls and a text message to his mobile phone today.
Boeing fell 0.5 percent to $121.40 at the close in New York, while SpiceJet rose 0.6 percent, the most in two weeks, to close at 15.85 rupees in Mumbai. Maran's 77 percent stake in Sun TV Network combined with his 21.4 percent ownership of SpiceJet are valued at $1.76 billion, according to data compiled by Bloomberg.
Three Versions
The Max is an upgraded version of the single-aisle 737, the world's most widely flown jetliner, and will feature new, more-efficient engines. It's offered in three versions, the Max 7, 8 and 9, with prices ranging from $85.1 million to $109.9 million. Buyers typically get a discount from list prices.
Development of the Max is on schedule with firm configuration of the airplane achieved in July, according to Boeing's website. First flight is scheduled in 2016 with deliveries to customers beginning the year after. The Max has more than 1,700 orders, according to the website.
Buying new planes will help SpiceJet take on market leader IndiGo and impending competition from AirAsia Bhd. and Singapore Airlines Ltd., both of which have sought licenses to start local airlines in India. Economic growth across the Asia-Pacific region in the past decade has spurred a travel boom that Boeing and Airbus are counting on to drive jetliner demand.
1,450 Planes
India's local airline passengers may reach 107.2 million by 2016, making it the world's fourth-largest domestic market, the International Air Transport Association predicts, as new budget carriers such as IndiGo enable more people to fly. Boeing projects the country may need 1,450 planes in the next 20 years.
The government has spent billions of dollars to upgrade airports in more than a dozen cities. Prime Minister Manmohan Singh also eased aviation investment rules in September 2012, allowing foreign airlines to buy as much as 49 percent stake in local carriers.
That prompted AirAsia and Singapore Airlines to tie up with India's Tata Group for separate ventures while Abu Dhabi's Etihad Airways PJSC has bought a stake in Jet Airways (India) Ltd. The new airlines seek to start operations later this year.
Boeing is planning to boost 737 production to 52 jets a month by the end of the decade from the current 37 as it forecasts continued strong demand for the current 737 models, known as "Next Generation," and their Max replacements. The order backlog for the 737 is large enough to keep factories busy for seven years.
Boeing can count on strong demand for the jet to lessen the risks of order cancellations if currencies continue to plunge in developing nations from India to Indonesia, Beverly Wyse, a Boeing vice president and 737 general manager, said yesterday in an interview at the Renton, Washington, factory where the jets are assembled.
(Corrects to show three Max versions in sixth paragraph of story published Feb. 5.)
Before it's here, it's on the Bloomberg Terminal.
LEARN MORE