Plosser Sees 3% Growth in 2014 Warranting Faster QE Taper
Jeff Kearns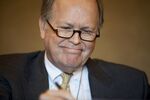 Federal Reserve Bank of Philadelphia President Charles Plosser, who votes on policy this year, said he expects the economy to expand 3 percent in 2014 as the jobless rate falls to 6.2 percent by year-end, warranting a quicker tapering to bond purchases by the central bank.
Policy makers made the first two cuts to asset purchases in December and January, slowing to $65 billion a month from $85 billion. While welcoming the trims, Plosser said they "may prove to be insufficient" if growth keeps accelerating.
"My preference is to scale back our purchase program at a faster pace to reflect the strengthening economy," he said today in a speech in Rochester, New York. "We must begin to back away from increasing the degree of policy accommodation in a manner commensurate with an improving economy," said Plosser, who has opposed the bond purchases by the Fed.
The Philadelphia Fed chief also said he doesn't see volatility in emerging markets as posing a big risk to the U.S. economy.
Declines in emerging market stocks and currencies "could pose a risk if it were to spill over more broadly to other financial markets," Plosser said. "But at this point, I do not consider it a significant risk to the U.S. economy."
Emerging-market stocks dropped to a five-month low as Petroleo Brasileiro SA to Samsung Electronics Co. slumped amid concern the global economy will slow down. The MSCI Emerging Markets Index declined 0.2 percent to 916.37 at 12:32 p.m. in New York, extending this year's slide to 8.6 percent.
Taper Buying
Ben S. Bernanke, who was succeeded by Janet Yellen as Fed chairman this week, said in December the Federal Open Market Committee will probably further cut bond buying at its meetings this year. The FOMC announced in December it will unwind purchases of Treasury and mortgage securities, citing labor-market gains.
Labor markets will "continue to improve" and inflation expectations will be "relatively stable" as price increases move up toward the Fed's 2 percent goal over the next year, Plosser said. Gross domestic product grew at a 3.2 percent pace in the fourth quarter and 4.1 percent in the third quarter. The jobless rate was at a five-year low of 6.7 percent in December.
"The economy has met the criteria of significant improvement in labor market conditions" for ending the quantitative easing program, Plosser said. "Further increases in the balance sheet are unlikely to provide appreciable benefits for the recovery."
Before it's here, it's on the Bloomberg Terminal.
LEARN MORE