Lockhart Says Fed Guidance May Signal Rates Stay Low Longer
Steve Matthews and Jeff Kearns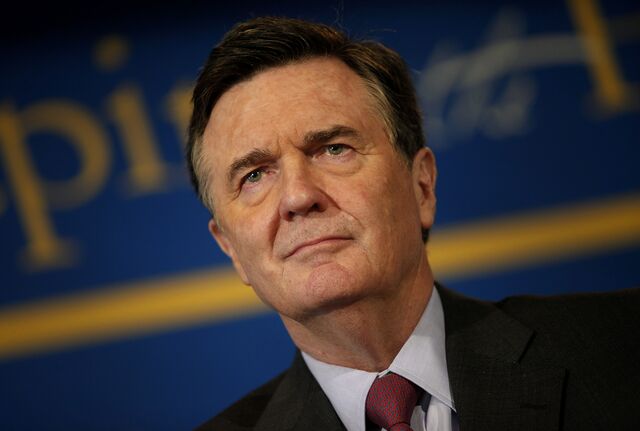 Federal Reserve Bank of Atlanta President Dennis Lockhart said policy makers may revise their forward guidance to signal they don't intend to raise interest rates any time soon.
Fed officials have said since December that an increase in the main interest rate wouldn't be on the table until "well past" the time unemployment falls below 6.5 percent. The jobless rate stood at 6.7 percent in December.
Lockhart, a consistent supporter of record stimulus who doesn't vote on policy this year, said "the unemployment rate is not a perfect indicator of the broad health of the labor markets." Given a decline in labor-market participation, he said, he prefers to look at a broader range of indicators, "more of a dashboard approach."
Payrolls in December rose at the slowest pace in almost three years, partly reflecting the impact of bad weather. The unemployment rate fell to a five-year low as people left the labor force. The Labor Department plans to release the January employment report on Feb. 7.
"When we get close to or even beyond the 6.5 percent, I think it is reasonable to expect the Federal Open Market Committee will revise forward guidance, maybe even well before that, to help the markets and the public have an ability to gauge how the economy is performing relative to some sense of goal," Lockhart said to reporters after a speech to the Rotary Club of Birmingham, Alabama. "I do think forward guidance is going to require revision before long."
Stay Low
In his speech, Lockhart said he expects interest rates will remain low "for quite some time."
"I expect the Fed's policy rate to stay put until well into 2015," he said.
Federal Reserve Bank of Philadelphia President Charles Plosser said today to reporters the jobless rate may fall below the 6.5 percent threshold "pretty soon," putting the Fed "in a difficult position" with how it communicates about interest rate policy.
The FOMC shouldn't alter its 6.5 percent unemployment threshold, Plosser said in Rochester, New York.
"The more you move it around, you start changing the numbers, then the underlying credibility of what the signal you're trying to see has got to be undermined in some way," said Plosser, who votes on policy this year. "I don't think it would be very effective."
Quicker Tapering
The economy will probably expand 3 percent in 2014 as the jobless rate falls to 6.2 percent by year-end, warranting a quicker tapering to bond purchases by the Fed, Plosser said.
Policy makers made the first two cuts to asset purchases in December and January, slowing to $65 billion a month from $85 billion. While welcoming the trims, Plosser said they "may prove to be insufficient" if growth keeps accelerating.
"My preference is to scale back our purchase program at a faster pace to reflect the strengthening economy," he said today in a speech. He has opposed bond purchases by the Fed.
Gross domestic product grew at a 3.2 percent pace in the fourth quarter and 4.1 percent in the third quarter.
Lockhart said in his speech "it is reasonable to expect" the FOMC will continue reducing its asset purchases in $10 billion increments from the current monthly pace.
"The public feels more confident about 2014, even with the mixed data we take in every day," he said answering audience questions after a speech to the Rotary Club of Birmingham. "I think there is good reason for that."
Before it's here, it's on the Bloomberg Terminal.
LEARN MORE