Portugal's Sale of Miro Collection Canceled by Christie's
Anabela Reis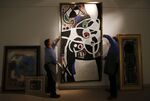 A collection of Joan Miro works held by the Portuguese government was pulled from auction following a dispute in the country over the sale.
Christie's International said it canceled the sale of 85 paintings, drawings, sculptures and collages even though a court in Lisbon rejected an attempt to block it. The auction was scheduled to take place in London today and tomorrow.
"While the recent injunction to stop the sale was not granted, the legal uncertainties created by this ongoing dispute mean that we are not able to safely offer the works for sale," Christie's said in a statement today. "We hope the parties in this dispute can resolve their differences in due course."
The plan had drawn criticism from a group of artists and politicians and prompted an online petition to stop the sale. It gathered more than 9,000 signatures since Jan. 2. Members of the Socialist and Communist opposition parties then took the case to parliament, before some tried to block the sale in court.
The Portuguese public prosecutor's office filed for an injunction yesterday following a request by lawmakers. It was rejected today by the court.
The auction was expected to raise more than 30 million pounds ($48.9 million). The works by the Catalan artist were the property of Banco Portugues de Negocios SA, or BPN, a bank seized by the Portuguese government in 2008. They have never been displayed publicly in the country, lying in storage more recently at a state-owned Portuguese bank.
Raising Cash
Parvalorem SA, a government company set up to manage some of the assets of BPN, considered the sale "fundamental" to reducing financial costs, according to Francisco Nogueira Leite, president of Parvalorem. He declined to comment today on the decision by Christie's to pull the auction.
The works were acquired by BPN from a private collection in Japan between 2003 and 2006, according to the sale catalogs at Christie's. The priciest painting in the collection is an oil canvas entitled "Femmes et Oiseaux," estimated at between 4 million and 7 million pounds.
Portugal is trying to join Ireland in drawing a line under its chapter of the European debt crisis. The country became the third to request an international bailout in 2011, following Greece and Ireland, as investors shunned its bonds on concern about the ability to control its budget deficit and debt.
Before it's here, it's on the Bloomberg Terminal.
LEARN MORE