Motorola Phones From Lenovo? Investors Aren't Impressed
by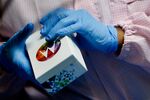 In his Super Bowl commercial, Bob Dylan had some advice for U.S. consumers: "Let Asia assemble your phone." No doubt Lenovo Chief Executive Officer Yang Yuanqing couldn't agree more. He's hoping Americans will be willing to buy smartphones from Lenovo, which last week unveiled a $2.9 billion deal to leapfrog the Chinese PC company into the top tier of phonemakers by agreeing to purchase Motorola Mobility from Google.
Lenovo investors aren't yet persuaded. Until last week, the hottest tech stock around wasn't Apple or Samsung—it was Lenovo itself. The company's shares had jumped more than 50 percent over six months, far better than the Big Two. Confidence in Lenovo was so strong that its stock price didn't suffer even after Lenovo announced a plan to pay $2.3 billion in cash and shares for IBM's low-end server business.
Then came news of Lenovo's proposed purchase of the Motorola smartphone brand from Google. The deal should promote Yang's goal of reducing the company's reliance on PC sales in China. Since Lenovo's announcement last Wednesday (Thursday, here in China), investors in the Chinese company's Hong Kong-listed stock have soured on Lenovo. Today was especially ugly: After taking off last Friday and Monday for Chinese New Year, investors began the Year of the Horse by dumping Lenovo shares. By the end of trading on Tuesday afternoon, Lenovo shares had plunged more than 16 percent.
Not everyone's downbeat. If the deal with Google goes through, Lenovo will be the world's third-largest smartphone brand, after No. 1 Samsung and No. 2 Apple. The acquisition "is a right strategic move," writes UBS analyst Arthur Hsieh in a report published on Tuesday. The Motorola smartphone and IBM server deals, writes TBR principal analyst Ezra Gottheil, "puts the company exactly where it wants to be: at the forefront of the computing and smart devices businesses."
Some analysts voice doubts. "The purchase seems to overvalue Motorola's past success," writes Harrison Cho, an analyst in Seoul with Samsung Securities, in a note published on Monday. "As the Motorola deal excludes patents, Lenovo is in effect paying USD2.9b for the Motorola brand—one with limited value in the current market." Saying the synergies between Lenovo and the American company are limited, he argues the deal won't even help much in the U.S., where Motorola's share has now dwindled to just 3.5 percent.
Motorola does have a stronger position in Latin America, a market Lenovo would like to develop, with 6.9 percent. Still, "the deal seems questionable for Lenovo as Motorola has continued to suffer from core R&D personnel defections and brand value deterioration," says Cho. "Also, given the increasing importance of intellectual property, we believe the acquisition of patents would be more valuable than buying a failing global firm's brand."
Of course, Lenovo has proven skeptics wrong before. Buying the PC business from IBM in 2005 was a risky move that eventually proved to be a winner for Lenovo, now the world's largest PC brand. Having rescued a flailing tech brand in the past, Yang and his team are in a good position to drive a rebound at Motorola.
Still, analysts at Morgan Stanley caution that an encore will be more challenging this time. When Lenovo bought IBM's PC business, "the Chinese market was still in the high-growth stage with 21% CAGR (in value)," Morgan Stanley analysts Grace Chen, Melrose Chiu, and Jasmine Lu wrote. The deal therefore "enabled Lenovo to quickly capture PC market share in China and then gradually expand worldwide."
However, the Chinese smartphone market today is already past the high-growth phase and now lags the rest of the world. Morgan Stanley expects sales in China to grow 4.9 percent this year and 5 percent next year, compared to worldwide growth of 13.6 percent in 2014 and 7.7 percent in 2015. When Lenovo bought the IBM PC business, the focus was on corporate customers while Motorola's smartphone customers are consumers. That's a segment of the industry, say Chiu and Lu, "where the competition is more intense and the potential implied margins should be lower."
Before it's here, it's on the Bloomberg Terminal.
LEARN MORE