Buffett Railroad's $5 Billion Spending Tops Union Pacific
Thomas Black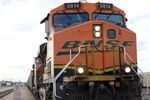 Warren Buffett's Berkshire Hathaway Inc. plans $5 billion in capital investment at BNSF Railway Co. this year, positioning the carrier to extend a lead in spending over its biggest rival.
The budget marks an increase of about 25 percent from the target set a year earlier, Fort Worth, Texas-based BNSF said yesterday in a statement. BNSF's program includes $2.3 billion for its rail network and $1.6 billion for equipment, including locomotives and railcars.
Buffett's railroad outspent Union Pacific Corp., its direct competitor in the western U.S., by about $700 million in 2013, a gap that may widen. With a boost from hauling crude oil, cargo shipments at BNSF rose about 4.5 percent last year compared with a 0.3 percent decline for Union Pacific, according to estimates by Jason Seidl, a New York-based analyst with Cowen & Co.
"BNSF grew volumes a little bit faster," Seidl said in a telephone interview. "It needs to make sure it has the locomotives and freight cars in place to continue to handle that type of growth."
Union Pacific finished 2012 as the largest U.S. railroad by sales, and BNSF was No. 2, based on the latest year for which full industry data are available. Both operate networks concentrated west of the Mississippi River.
BNSF set an initial goal of about $4.1 billion in capital spending last year, then boosted the total to about $4.3 billion. Union Pacific said its spending was $3.6 billion, down from $3.7 billion in 2012.
2014 Plans
Capital expenditures will rise in 2014, Union Pacific said on Jan. 23, pending board approval. Stephanie Serkhoshian, a Union Pacific spokeswoman, said yesterday that the Omaha, Nebraska-based railroad evaluates "our annual capital investment based on our needs for basic repairs and replacement to keep our infrastructure strong."
Spending at each railroad was $3.1 billion in 2008, and BNSF's advantage in 2009 was about $200 million, according to company filings. After Buffett acquired BNSF in February 2010, the railroad's spending margin widened.
BNSF said yesterday that its 2014 expansion in rail capacity will focus on infrastructure in the company's Northern Corridor to help meet customer service expectations, including Amtrak's.
Part of the 2014 investment will go toward handling more crude oil hauled by train, which helped drive an 11 percent volume increase in industrial products volumes last year, BNSF said. Domestic units of so-called intermodal shipments, which can move by a combination of rail, road and sea, rose 8 percent.
Safety Technology
This year's spending also includes $900 million for terminal and intermodal expansion, and $200 million for positive train control technology, a centralized electronic communication system that is intended to keep trains from speeding or running into each other.
Buffett, 83, transformed Omaha-based Berkshire over the past 15 years from a business dominated by insurance operations into one that derives more than a third of its profit from units that require high levels of capital spending. He has said BNSF and utility owner MidAmerican Energy Holdings Co. provide a way to deploy large amounts of money in exchange for reliable returns.
Berkshire's appetite for investment in the U.S. has only increased, Buffett wrote last year in a letter to shareholders after reporting that the company's businesses spent $9.8 billion in 2012 on plant and equipment.
"There was a lot of hand-wringing last year among CEOs who cried 'uncertainty' when faced with capital allocation decisions despite many of their businesses having enjoyed record levels of both earnings and cash," Buffett said in March. "We will keep our foot to the floor."
Before it's here, it's on the Bloomberg Terminal.
LEARN MORE