BP Fourth-Quarter Profit Drops as Disposals Hurt Oil Output
Brian Swint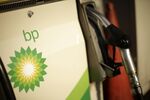 BP Plc, Europe's second-largest oil company, said fourth-quarter profit fell from a year earlier as output declined and refining margins weakened.
Profit adjusted for one-time items and inventory changes dropped to $2.8 billion from $3.9 billion a year earlier, the London-based company said in a statement. That matched the average estimate of 12 analysts surveyed by Bloomberg.
BP follows Royal Dutch Shell Plc and Exxon Mobil Corp., the two biggest oil companies by market value, in reporting lower earnings as the cost of drilling rises, refining profits slump and prices stagnate. Chief Executive Officer Bob Dudley has sold less profitable fields in the wake of the 2010 Gulf of Mexico spill and focused on profit margins rather than volume targets.
"Everyone in the industry is facing similar issues," said Peter Hutton, an analyst at RBC Capital Markets in London, in a Bloomberg Television interview. "Investors are looking for capital efficiency, and BP is in a reasonably good position. But one thing we're still looking for is a return of operating momentum."
Shell and BG Group Plc both issued profit warnings for the fourth quarter. BG today reported the first loss since 2000 on output disruptions from Egypt and higher exploration costs. Shell said last week it will accelerate asset sales to offset investment after capital spending reached a record in 2013.
Production Outlook
BP's production in the quarter fell 1.9 percent to 2.25 million barrels of oil equivalent a day. The figure excludes Russia, where BP completed the sale of its 50 percent in TNK-BP last year and acquired 20 percent of OAO Rosneft. Adjusting for disposals, underlying output rose 3.7 percent.
BP expects underlying output to rise this year, though reported production will drop because of divestments and the loss of about 140,000 barrels a day from the expiration of its concession in Abu Dhabi.
Dudley has promised to focus on BP's most profitable fields to raise the company's cash flow to a level 50 percent higher this year than in 2011. The company said it's on track to hit a target of at least $30 billion this year in net cash from operations, compared with $21.1 billion in 2013.
New project startups give BP "a good clear line of sight to get to the $30 billion in 2014," Dudley said in a Bloomberg Television interview today. "You have to select your projects very carefully and execute them really well, and pace them out so there's cash in excess, so there's distributions to shareholders. There's still a lot of growth out there for us."
Refining Slump
Adjusted profit in the refining and marketing arm of the company plunged to $70 million from $1.4 billion a year earlier in the fourth quarter. Narrower margins, a "weak result" from the trading business, startup charges at the Whiting refinery after modernization and the disposal of the Texas City and Carson plants all hurt the bottom line, BP said.
BP shares closed little changed in London at 473.8 pence.
Brent crude prices averaged $109.35 a barrel in the fourth quarter, 0.7 percent lower than a year earlier, while BP's refining marker margin, a generic measure of the profitability of processing oil, dropped to $11 a barrel from $18.17 in the last three months of 2012.
Asset Sales
BP has gained 4.8 percent through yesterday since Oct. 29, when it announced third-quarter results that beat analyst estimates and unexpectedly raised the dividend. It completed a $38 billion asset-sale program ahead of schedule to shore up the balance sheet after the 2010 Gulf of Mexico oil spill.
The company will sell a further $10 billion of assets by the end of 2015 and give most of the proceeds to shareholders, favoring buybacks, it said in October. BP has bought back about $6.8 billion of shares in the $8 billion program funded by a deal in which it sold its half of Russian venture TNK-BP and took a 20 percent stake in OAO Rosneft, the country's biggest oil producer.
BP still faces billions of dollars in fines from the Gulf spill under the U.S. Clean Water Act. Two parts of a three-phase trial in New Orleans over blame for the accident and the size of the penalty have been completed, though no ruling has been issued. BP raised its provision for costs for the disaster by $200 million to $42.7 billion, reflecting higher legal costs and the expense of environmental restoration.
Of the additional provision, about $150 million is for future legal costs, Chief Financial Officer Brian Gilvary told reporters in press conference. The spill has forced the company to spend more than $1 billion on lawyers' fees, he said.
On Jan. 11, BP faced a setback when its $9.2 billion partial settlement with victims of the spill was upheld by an appeals court. BP said that payouts are being made for "fictitious" claims that have nothing to do with the spill. It's also contesting a ban on gaining new government contracts.
Before it's here, it's on the Bloomberg Terminal.
LEARN MORE