Bailed-Out Bank's Miro Art on Auction Causes Row in Portugal
Anabela Reis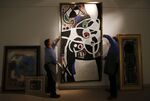 As Portugal looks at ways of generating money, one sale is a step too far for some locals.
The government in Lisbon is aiming to raise at least $50 million from 85 works by Joan Miro, a sum dismissed as derisory by a group of artists and politicians. The works by the Catalan were the property of Banco Portugues de Negocios, or BPN, a bank seized by the state in 2008, and will be auctioned on Feb. 4-5 by Christie's International in London.
"Things have gotten to a point that, yes, maybe we should even be thinking about selling the very chairs we sit on," said Ana Perez-Quiroga, 53, an artist in the Portuguese capital. "But having this collection in Portugal is extraordinary. It's not every day you manage to get hold of 85 Miro works."
Portugal is trying to join Ireland in drawing a line under its chapter of the European debt crisis. The country moved closer to exiting the bailout program it entered almost three years ago with an auction of bonds this month and was lauded by Standard & Poor's. Art, though, shouldn't be handled like a transaction in financial markets, critics say.
The Miro paintings, drawings, sculptures and collages prompted gallery curator Carlos Cabral Nunes to start an online petition to stop the sale. It's gathered more than 8,800 signatures since Jan. 2. The Socialist and Communist opposition parties then took the case to parliament.
Injunction Request
While their request to suspend the sale was rejected on Jan. 17 by the governing coalition parties, a group of lawmakers filed for an injunction in the administrative court in Lisbon yesterday. They plan to inform Christie's today of the risks of going ahead with the sale while they are awaiting a decision, said Gabriela Canavilhas, one of the lawmakers.
"Art shouldn't be treated like a currency, we don't want to consider art that way," said Canavilhas, who was minister for culture in the previous Socialist-led government that took over BPN. "It's treating art worse than a dog."
The Miro paintings were acquired by BPN from a private collection in Japan between 2003 and 2006, according to the sale catalogs, a time when bankers worldwide spent lavishly.
They have never been displayed publicly in the country, lying in storage more recently at the state-owned Portuguese bank that executed the taking over of BPN. Jose Oliveira e Costa, chief executive officer of BPN from 1998 until early 2008, told a parliamentary hearing into its near-collapse that lawmakers shouldn't waste time asking about the Miro works.
'Good Deal'
"They were a good deal," he said in May 2009. "Those paintings are money, don't forget that."
Former BPN board members told lawmakers in another parliamentary hearing in 2012 that they were owned by three offshore entities financed by the bank, whose bailout cost Portugal more than 3 billion euros ($4.1 billion). BPN was sold to an Angolan bank that year for 40 million euros.
"The money used to rescue the bank was taken from all of us," Perez-Quiroga said as she toured a Lisbon gallery whose walls were deliberately bare in protest at the Miro sale. "Morally, I am the owner of the collection."
The works are now held by Parvalorem SA, a state-run company set up to manage some of the assets of the seized bank. It decided an international auction was more "adequate and transparent," Francisco Nogueira Leite, president of Parvalorem, said by e-mail on Jan. 10.
'Only Option'
The sale is "fundamental to reduce financial costs related to BPN," he said. Retaining the collection isn't a "priority," the Culture Ministry's press office said in response to questions this month.
"The paintings didn't fall on our lap as some say, but what fell on our lap and what is actually the taxpayer's is debt," Ines Teotonio Pereira, a member of junior coalition party CDS, told parliament on Jan. 24. "Given the government's decision to obtain a return from BPN's assets, the sale of the Miro paintings seems to be the only option."
Barcelona-born Miro, known for his colorful patterns, died in 1983. The works on sale span seven decades of his career. Christie's expects to raise more than 30 million pounds ($49.6 million) with the sale, according to a December statement.
The priciest painting in the collection is an oil canvas entitled "Femmes et Oiseaux," estimated at between 4 million and 7 million pounds. There's also "Painting," an oil on canvas measuring 5 meters (16 feet) long, estimated at 2.5 million to 3.5 million pounds.
Collectible Catalan
Christie's said in the statement the collection is "one of the most extensive and impressive offerings of works by the artist ever to come to auction."
Miro is among the most collectable artists of the 20th century, said Pedro Lapa, artistic director at the Berardo Collection Museum for modern and contemporary art in Lisbon and one of the few people in Portugal to have seen the collection. He said the auction may attract bidders with greater purchasing power from the Middle East, China and Russia.
Catalonia's regional government would be interested in buying some of the works, Minister for Culture Ferran Mascarell i Canalda said by telephone today. He said it was a "shame" Portugal is selling, though he is "such an appreciated artist." The Joan Miro Foundation in Barcelona received 989,000 visitors last year, according to the ministry.
Dreamscape
A 1927 abstract by Miro entitled "Peinture (Etoile Bleue)" sold for a record 23.6 million pounds with fees in 2012 at Sotheby's in London. It had been estimated to fetch no more than 20 million pounds. Portugal would be able to raise more money if it sold the BPN collection over time, according to Socialist Party lawmaker Ines de Medeiros.
"Introducing close to 100 Miros in the market like this, in one go, will undervalue the collection and all other Miros in the market right now," Medeiros said on Jan. 13. "Selling Miros as one would sell industrial supplies doesn't make sense. This is the worst deal in the world."
Portugal became the third country to request an international bailout in 2011, following Greece and Ireland, as investors shunned its bonds on concern about the ability to control a surging deficit and increasing debt.
Petition organizer Cabral Nunes, director of the Perve Galeria in Lisbon, said the Miro collection would earn as much as the government expects from the auction next week in two years if it stayed in the country.
The money otherwise will be "negligible" and will "disappear immediately after the sale," he said. "It won't represent a profit for the country."
Before it's here, it's on the Bloomberg Terminal.
LEARN MORE