Abe Doomsday Risk Prompts Moody's Warning on JGBs: Japan Credit
Finbarr Flynn and Monami Yui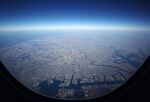 Moody's Investors Service says Japan's biggest banks need to cut bond holdings and boost loans to protect their balance sheets from potential losses should Prime Minister Shinzo Abe's stimulus spur yield surges.
Lenders' stockpiles of sovereign debt were at 138.9 trillion yen ($1.36 trillion) in November, after peaking at a record 171 trillion yen in March 2012, Bank of Japan data show. Unprecedented buying of JGBs by the BOJ is allowing lenders such as Sumitomo Mitsui Financial Group Inc. to decrease holdings of the securities, while the world's lowest interest rates constrain profits in lending.
Sumitomo Mitsui, Japan's second-biggest bank by market value, cut Japanese government bond holdings by 56 percent, or 11.5 trillion yen, at its main lending unit in the nine months to December, as domestic loans rose 4.3 percent last year. The BOJ, which has driven 10-year yields down to 0.62 percent, estimated in October that a one-percentage-point increase in JGB yields would cause the biggest banks to incur 2.9 trillion yen in unrealized capital losses.
"Banks need to rebalance their portfolios away from JGBs," Graeme Knowd, a Tokyo-based associate managing director at Moody's who overseas financial institutions, said in a phone interview. "If it turns out that Abenomics hasn't worked and only ended up leaving Japan with a bigger pile of debt," a "doomsday scenario for JGBs" isn't "a zero probability scenario," he said.
'Encouraging Signs'
"It is certainly not our main scenario," Knowd said. Moody's said in its Global Macro Outlook in November that "there have been further encouraging signs that the more aggressive monetary stance adopted by the Bank of Japan is having a positive impact."
BOJ Governor Haruhiko Kuroda's board is trying to boost inflation to 2 percent by buying more than 7 trillion yen of JGBs a month. Consumer prices excluding fresh food rose 1.3 percent in December from a year earlier, the statistics bureau said today, advancing faster than the median forecast of 32 economists surveyed by Bloomberg News for a 1.2 percent increase.
Abe's stimulus program of fiscal spending and monetary easing helped weaken the yen by 18 percent against the dollar last year. Currency depreciation tends to boost import prices while increasing exporters' overseas earnings. The yen rose 0.2 percent to 102.52 per dollar as of 4:26 p.m. in Tokyo.
Default Risk
At the same time, rising energy import costs and growing public liabilities totaling more than 1 quadrillion yen are increasing the nation's default risk. Japan's debt load is the world's largest as a proportion of gross domestic product at 244 percent, according to an International Monetary Fund estimate. Credit-default swaps on JGBs have risen 13 basis points this month, the most among the 22 sovereigns tracked by Bloomberg.
"One of the worries about Abenomics is if it doesn't work," does Japan slip back into "the comfortable stagnation" or will it increase concern Japan's debt is unsustainable and cause a JGB market crisis, said David Marshall, an analyst at CreditSights Inc. in Singapore.
Fitch Ratings Ltd. expects Japanese banks to slow their reduction of bond holdings because they don't have attractive investment options, according to a report last month from analysts led by Chikako Horiuchi. The lenders' interest-rate risk "is likely to remain manageable" because of their tight control of duration and adequate profit and capital buffers, according to the report.
Capital Adequacy
Major banks would be able to maintain a regulatory capital adequacy ratio of 5.5 percent if interest rates rise four percentage points, because of the assets they accumulated after posting profits in fiscal 2012, Ryo Onodera, a credit analyst at Standard & Poor's, wrote in a report this month.
Tokyo-based Sumitomo Mitsui maintained its profit forecast for the year ending March at 750 billion yen, while its third-quarter net income fell 9.3 percent, according to a statement on Jan. 29.
Its income from trading government bonds and other securities declined 26 percent last quarter from a year earlier to 79.2 billion yen, according to Bloomberg calculations based on the statement. Lending profit slid 3.2 percent to 344.6 billion yen, underscoring banking unit President Takeshi Kunibe's concern that loan margins are shrinking even as borrowing picks up.
Domestic Loans
The yield on Sumitomo Mitsui's domestic loans fell 13 basis points to 1.42 percent in the last three months of 2013 compared with a year earlier. Domestic lending rose 4.3 percent to 48.5 trillion yen in the quarter from a year earlier. A 32 percent gain in the value of overseas loans, triggered in part by currency fluctuations, pushed total loans higher by 9.3 percent to 63.2 trillion yen. A basis point is 0.01 percentage point.
"I would totally agree with their positioning," said David Threadgold, an analyst at Keefe Bruyette & Woods Inc. in Tokyo, referring to Sumitomo Mitsui's reduction of JGBs. "There is an asymmetric outlook for bond yields, where they are far more likely to go up than to go down."
Loans at major banks climbed for a 13th month in December, and corporate demand for credit is the highest since April, BOJ data show. The average net interest margin for the 86 lenders on the Topix Banks Index is 1.3 percent, the least in Asia, according to data compiled by Bloomberg.
Bond Holdings
JGB holdings at Mitsubishi UFJ Financial Group Inc. fell 7.4 trillion yen to 41 trillion yen in the six months to September-end, according to a presentation on its website. Mizuho Financial Group Inc. cut JGB holdings 16 percent to 25.8 trillion yen in the nine months to Dec. 31, the Tokyo-based lender said in a statement today.
Mizuho, the country's third-largest bank by market value, reaffirmed its full-year profit forecast of 600 billion yen after reporting a 44 percent jump in net income to 563.1 billion yen in the first nine months of the fiscal year. Mitsubishi UFJ, the biggest, will report on Feb. 3.
The BOJ will likely expand a program to encourage lenders to offer more loans to companies in growth industries, people familiar with the central bank's discussions said last month. The monetary authority may boost the low-interest lending facility by 1 trillion yen from the current 5.5 trillion yen, and extend it by at least one year from the planned expiry in March, said the people.
"As part of this program, the BOJ continues to signal to lenders that they should substitute credit risk for interest-rate risk," said Knowd of Moody's. "Japanese banks have very large trading profits, and trading profits are always regarded as more volatile so I would prefer to see them having a better balance between lending rather than trying to trade JGBs."
Before it's here, it's on the Bloomberg Terminal.
LEARN MORE