Unilever Can't Believe It's Not Margarine
Despite years of bad press, butter has bested its once-hot substitute
By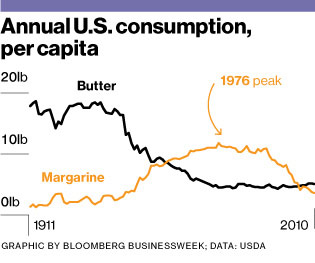 Paul Polman, chief executive officer of Unilever, the world's biggest producer of margarine spreads, has leveled some harsh criticisms against butter over the years. In 2010 he even said it "kills." But after years of watching sales of the company's margarines lose ground to the fat-filled dairy ingredient, Unilever managers recently began doing the unthinkable: adding butter to some of their margarines. The food giant in September started blending butter into its Rama, Germany's biggest spread brand, and into another of its lines in Finland. While Polman wouldn't share specifics during the company's fourth-quarter investor call on Jan. 21, he said the butter-infused spreads have "gotten off to a very good start."
Unilever's surrender is a tacit admission that butter's return to grace is no fluke. Per capita butter consumption hit a 44-year high in 2012, according to U.S. government data, while margarine is at a 70-year low. In Germany, butter outsells margarine by a 3-to-1 margin, and the gap is widening as the latter failed to grow in 2013, according to consumer data tracker IRI. "Margarine has become a marker for cheap, processed, artificial, unhealthy food," says Marion Nestle, a nutrition professor at New York University. "The irony is hilarious. Unilever went to a lot of trouble to formulate healthy margarines, but the zeitgeist has caught up with them."
Unilever, which gets about 7 percent of its sales from margarine, produces more than 30 percent of spreads globally, according to Euromonitor International. Besides Germany's Rama, its other big brands include Country Crock and I Can't Believe It's Not Butter! in the U.S., and Flora in the U.K. The company's decision to add butter to Rama comes after unit sales in the division that includes spreads have declined for three straight years.
Margarine was invented by a French chemist in 1869 after Napoleon III offered a prize for making an alternative to butter to feed his troops and the poor. The chemist sold his patent to a Dutch company that is now part of Unilever, and the product grew more popular amid butter shortages during World War II.
Although margarine was originally made primarily from beef fat, the products most people call margarine today are spreads—better-tasting variants that emerged in the 1970s made from vegetable-based oils and fats. Butter and traditional margarine are about 80 percent fat by volume; spreads can contain as little as 60 percent fat, which makes them less suitable for cooking. Over time, Unilever has made its spreads more healthy, phasing out the use of artery-clogging trans fats and adding omega-3 fatty acids and plant sterols to reduce cholesterol. In 2009 it unveiled an ad campaign touting the "goodness of margarine," which implored people to limit butter intake.
Nonetheless, butter flourished. A 21 percent wholesale price drop amid a butter glut last summer made it more affordable compared with spreadable margarines. And new research has challenged the long-held view that saturated fat in butter causes heart disease, says Aseem Malhotra, a member of Britain's Academy of Medical Royal Colleges Obesity Steering Group. Lately, Malhotra says, sugar has surpassed fat as the worst dietary bogeyman. Butter also benefits from the growing trend toward more natural foods, a desire kindled by celebrity chefs and cooking shows such as BBC Two's The Great British Bake Off in the U.K. and Food Network's Heartland Table, which on its website praises butter as "the essential lifeblood of every dish."
Margarine's decline has drawn calls from investors for Unilever to sell some or all of the business, which Investec Securities last year estimated could fetch at least €8 billion ($11 billion), according to MainFirst analyst Alain-Sebastian Oberhuber. "If it's a battle they can't win, I'm not sure if it's smart to keep battling," he says. "It's better to divest as long as the margins and cash flow are still strong and to get a decent price for it."
Unilever managers say there's a future for spreads. At a Dec. 5 investor conference, Unilever Foods President Antoine de Saint-Affrique said that margarine "is a natural product" as "it's made of oil in the same way as butter is made of milk." Convincing shoppers of that could be tough. "You've told us for 20 years that butter is bad," says Mintel Group analyst David Turner, "and now you are putting it back in your margarine? For the consumer, it's a big leap."
Before it's here, it's on the Bloomberg Terminal.
LEARN MORE