German Joblessness Fell More Than Forecast in January
Alessandro Speciale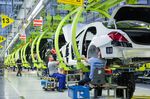 German unemployment declined more than forecast in January as companies grew more confident in the strength of Europe's largest economy.
The number of people out of work decreased by a seasonally-adjusted 28,000 to 2.93 million, after falling a revised 19,000 in December, the Nuremberg-based Federal Labor Agency said today. Economists predicted a drop of 5,000, according to the median of 34 estimates in a Bloomberg News survey. The adjusted jobless rate unexpectedly fell to 6.8 percent, unchanged from a revised December figure and matching the lowest rate in at least two decades.
The Bundesbank predicts that Germany's economy will expand "strongly" in the coming months, supporting the still-frail recovery in the rest of 18-nation euro area. The Ifo index of business confidence in the country is at the highest level in 2 1/2 years as businesses benefit from strengthening domestic demand and foreign trade.
"German companies might expect increasing profitability in the future, stepping up with some new hirings," said Annalisa Piazza, a fixed-income strategist at Newedge Group in London. "Part of the improvement in the labor market is due to the positive effects of the German structural reforms implemented ahead of the crisis. Those have helped to create a more resilient and more flexible labor market that is not affected much by cyclical swings."
Accelerating Growth
Recent data indicate that German growth is accelerating. Manufacturing probably expanded for a seventh month in January, and GfK SE's gauge of consumer confidence is at the highest level since Aug. 2007.
Siemens AG, Europe's largest engineering company, reported first-quarter earnings on Jan. 28 that beat analyst estimates and Continental AG, the continent's second-largest auto-parts maker, said this month that it foresees a fifth consecutive year of record sales.
Joblessness fell by 16,000 in western Germany and 12,000 in the eastern part, the labor-agency report showed. Hiring may also have been boosted by a warmer-than-usual winter, according to Thomas Harjes, senior European economist at Barclays Plc in Frankfurt.
"Favorable weather conditions and better construction activity may have led to some upside bias since December but we expect further improvement in coming months with the German economy gaining steam," Harjes said. "Unemployment dynamics reached a turning point at the end of last year and numbers are falling again while job creation has picked up."
Euro-Area Jobs
The German economy could still face headwinds from the fragile recovery in the rest of the currency bloc, where unemployment was at a record 12.1 percent in November. The rate stayed at that level in December, according to the median estimate of economists in a survey before data tomorrow.
Germany's DAX stock index was down 0.4 percent at 9,303 at 11:50 a.m. Frankfurt time. The euro slid 0.5 percent to $1.3597. German government bonds climbed and yields fell after inflation data from German states showed consumer prices dropped this month from December.
The European Central Bank has warned that it could reduce interest rates if the medium-term outlook for euro-area inflation worsens. The ECB held its benchmark rate at a record low of 0.25 percent this month after a surprise cut in November. Policy makers next meet on Feb. 6.
Credit Standards
At the same time, economic confidence in the euro area is rising. An index of executive and consumer sentiment climbed to 100.9 from a revised 100.4 in December, the European Commission in Brussels said today. That's the highest reading since July 2011, though it missed the median estimate of 101 in a Bloomberg News survey of 34 economists.
A lending survey published by the ECB today signaled that the region's lenders expect to end the tightening of credit standards for businesses this quarter, and will accelerate the easing of standards to households.
"There is a positive sentiment within the German economy but there are also positive effects from the outside as the euro area is picking up," said Daniel Lenz, an economist at DZ Bank AG in Frankfurt. "This will have a positive effect on export industries."
Before it's here, it's on the Bloomberg Terminal.
LEARN MORE