Consumer Spending Propelled Fourth-Quarter Growth: Economy
Shobhana Chandra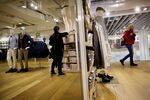 Consumer spending that rose at the fastest pace in three years helped the U.S. economy grow at a 3.2 percent pace in the fourth quarter, overcoming government cutbacks and laying the foundation for a stronger expansion.
The rate of growth in the world's largest economy followed a 4.1 percent advance in the prior three months, Commerce Department figures showed today in Washington. Household purchases climbed at a 3.3 percent pace, the best performance since the end of 2010.
The pickup in demand was broad based as business investment and exports also accelerated, overshadowing the damage from the 16-day partial shutdown of federal agencies and budget cuts. Diminishing fiscal restraint this year and progress in the labor market will probably sustain economic growth, which explains why the Federal Reserve decided to pare stimulus.
"There is a fair amount of strength in the economy," said Nariman Behravesh, chief economist at IHS Inc. in Lexington, Massachusetts. "Consumer spending is on solid ground. We're seeing other engines of growth picking up -- capital spending is rebounding, exports are up." IHS is the second-best U.S.-based overall forecaster over the past two years, according to data compiled by Bloomberg.
Stocks rebounded, pushing benchmark indexes up from two-month lows, as earnings beat estimates at companies from Facebook Inc. to PulteGroup Inc. The Standard & Poor's 500 Index climbed 1.1 percent to 1,794.19 at the close in New York.
German Unemployment
Overseas, the news today was more mixed. German unemployment declined more than forecast in January as companies grew more confident in the strength of Europe's largest economy, while a report from China signaled manufacturing shrank for the first time in six months.
Unusually cold temperatures in the U.S. last month probably also caused residential real estate to slow, another report today showed. A gauge of pending home sales slumped 8.7 percent, the biggest decline since May 2010, according to figures from the National Association of Realtors.
"Unusually disruptive weather across large stretches of the country in December forced people indoors and prevented some buyers from looking at homes or making offers," NAR chief economist Lawrence Yun said in a statement.
Also today, a report from the Labor Department showed applications for unemployment benefits rose more than forecast last week to the highest level in more than a month, partly reversing a post-holiday slump.
More Claims
Jobless claims climbed by 19,000 to 348,000 in the period ended Jan. 25, which included the Martin Luther King holiday. The reading was the highest since mid-December. The data are sometimes difficult to seasonally adjust during holiday weeks, although a Labor Department spokesman said there was nothing unusual in the figures.
For all of 2013, the U.S. economy expanded 1.9 percent after a 2.8 percent increase in the prior year.
The increase in gross domestic product last quarter matched the median forecast of 87 economists surveyed by Bloomberg. Estimates ranged from 0.9 percent to 4.2 percent. The GDP estimate is the first of three for the quarter, with the other releases scheduled for February and March as more information becomes available.
Among businesses seeing an improvement in demand is Texas Instruments Inc., whose chips are used in almost every electronic device from parts for satellites and rockets to home appliances.
Feeling Better
"The U.S. economy clearly seems to be stepping up its growth," Kevin March, chief financial officer of the Dallas-based company, said on a Jan. 21 earnings call. "Europe appears to have stopped declining, and it appears that China has stabilized. So you've got to feel better about that at this stage, starting 2014, than we did 12 months ago."
Confidence among American consumers has started 2014 on shaky ground. The Bloomberg Consumer Comfort Index declined to minus 31.8 in the week ended Jan. 26, the lowest level in two months, as more Americans said it was not a good time to shop, another report today showed.
Nonetheless, households are benefiting from gains in wealth. The S&P/Case-Shiller index of property prices in 20 cities climbed in November from a year earlier by the most since 2006. The S&P 500 jumped 30 percent in 2013, its best performance since 1997.
Today's GDP report showed government spending fell at a 4.9 percent pace in the fourth quarter, subtracting 0.9 percentage point from growth. For all of 2013, federal agency outlays declined 5.1 percent, the most since 1971.
Government Shutdown
The federal shutdown in October held back economic growth. While the impact of the shutdown can't be quantified, the Bureau of Economic Analysis estimated the effect of the reduction of hours worked cut GDP by about 0.3 percentage point.
Another blemish in today's report was a surge in inventories. While adding to growth last quarter, too many goods on shelves may mean stockpiles will need to be trimmed in early 2014, restraining production.
The changes in stockpiling during the last six months of 2013 marked the biggest back-to-back quarterly gains on record.
Complementing the pickup in consumer spending were gains in exports and business investment, today's report showed.
The trade deficit narrowed to $370.1 billion, adding 1.3 percentage points to GDP growth, the most since the second quarter of 2009. Sales of American goods and services to foreign buyers jumped at an 11.4 percent annualized rate, the most in three years and eclipsing a 0.9 percent gain in imports.
Business Investment
Corporate spending on equipment advanced at a 6.9 percent annualized pace, adding 0.4 percentage point.
Residential construction may have suffered from the bad weather as it decreased at a 9.8 percent annualized rate, subtracting 0.3 percentage point from growth.
Fed officials yesterday took note of the improvement in growth when they voted to trim monthly bond purchases by $10 billion to $65 billion.
"Growth in economic activity picked up in recent quarters," Fed officials said in a statement following their first policy meeting of the year. "Labor market indicators were mixed but on balance showed further improvement."
Before it's here, it's on the Bloomberg Terminal.
LEARN MORE