Anxiety Hits Norway Housing Market as Premier Monitors Slump
Saleha Mohsin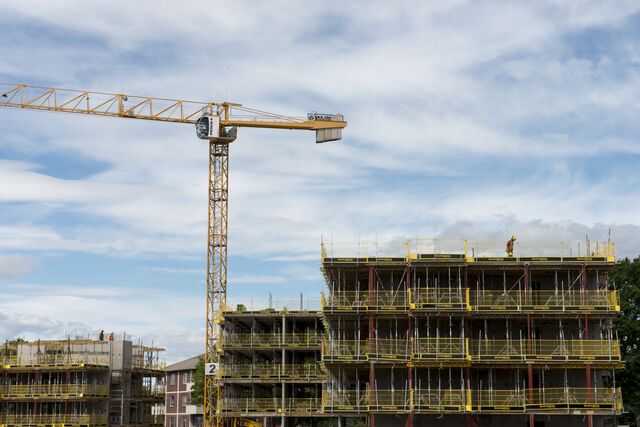 Norway's Prime Minister Erna Solberg warned of "insecurity" gripping the nation's housing market as deflating prices coincide with a rise in the jobless rate in Scandinavia's richest economy.
"What we're seeing now is insecurity in the housing areas," Solberg said in a Jan. 29 interview at parliament in Oslo. "We have to look into what the reasons are for this. We know that the activity in construction is a little bit lower than anticipated earlier."
Norwegian house prices have dropped 5 percent since August as the market retreats from a half-decade-long real estate boom. The $500 billion economy is slowing as consumers service record debt burdens and as joblessness climbs. Though unemployment remains well below the euro zone's 12.1 percent, Norway's registered jobless rate rose to 3 percent in January, the highest since February 2011, the Norwegian Labor and Welfare Service reported today.
"There has been a tendency for an increase in the unemployment figures in Norway since August," Solberg said. "We need to see what the reasons are for the unemployment figures before we can answer if we need any" changes in fiscal policy, she said. The government is due to publish a supplement to its budget proposal in May.
Before winning elections in September, Solberg said she would try to ease lending standards to help more first-time buyers access to the housing market.
Housing Slump
Norway's Financial Supervisory Authority this week rejected pleas from Solberg's government to ease guidelines in place since 2011 that limit loans to 85 percent of a home's value. The FSA said banks are already flexible in their compliance with mortgage guidelines and signaled new measures may be needed to curb household debt growth.
The regulator said it will place "great emphasis" on banks sticking to the current rules. The government is due to publish its response next week.
House prices fell 0.9 percent in December, according to a monthly report by real estate brokers. The brokers' association sees average house prices falling as much as 3 percent in 2014.
Nordea Bank AB, the largest Nordic lender, says Norway's housing market may sink as much as 20 percent over the next two years, forcing the central bank to cut rates twice in 2014. The central bank left its benchmark interest rate unchanged in December and delayed tightening plans until the summer of 2015, a year later than previously signaled.
Krone Effect
Norway's economy is also slowing as exporters in western Europe's largest oil producer struggle to stay competitive as petroleum wealth filters into the economy, pushing up wages.
Krone weakness this year has provided some relief. A survey released this week showed orders for the export industry increased at the end of last year, in part fueled by currency moves, according to the statistics agency.
The krone has lost 12 percent against the euro over the past year, in part as the euro region's recovery damped Norway's haven appeal and after the central bank warned it would cut rates to stem an appreciation. It's still up 5 percent over the past five years against the common currency.
"Competitiveness is the most important answer to the economic development in Norway," Solberg said.
Before it's here, it's on the Bloomberg Terminal.
LEARN MORE