Japan Starts Search for New Jets for Emperor, Prime Minister
Chris Cooper and Kiyotaka Matsuda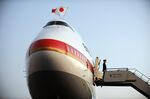 Japan is preparing to replace the aging Boeing Co. 747-400s used on official visits by the emperor and the prime minister after more than two decades of service.
Authorities have asked interested parties to meet Feb. 3 to brief about the purchase plan and receive feedback, according to a Jan. 27 notice on a government website. The government aims to introduce the planes in the year starting April 2019, according to an official at the nation's Ministry of Defense, who asked not to be identified, citing rules.
The planes will need to be fitted with secure communication devices, rooms and other equipment and should be able to fly directly to the U.S. east coast, where Washington is about 10,900 kilometers (6,770 miles) from Tokyo, according to the notice. Called seifu senyo ki, or Japanese Air Force One in English, the jets were introduced in 1991, and are also used for transporting Japanese nationals in the event of emergencies.
"With such a long history of using the 747, the government is likely to go with Boeing again," said Haruo Ushiba, chief analyst at Japan Aviation Management Research. "They'll most probably go with another wide-body, such as the 777."
Boeing, Airbus
Boeing and Airbus Group NV said they are both interested in pitching for the order.
"Boeing is excited for the opportunity to work together again on the head of state aircraft program with the Japanese government," said George Maffeo, head of the planemaker's Japan operations. "We have a long and enduring relationship with the Japanese government and industry."
Airbus, which won its first plane order from Japan Airlines Co. in October, will decide whether to submit a proposal after receiving more details, Stephane Ginoux, head of Airbus Japan unit, said by telephone from Toulouse, France, on Jan. 28.
The 2013 list price for a wide-body Boeing 777-300ER is $320.2 million, according to the company's website. An Airbus A350-1000 costs $340.7 million, the planemaker said in a statement.
Japan got its current Boeing 747s in 1991 when it first created a Japanese Air Force One, according to the defense ministry website. The planes, flown by Japanese Self-Defense pilots, have a capacity to transport about 150 passengers. They are equipped with an administrative office, meeting room and a media area, according to the website.
White House
The U.S. also uses 747s to carry the president. The planes, called Air Force One when carrying the president, are capable of refueling midair and have an unlimited range. They are equipped with communication gear that allows the aircraft to function as a mobile command center in the event of an attack on the U.S., according to the White House's website.
Prime Minister Shinzo Abe uses Japanese Air Force One on overseas visits, such as a gathering of Asia-Pacific leaders in Indonesia in October, while Emperor Akihito and Empress Michiko also flew the plane for a state visit to India last year.
Japanese Air Force One was also used to fly home Japanese nationals from Algeria in January, according to the defense ministry's website, when terrorists linked to al-Qaeda took hundreds captive at a natural gas plant in a four-day standoff.
Japan Airlines currently performs the maintenance on the Japanese Air Force One planes, according to Jian Yang, a spokesman at the Tokyo-based carrier.
Before it's here, it's on the Bloomberg Terminal.
LEARN MORE