Billionaires Fuming Over Market Selloff That Sinks Magnit
Halia Pavliva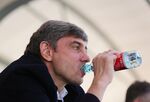 Two of Russia's billionaires have had enough of this year's stock market selloff.
Sergey Galitskiy, the owner of grocery chain OAO Magnit, fumed over his stock's 19 percent plunge this month, saying on a Jan. 27 conference call that "the market is so crazy that I have to apologize for the best results in history" in 2013. A day later, Oleg Tinkov, the founder of TCS Group Holding Plc, vented on Facebook Inc. that "irrational behavior" was behind the plunge that left the credit-card issuer down 36 percent since an October initial public offering.
Magnit, Russia's largest food retailer, is off to the worst start to a year since its 2008 listing in London while TCS has slid since a Nov. 15 report that Russia's proposed ban on the sale of credit cards by mail would hurt its business. Analysts surveyed by Bloomberg predict record revenue for both companies even as Russia's economy grows at the slowest pace since a 2009 recession.
"It's the markets, not CEOs, that make decisions on valuations and prices, and those guys are clearly upset about it," Ian Hague, founding partner of New York-based Firebird Management LLC, which manages $1.3 billion of assets including Russian stocks, said by phone from Tbilisi, Georgia, yesterday. "People realize the Russian retail sector can't continue to grow at the same pace it had expanded before."
The Bloomberg Russia-US Equity index of the most-traded Russian shares in the U.S. slid to an almost five-month low yesterday while RTS index futures dropped 0.1 percent to 133,690 in U.S. hours. The Micex Index gained 1.1 percent to 1,485.35 by 10:22 a.m. in Moscow today.
Dividend Focus
In addition to criticizing a share selloff that followed a slowdown in monthly sales growth, Magnit's CEO Galitskiy also said this week that the retailer will adopt a focus on dividends and profitability.
The stock, which rose 65 percent last year, has also been unsettled by concern that investors may choose to reinvest some money in competitor Lenta Ltd. Controlled by U.S. leveraged buyout firm TPG Capital, Lenta plans to sell shares in London next month, according to two people familiar with the matter.
"If you are tired of an old wife, you may buy a new one, but let's see what happens," Galitskiy said on the call in reference to Lenta.
'Irrational Behavior'
Tinkov said he's seen "a lot of stupidity, lack of logic and irrational behavior" since TCS was listed in London, according to comments posted on his Facebook account.
TCS dropped 1.7 percent to $11.25 in London yesterday, widening this year's decline to 28 percent. Magnit slipped 1.3 percent to $53.40, the lowest level since July.
The Bloomberg Russia-US gauge sank 1.7 percent to 91.47, led by VimpelCom Ltd. The wireless carrier controlled by Russian billionaire Mikhail Fridman fell the most since May 2012 after omitting a final dividend for 2013 and saying future payouts will be lower. The stock slid 13 percent to $10.14.
The Market Vectors Russia ETF, the biggest U.S. exchange-traded fund that holds Russian shares, declined 0.7 percent to $25.88, the lowest level since September. The RTS Volatility Index, which measures expected swings in the index futures, dropped 2.7 percent to 21.81 today.
Before it's here, it's on the Bloomberg Terminal.
LEARN MORE