Ukraine Premier Quits as Lawmakers Revoke Protest Laws
Daryna Krasnolutska and Kateryna Choursina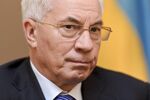 Ukraine's prime minister quit to help end more than two months of street protests as parliament prepared to grant amnesty to activists after revoking anti-rally laws that sparked deadly riots last week.
President Viktor Yanukovych accepted the resignation of Mykola Azarov, triggering the demise of his cabinet. By law, the government will stay in power until Yanukovych names a new premier, the president's office said in a statement.
"The government has done everything possible to resolve the conflict in a peaceful way," Azarov, 66, said in a statement on the government's website today. "Saving Ukraine's unity and integrity is the most important thing. It's much more important than anyone's personal plans and ambitions."
Yanukovych, 63, is struggling to contain unrest that's spread from Kiev to other cities across the nation of 45 million people, a key transit route for Russian energy supplies to Europe. The opposition is seeking to oust him and revise the constitution, and protesters continued to fill sand bags with ice in minus 11 degrees Celsius (12 degrees Fahrenheit) to reinforce barricades in Kiev.
The yield on the government's dollar-denominated notes due in June fell 2.08 percentage points to 10.64 percent at 4:17 p.m. in Kiev, while the yield on its 2023 debt slid 44 basis points to 9.20 percent, data compiled by Bloomberg show. Both yields are down the most on a closing basis since Dec. 17, the day Ukraine won a $15 billion bailout pledge from Russia that helped ease concern the eastern European nation will default.
'Toward Victory'
Lawmakers tackled another crucial demand from protesters by voting 361-2 to repeal anti-protest laws, with 49 abstentions. They postponed a vote on an amnesty for detained protesters until tomorrow.
In its push to change the constitution, opposition leaders are advocating possibly reverting to the 2004 version under which parliament picks the prime minister. According to the current charter, that decision is up to Yanukovych, who has 60 days to install a new government.
Opposition leader Arseniy Yatsenyuk, 39, has twice rejected an offer from Yanukovych to take the premier's post in the last four days. Fellow opposition leader Vitali Klitschko, the former world heavyweight boxing champion, said protesters wanted more than the government's resignation and he would "under no condition consider working in a government with Yanukovych as president."
"First of all we have to reboot the power system," Klitschko said in a comment on his Facebook Inc. page. "This is what Ukraine has risen up for."
Russia, EU
The resignation of the prime minister and the scrapping of the anti-demonstration laws are "a first great success in the Ukrainians' fight for freedom and democracy," Andreas Schockenhoff, deputy leader of Chancellor Angela Merkel's CDU-led block in Germany's lower house of parliament, said in an e-mailed statement.
After meeting European Union President Herman Van Rompuy and European Commission President Jose Barroso, Russian President Vladimir Putin said Russia will go ahead with the bailout if the opposition comes to power, as long as the new government pursues economic policies the two sides agreed on.
Putin indicated he would tolerate politicians with a pro-western bent in a new Ukrainian government while continuing to balk at a possible trade pact between Ukraine and the European Union as a threat to Russia's economy.
Economic Dangers
"Are we going to review our loan and energy agreements if the opposition comes to power?" Putin told reporters after meeting EU leaders in Brussels today. "We will not."
Azarov frequently warned the crisis posed economic dangers for the Black Sea state, which is mired in its third recession since 2008. The economy shrank 0.3 percent in the third quarter from the previous three months, while foreign reserves have fallen to $20.4 billion from $24.5 billion a year ago.
"A big question mark is that there is no clarity on who might replace the current government," Serhiy Yahnych and Yevgeniy Orudzhev, analysts at BNP Paribas SA's Ukrsibbank in Kiev, said in an e-mailed note. "If the opposition declines to make up part of a new government, we would not exclude a crackdown of protests."
Justice Minister Olena Lukash backed away this morning from a threat to call for a state of emergency after demonstrators vacated her headquarters in Kiev.
Protester Amnesty
Any amnesty for detained protesters will only take effect if all state buildings seized by demonstrators are handed back, Lukash said yesterday.
The unrest has spread beyond the capital. Protesters are occupying or blocking the offices of governors picked by Yanukovych in more than half of the nation's 25 regions, while police have expelled demonstrators from others. Anti-government activists continue to occupy the agriculture and energy ministries in Kiev.
"We need to change all the authorities," Maxim, a 26-year-old engineer who refused to give his last name for fear of reprisals said on Independence Square. "We are ready to leave and clean up Kiev after ourselves if we get a new prime minister, if the constitution is changed, limiting presidential powers, and if they free all political prisoners. I will stay here as long as needed."
The opposition says six demonstrators have died and a thousand have been injured since last week. A policeman wounded on Jan. 27 in Kherson, south Ukraine, died today, the Interior Ministry said in a statement. More than 300 more officers have sought medical help, according to the Interior Ministry.
Police have begun an investigation after three people died from gunshot wounds, while 116 people have been detained on suspicion of participation in riots. The opposition canceled a mass rally in the capital, Kiev, Jan. 26 to mourn activists who died last week amid clashes with police.
Before it's here, it's on the Bloomberg Terminal.
LEARN MORE