Ford Sees 'Building-Block Year' After '13 Profit Gains
Craig Trudell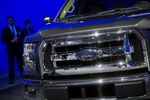 Ford Motor Co. is asking investors to look beyond an anticipated drop in profit this year, when the automaker plans to spend heavily as it introduces more vehicles than ever, promising a hefty payoff beginning in 2015.
Ford's plan to double new-model introductions worldwide, including tripling the number of rollouts in North America, will limit pretax profit to as much as $8 billion this year for the Dearborn, Michigan-based company. The second-largest U.S. carmaker said today that it earned $8.6 billion in 2013.
"We expect this year to be a building-block year for us, largely driven by all those launches," Chief Financial Officer Bob Shanks said today in an interview with Bloomberg Radio. "That really is going to set us up for much better financial results coming out of this year into 2015."
The product onslaught will mean costly factory overhauls to ready them for building fresh models such as the top-selling F-150 pickup, updated with an aluminum body and arriving in showrooms in late 2014. Chief Executive Officer Alan Mulally also plans to open two new plants in China this year to build on last year's record results in North America and Asia.
Ford's modest outlook for this year surprised some analysts and investors in December, sending the stock to a 9.7 percent drop, its biggest monthly decline since September 2011. The shares rose 0.1 percent to $15.72 today at the close in New York.
"All one could ask out of 4Q results was to help increase confidence in the 2014 consensus following last month's warning," Adam Jonas, a New York-based analyst at Morgan Stanley with a neutral rating on the shares, said today in a report. "This is important to help position Ford as a 2015 story."
Topped Estimates
Ford reported net income of $3.04 billion for the fourth quarter, topping analysts' estimates, as F-Series pickups extended a sales lead in the U.S. and the Focus compact drove demand in China. Excluding one-time items, the per-share profit was 31 cents, exceeding the 28-cent average estimate of 16 analysts surveyed by Bloomberg.
Pretax annual earnings climbed to $8.78 billion in North America and $415 million in the Asia-Pacific region, both records, Ford said today in a statement.
Ford enters its busiest year for new-model introductions -- rolling out 23 vehicles worldwide and 16 in North America -- with the assurance that Mulally plans to remain through the end of 2014. The 68-year-old executive said this month he wanted to end speculation that he would leave to replace Steve Ballmer as CEO of Microsoft Corp.
The most crucial introduction is the F-150 pickup that sheds as much as 700 pounds (318 kilograms) to improve fuel economy, mostly by using aluminum instead of steel in its body.
Down Weeks
Ford has scheduled 13 down weeks throughout this year at its two plants that build F-150s to ready them to build the redesigned model, Shanks said today. Three of those weeks are slated for the first quarter, and another three included in the tally are weeks that Ford regularly schedules for shutdown in the summer, Shanks told reporters today at the company's headquarters.
Rising full-size pickup demand paced Ford's $1.7 billion pretax profit in North America for the fourth quarter and carried full-year results in the region to an all-time best for the second consecutive year.
The F-Series truck line was the top-selling vehicle in the U.S. for the 32nd consecutive year, with deliveries climbing 18 percent to 763,402. The F-Series extended its lead over General Motors Co.'s sales of the Chevrolet Silverado, which rose 15 percent to 480,414.
Pensions, Bonuses
The North American results will lead to Ford paying about $8,800 in profit sharing to each of its about 47,000 eligible U.S. hourly employees represented by the United Auto Workers, a record payout that occurs in March, according to today's statement. The company last year paid about $8,300 per worker.
Ford's worldwide pension plans ended the year underfunded by $9 billion, the company said. A rising discount rate, which reduces the current value of a future obligation, and the company's $5 billion contribution to its funded plans last year reduced its pension shortfall by more than half from $18.7 billion at the end of 2012.
Contributions to the pension plans will drop to just $1 billion to $2 billion annually during the next three years, Shanks said in December. That will free up more cash to invest in its business or provide to shareholders down the road, he said today. Ford said this month it will boost its quarterly dividend by 25 percent, to 12.5 cents.
"We can basically neutralize it and immunize it so that from a risk-profile basis, it's just something that isn't of concern to investors," Shanks said of the pensions plans today in an interview. "It's not a potential drain on cash. It's a huge step forward."
China Gains
Ford's Asia Pacific Africa operations earned $106 million in the quarter, up from $39 million a year earlier. The automaker passed Toyota Motor Corp. in China last year to become fifth among foreign automakers by sales, as demand for the Focus compact led a 49 percent increase in deliveries.
A prolonged slump in Europe, where Ford is undergoing a multiyear restructuring, is beginning to moderate, with the biggest industry sales increase in more than four years in December. The operating loss for Ford's European operations narrowed to $571 million during the fourth quarter, from $732 million a year earlier.
Ford reported a $1.61 billion full-year loss for Europe, its third-straight annual deficit for the region. The company has said it expects results there to improve in 2014 and to return to profitability in 2015.
South America
The only region where Ford's results worsened for the year was in South America, where the company reported a pretax loss of $126 million for the fourth quarter and a loss of $34 million for all of 2013. The company said in December that Venezuela and Argentina posed risks to its forecast for about break-even results in the region for 2014.
Argentina last week scrapped some of its currency controls and devalued the peso by the most since 2002. Ford also is cutting production in Venezuela as a shortage of hard currency crimps its ability to pay suppliers.
"Since December, we're more concerned" about South America, Shanks told reporters today. "That's an area that we'll continue to watch very closely and probably one area that gives us pause."
Before it's here, it's on the Bloomberg Terminal.
LEARN MORE