Japan Beyond Tokyo Luring BlackRock With Overseas Money
Kathleen Chu and Katsuyo Kuwako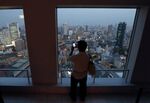 BlackRock Inc., the world's biggest money manager, is helping to drive a revival in Japan's property market as investors bet Prime Minister Shinzo Abe's plan to sustain economic growth will boost real estate returns.
BlackRock is looking for investments outside of Tokyo this year as it seeks higher yields, said John Saunders, managing director and head of Asian real estate. Japan real estate investment trusts, or J-REITs, acquired properties worth 2.23 trillion yen ($21.6 billion) in 2013, almost triple the previous year, after raising a record amount of cash from equity sales, according to the Association for Real Estate Securitization.
Real estate investment has climbed since Abe pledged to end more than a decade of deflation and the Bank of Japan eased monetary policy, sparking growth in commercial land values and a drop in office vacancy rates. Acquisitions made by overseas investors will account for about 20 percent of all transactions this year, up from 13 percent in 2013, and commercial-property sales may grow to the highest level since 2007, according to brokerage Jones Lang LaSalle Inc.
"Japan is experiencing a bit of a renaissance right now," said Christian Mancini, chief executive officer of North East Asia at brokerage Savills Asia Pacific Ltd. "There is favorable policy movement that has restored sentiment. All of a sudden, the market is pricing that forward."
The Bank of Japan has pumped $546.3 billion into the financial system since April, boosting business sentiment to the highest since 2007.
"When you have monetary easing, that is incredible because you suddenly put oxygen into a starved environment," Hong Kong-based Saunders said in an interview. He declined to comment on individual investments. BlackRock acquired private-equity property investment adviser MGPA last year to expand in Asia, including Japan.
Transactions Surging
Property transactions may rise as much as 30 percent to about 5 trillion yen this year from 4 trillion yen in 2013, said Takeshi Akagi, a director at Jones Lang LaSalle in Tokyo.
Alpha Investment Partners Ltd., a unit of Singapore-based Keppel Land Ltd., is among overseas firms interested to buy in Japan. Alpha manages $7.3 billion of assets with 22 of 51 properties in Japan, according to its website.
"The flow of capital from overseas, as well as domestic sources such as J-REITs, private REITs, corporations and developers is enormous," said Asao Mikami, president and chief executive officer of Alpha's local arm in Tokyo, declining to provide details. "The real estate market will be very, very active this year and next year. I am very optimistic."
J-REITs Buying
J-REITs were among the biggest property buyers in 2013 as a 36 percent gain in the Tokyo Stock Exchange REIT Index made it easier to sell equity. J-REITs raised a record 1.19 trillion yen in initial share sale and public offerings last year for acquisitions, according to data compiled by Bloomberg.
Mori Trust Sogo REIT Inc., which invests in office and commercial properties, in April acquired a building in Shibuya that houses the flagship store of Swedish retailer Hennes & Mauritz AB for 32 billion yen, with an estimated net operating income of 1.36 billion yen, according to a statement.
CLSA Capital Partners, which has $2.6 billion under management including real estate, is also seeking to buy, said Tokyo-based Hirotaka Uchiyama, head of Japan for Fudo Capital, manager of CLSA's Asian real estate investment funds.
"The banks are very keen to lend to the real estate sector," Uchiyama said. "Even though the market is getting competitive, it hasn't reduced the attractiveness of the investment."
'Road to Hell'
Not everyone is confident that Abenomics, as Abe's reflationary policies to kick-start an economy stagnant for two decades became known, will deliver. Yoji Otani, an analyst at Deutsche Bank AG, wrote in a Jan. 17 report titled "Road to Hell Is Paved With Good Intentions" that Abenomics will become dysfunctional this year.
"Though the balance of bank lending is rising and the Japanese economy is headed toward normalization, these will likely be overshadowed by fiscal reform planned for FY2014 in the form of budget austerity and higher taxation," Otani wrote. The consumption tax will rise in April to 8 percent from 5 percent and to 10 percent next year.
The best time for real estate investment may have passed, Otani said in an interview. The Topix Real Estate Index, which gained 80 percent in 2012 and 71 percent in 2013, is one of the worst performers among 33 industry groups this year, declining 11 percent. That's a signal the real estate direct investment market will start to deteriorate, he said.
"It's not a good time to invest in the real estate market," Otani said. "Investors have come too late."
The Topix Real Estate Index rose for the first time in five days today, closing 0.4 percent higher in Tokyo.
Vacancies, Rents
Investors are being encouraged by an improvement in the outlook for the office market, where rents had been in decline since 2008. Office vacancies, a measure of unoccupied space, in Tokyo fell to 7.3 percent in December from 8.7 percent a year earlier, according to brokerage Miki Shoji Co.
Tokyo's average rents for grade-A offices, or those considered to be the most stable, high-income producing properties, will rise about 10 percent this year, according to an estimate by Jones Lang LaSalle. The office vacancy rate for grade-A buildings in central Tokyo dropped to 4.3 percent in the three months ended September, pushing rents 2.2 percent higher in the quarter, according to Jones Lang LaSalle.
Rising Prices
Sellers "recognize rental increases in high-quality buildings in Tokyo," said Akagi. "We expect further improvement in rents, capital value and transaction volume."
The capitalization rate, a measure of investment yield, for office buildings in Tokyo fell to 4.98 percent in December from 5.21 percent a year earlier, according to New York-based Real Capital Analytics Inc. A drop in the cap rate, which is a property's net income divided by the purchase price, usually signals an increase in real estate prices.
Property prices for "well located, good quality, medium size" office buildings in Tokyo have gained more than 15 percent in the past year, estimated Andy Hurfurt, a Tokyo-based executive director at broker CBRE Group Inc.
A surge in property prices in Tokyo has prompted investors to look at other major cities. BlackRock, which started investing in Japan property two years ago, in August bought an office and residential building in Osaka and is exploring investment opportunities in other cities Saunders declined to name.
Japan Recovery
"If you are a believer in recovery in Japan, which we are, then what you've seen happened in Tokyo will ripple out into the secondary cities," he said.
MGPA, the firm acquired by BlackRock, bought two Tokyo office properties last year, the South Shin Otsuka and Shinjuku TX buildings, according to a statement dated April 15, 2013, on the website of law firm Clifford Chance, which advised the investment firm on the purchases.
It paid 12 billion yen for eight office buildings in Japan in 2012, two people familiar with the transaction said at the time. Seven of the properties were in Tokyo, MGPA said that June. The other one was in Yokkaichi city in Tokai region near Nagoya, said the people.
LaSalle Investment Management is proceeding carefully, said Yasuo Nakashima, chief executive officer for Japan. The company, with $47.6 billion of assets under management, has focused on distribution centers in Japan.
More Difficult
"Abenomics has only affected the capital market so far; there is no change in terms of fundamentals such as demand and supply," Nakashima said. "That means finding the right opportunities to invest has become very difficult."
Property transactions in the Tokyo metropolitan area more than doubled to 1.51 trillion yen for the six months ended September from the same period a year earlier, while sales in the rest of the country gained 75 percent to 446.5 billion yen during the period, according to a survey by Urban Research Institute Corp.
Mitsubishi Estate Co., Japan's biggest developer by market value, on Nov. 29 sold a nine-story retail building in Fukuoka City's Tenjin shopping area to Tokyo-based United Urban Investment Corp., a real estate investment trust, for 4.35 billion yen with a yield of 7 percent.
'Early Stages'
"In regional markets you couldn't really sell properties, but now you can as capital is flowing in," Mitsubishi Estate Chief Executive Officer Hirotaka Sugiyama said in an interview. "The real estate market has become very active."
Land values rose at 107 locations out of 150 sites monitored by the government in the three months through Oct. 1, the most since the government increased the number of sites it monitors in 2008.
As part of Abe's "third arrow" of a three-pronged strategy, the government has promised deregulation and structural reforms to sustain a recovery triggered by fiscal and monetary stimulus.
The recovery in the real estate market will broaden to other types of properties such as logistics and suburban shopping malls as consumer demand grows, Jones Lang LaSalle's Akagi said.
The government on Jan. 17 raised its assessment of the Japanese economy for the first time since September, citing improvements in private consumption and business investment.
"We see Japan as a good opportunity," said BlackRock's Saunders. "The recovery is still in its early stages, so you can expect us to continue to increase our investment there."
Before it's here, it's on the Bloomberg Terminal.
LEARN MORE