Chinese Legal Activist Sentenced to Four-Year Prison Term
Bloomberg News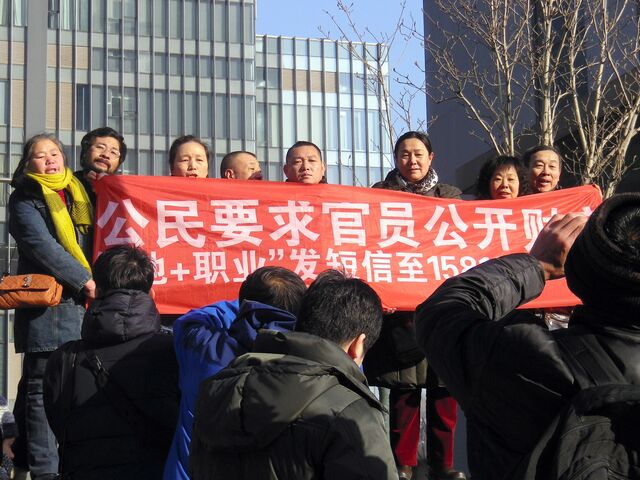 Chinese activist and legal scholar Xu Zhiyong has been sentenced to four years in prison on charges of gathering a crowd to disturb public order in the most prominent case in a crackdown on dissent since President Xi Jinping came to power.
Xu, 40, was sentenced by the Beijing No. 1 Intermediate People's Court yesterday, the court said on its official Weibo account. While he was not given a formal opportunity to respond, Xu told the court that "the last dignity of Chinese law has been destroyed," his lawyer Zhang Qingfang said by telephone.
The sentence is the most significant in a campaign by Chinese authorities to clamp down on dissent that has seen at least 50 activists arrested since March, according to New York-based Human Rights Watch. Xu helped start the New Citizens' Movement, an alliance of activists that sought to promote rule of law, democracy and official disclosure of assets. More than a dozen associates of Xu have been detained and the trials of several of them are scheduled for this week.
While President Xi has led a campaign on corruption that has taken on targets in government and the military, the ruling Communist Party has also reined in online commentators and arrested microbloggers on charges of spreading false rumors.
'Heavier End'
"Four years is on the heavier end and is a message to the group of activists involved in the New Citizens' Movement and in the wider circle of activists," Maya Wang, a researcher with the Asia division of Human Rights Watch in Hong Kong, said by telephone. "Any kind of challenge to the authorities in the form of organized movement is still a big red line."
The U.S. government is "deeply disappointed" by reports of Xu's conviction, Jen Psaki, a State Department spokeswoman, said in a statement released today. "We call on Chinese authorities to release Xu and other political prisoners immediately, cease restrictions on their freedom of movement, and guarantee them the protections and freedoms to which they are entitled under China's international human rights commitments," Psaki said in the statement.
Police manned the roads leading to the court in western Beijing before the verdict was announced and said journalists were not allowed to enter.
Xu, who helped Chinese families whose children were sickened by tainted milk in 2009 to file lawsuits, had called for China to move toward democracy and rule by the constitution. He was detained July 16 in Beijing after a group of other activists unfurled banners demanding China's leaders disclose their assets.
Sentence 'Expected'
"His sentence was expected," Xu's lawyer Zhang said. "But his conviction of a crime is not fair and is illegal."
The New Citizens' Movement unfurled banners, collected signatures and distributed promotional materials, Xu said in a prepared statement after his trial ended Jan. 22. It also campaigned to promote the rights of children of migrant workers to sit for university entrance exams locally.
"What the New Citizens' Movement advocates is for each and every Chinese national to act and behave as a citizen," Xu said, according to a translation by Chinachange.org. "To accept our roles as citizens and masters of our country and not to act as feudal subjects, remain complacent, accept mob rule or a position as an underclass."
Social Topics
The verdict accused Xu of using people's concern over certain social topics to organize and incite others to disturb public order in front of the Ministry of Education as well as other public places in Beijing, according to a copy of the verdict posted online by his lawyer Zhang.
In one incident, Xu, along with Wang Gongquan and Ding Jiaxi organized almost 100 people in February 2013 to gather in front of the gates of the Beijing Municipal Commission of Education office that created "serious chaos" in the order of the nearby area, according to the verdict. Ding is scheduled to go on trial today, Human Rights Watch said in a statement.
Wang, a prominent venture capitalist, was arrested on charges of assembling a crowd to disturb public order in October. He pleaded guilty to the charges, a posting on the official Weibo account of the Beijing No. 1 Intermediate People's Court said Jan. 23.
Efforts by Xu and other activists have clashed with a tightening of the space for dissent under President Xi. In September, the government strengthened punishments for online defamation saying users could face imprisonment if posts are read by more than 5,000 people.
Uighur Minority
China this month detained Ilham Tohti, an outspoken academic and member of the nation's Uighur ethnic minority, according to Foreign Ministry spokesman Hong Lei. Tohti used a website he runs to spread separatist thoughts and call for the independence of China's western region of Xinjiang, the Urumqi Public Security Bureau said in a statement posted online Jan. 25. He also incited his students to hate the country and overthrow the government, it said.
The detention comes amid renewed unrest in the region, where more than 40 percent of the people are Uighurs. Police opened fire against an attack by a group of suspected terrorists as they were making arrests following an explosion in Xinjiang's Aksu prefecture, the official Xinhua News Agency said Jan. 25.
Xu's calls for officials to disclose their assets was part of an effort to push China to establish an anti-corruption mechanism, he said in a statement after the trial. While China punished more than 180,000 officials last year, officials are not required to publicly give any details on their financial holdings.
Offshore Companies
China's elite, including the brother-in-law of President Xi, have used secretive offshore companies that helped hide wealth in tax havens, including the British Virgin Islands and Samoa, a report by the International Consortium of Investigative Journalists said Jan. 22.
In June 2012, Bloomberg News reported that the wealth of Xi Jinping's extended family included investments in companies with total assets of $376 million; Hong Kong real estate worth $55.6 million; and an 18 percent indirect stake in a rare-earths company with $1.73 billion in assets.
— With assistance by Henry Sanderson
Before it's here, it's on the Bloomberg Terminal.
LEARN MORE