Wal-Mart Cuts 2,500 Jobs at Sam's Club to Streamline Management
Renee Dudley and Lindsey Rupp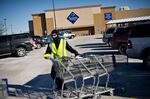 Wal-Mart Stores Inc., the world's largest retailer, is eliminating about 2,500 employees at its Sam's Club warehouse division in a bid to improve efficiency at the business.
The move is intended to streamline management at clubs of varying sizes and improve operations, Bill Durling, head of corporate communications at Sam's Club, said in a phone interview. The job cuts, effective yesterday, included assistant managers and some hourly workers such as phone attendants, he said.
"We're always looking at how to be more efficient and effective," Durling said yesterday. "We're doing this so we can position ourselves for future growth."
Sales at Sam's Club rose 1.1 percent to $14.1 billion in the third quarter, the company said in November. When Wal-Mart reported those quarterly results, it also cut its annual profit forecast for the second time since August amid a struggle to prevent low-income customers from taking their business to dollar stores and other rivals.
The retailer will pay affected workers their salaries for 60 days with the opportunity to look for another position at a Sam's Club or Wal-Mart store, Durling said. After the 60-day period, the employees will be paid severance if they haven't found another post within the company.
The job cuts also include combining six leader roles in the club's fresh food division into three positions, Durling said.
Wal-Mart shares fell 0.7 percent to $74.42 at the close in New York yesterday. The stock has gained 6.6 percent in the past 12 months compared with a 20 percent advance for the Standard & Poor's 500 Index.
The job cuts were reported earlier by the Wall Street Journal.
Before it's here, it's on the Bloomberg Terminal.
LEARN MORE