Davos Austerity Debate Renewed as Summers Splits With Osborne
Simon Kennedy and Scott Hamilton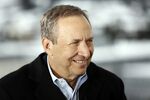 U.K. Chancellor of the Exchequer George Osborne and former U.S. Treasury Secretary Lawrence Summers sparred over how much governments can spur investment, reviving the debate over the virtues of austerity.
Speaking at the World Economic Forum's annual meeting in Davos, Switzerland, Summers argued the U.S. government should take advantage of low interest rates to invest in infrastructure, contending such expenditure would spur economic expansion and pay for itself through higher tax revenues.
Osborne, who is deploying the U.K.'s biggest fiscal squeeze since World War II, responded that British government spending would need to be balanced by budget cuts elsewhere or risk drawing the ire of financial markets and creating uncertainty for business.
"In the American context, I think that the right investment strategies are actually win, win, win," said Summers, a former adviser to President Barack Obama.
Speaking at the same event, Osborne said "when it comes to public investment and public infrastructure projects, I would just say there's no free lunch."
The differences -- which both sought to paper over by noting they agreed on the need to stimulate private investment - - threw fresh light on the transatlantic split over the role of fiscal policy that dates back to the aftermath of the financial crisis.
Austerity Debate
While the U.K. embraced austerity soon after Prime Minister David Cameron entered office in May 2010, Obama's administration delayed cutting back until recently.
"I see much less need to impose cutbacks on people who are very vulnerable right now in the American context than the chancellor sees in the British context," said Summers, noting the U.S. recaptured its post-crisis level of output faster than the U.K.
"The concept of deficits needs to move beyond the accumulation of financial debt to the other deficits we bequeath," he said, arguing that because spending on infrastructure such as airports would be needed eventually, it should be done now when borrowing is cheap.
Osborne said the U.K. had suffered a deeper decline in gross domestic product than the U.S. after the financial crisis because of the relative size of its banking sector. Restoring a balanced budget would create a better economic environment for the private sector to invest, he said.
More public investment means making "tough decisions elsewhere in your budget, on entitlements in the case of the U.K.," he said. "You've just got to make hard choices."
While the chancellor pointed to the euro area's crisis as justifying cuts in the U.K., Summers said there are differences between the U.K. and the euro region in that Britain has its own currency and central bank.
"We probably have a common interest in stressing our points of agreement rather than our points of disagreement," Summers said. "I think they are the importance of generating demand through increased investment."
Before it's here, it's on the Bloomberg Terminal.
LEARN MORE