Warring Syrians Meet UN After Sparring Over Assad's Fate
Sangwon Yoon and Terry Atlas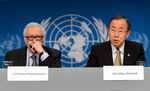 Syria's government and opposition will meet a United Nations negotiator to see whether the warring parties can agree to face-to-face talks after voicing deep divisions over the future of President Bashar al-Assad.
The parties, who joined world powers including the U.S. and Russia at the opening session of a peace conference yesterday in Montreux, Switzerland, were to join separate talks today with the UN's Syria envoy, Lakhdar Brahimi. If the parties won't agree to sit in the same room, the UN may propose indirect talks with mediators shuttling between the Syrian groups at separate locations in Geneva tomorrow.
Yesterday, negotiating teams for Assad and opposition groups laid out conflicting views on whether the Syrian leader had any future role in post-civil war Syria
The country's three-year civil war has left 130,000 people dead and created 2 million refugees, according to Western estimates. The conflict has spread across borders, fueling sectarian violence and political instability from the Mediterranean to the Persian Gulf. Brahimi and UN Secretary-General Ban Ki-moon said they don't expect quick progress in efforts to resolve it.
"It is not easy to sit across a table after so much bloodshed and destruction but many countries have found peace and a new future through negotiations," Ban told reporters yesterday.
'Clear Indication'
Brahimi said he had "fairly clear indication" from both sides that they are willing to discuss localized cease-fires to allow the delivery of humanitarian aid, and the release of political prisoners.
The initial Syrian talks will last about a week, and will be followed by a second round, Russian Foreign Minister Sergei Lavrov told reporters yesterday in Montreux. Russia is one of Assad's main international backers. The other, Iran, isn't at the talks after its invitation was withdrawn.
The difficulty of reaching a settlement was made clear when the adversaries blamed each other for the human toll.
Syrian Foreign Minister Walid al-Muallem said Assad isn't responsible for atrocities against his own people, and on the contrary is protecting them from "foreign-backed terrorism."
Ahmad al-Jarba, head of the opposition Syrian National Coalition, described Assad as an Iranian-backed dictator who must be stripped of his powers and tried for his crimes.
Splintered Opposition
"The regime has got no reason to shift from its position," David Butter, Middle East analyst and associate fellow at foreign policy research group Chatham House in London, said in a phone interview. "And the opposition would lose the last shreds of representation" if it makes any concessions on Assad's removal and a transitional government.
While Jarba's group is the largest among an opposition splintered into hundreds of factions, it doesn't represent all the groups fighting Assad. Islamist movements have played a growing role in the war, and have begun to clash with the Western-backed rebels as well as Assad's army. The Islamists aren't represented at the talks.
U.S. Secretary of State John Kerry backed the coalition, saying that peace and stability are impossible while Assad remains in power.
There's "no way possible in the imagination that the man who has led the brutal response to his own people could regain the legitimacy to govern," Kerry said yesterday.
Military Threats
The U.S. backed down from threats of military action against Assad's government in September, instead supporting a Russian initiative to remove Syria's chemical weapons. That decision angered U.S. allies in the region, including Saudi Arabia, that have supplied arms to their Sunni Muslim co-religionists fighting against Assad.
Saudi leaders signaled last year that they view the Western-backed opposition as ineffective and may shift some support toward more Islamist rebels. Shiite Muslim Iran supplies weapons and aid to Assad, whose Alawite sect is linked to its branch of Islam.
Lavrov sidestepped the question of Assad's fate, saying outside players must not predetermine the outcome of the talks. Most of the attendees blamed Assad for triggering the bloodshed by using violence against what began as peaceful protests calling for democracy.
Bashar Jaafari, the Syrian government's ambassador to the UN, said such statements reflected "blind hatred" toward his government, and accused the conference of being "anti-Syria."
Yesterday's conference was based on the terms of the 2012 "Geneva I communique," which outlines six points for setting up a transitional government "by mutual consent."
Since the communique was published, violence has escalated. Assad's government is using a "strategy of war crimes" to kill 5,000 people a month, Human Rights Watch said in a report this week.
Before it's here, it's on the Bloomberg Terminal.
LEARN MORE