United Sees Bookings Slowdown as Pacific Travel Drops
Mary Schlangenstein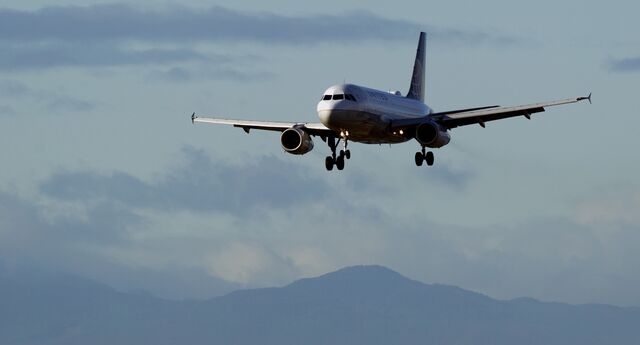 United Continental Holdings Inc., the biggest U.S. airline on flights to Asia, said a benchmark revenue measure may show little growth this quarter amid a slowdown in bookings for trans-Pacific travel.
Revenue from each seat flown a mile on main jet routes will rise in a range of 0.3 percent to 2.3 percent from a year earlier, the Chicago-based carrier said in a U.S. regulatory filing today. The percentage of available seats sold on flights to Asia over the next six weeks is down 4.9 percentage points.
Most U.S. airlines slumped after the announcement, even as United joined Southwest Airlines Co. and Alaska Air Group Inc. with fourth-quarter profits that beat analysts' estimates. United is this year's top performer in the Bloomberg U.S. Airlines Index, with investors betting that a plan for $2 billion in annual cost savings by 2017 will help boost earnings.
"With the way these things run and the optimism that has built up for airlines, anything short of full steam ahead might cause some pause for investors," Logan Purk, an Edward Jones & Co. analyst in St. Louis, said in a telephone interview.
The forecast for so-called unit revenue trailed Delta Air Lines Inc.'s Jan. 21 projection for quarterly growth of as much as 4 percent. Seats sold on trans-Atlantic flights over the next six weeks are down 0.4 point from a year earlier, 0.4 point on domestic flights for United's main jet fleet and 1.4 points on the airline's regional partners.
Easter Shift
Latin America was the lone bright spot, with bookings up 4.3 percentage points, according to United, the world's second-biggest airline. United said the forecast decline in unit revenue growth includes a drop of 1 percentage point because Easter holiday travel won't come in the first quarter.
United fell 1.5 percent to $48.43 at the close in New York, paring its year-to-date gain to 28 percent. All nine carriers in the Bloomberg index declined, dragging the gauge to a 1.5 percent drop.
Excluding costs such as severance, earnings at United were $298 million, or 78 cents a share, according to a statement. Analysts expected a profit of 71 cents on that basis, the average of 15 estimates compiled by Bloomberg.
Costs Drop
Operating costs fell 0.8 percent in the quarter, as United works to control expenses since its 2010 merger with Continental Airlines. The company is counting on new, more efficient planes to supply about half of its savings goal by reducing fuel use.
Sales rose 7.2 percent to $9.33 billion, beating analysts' average estimate of $9.31 billion. United reported a loss of $190 million, or 58 cents a share, excluding some items, a year earlier. Yield, or the average fare per mile, rose 3 percent across United's mainline jets and regional operations, and passenger traffic increased 2.7 percent.
Fourth-quarter yields on domestic routes rose 3.8 percent, the most since 2011, according to data compiled by Bloomberg. That measure increased by 2 percent on trans-Atlantic flights, a slowdown from gains of about 6 percent in the first three quarters of 2013, the data show. Trans-Pacific yields dropped 1.6 points.
Net income in the 2013 period was $140 million, or 37 cents a share, including $158 million for severance and expenses related to merger integration. That compared with a loss of $620 million, or $1.87, a year earlier, the company said.
Southwest said earnings of $236 million, or 33 cents a share, excluding some items, more than tripled from $65 million, or 9 cents, a year earlier. The average of 16 estimates compiled by Bloomberg was 29 cents.
Sales rose 6.1 percent to $4.43 billion, exceeding the $4.37 billion average of 13 analysts' estimates.
Net income including $24 million of one-time costs rose to $212 million, or 30 cents a share, from $78 million, or 11 cents, a year earlier, Dallas-based Southwest said.
Alaska, the parent of Alaska Airlines and Horizon Air, said profit excluding some items was $1.10 a share. That compared with analysts' average $1.07 estimate. Net income rose 77 percent to $78 million, or $1.11 a share, from $44 million, or 61 cents, according to the Seattle-based company.
Before it's here, it's on the Bloomberg Terminal.
LEARN MORE