The Super Bowl's Real Ticket Masters Gear Up for the Biggest Game
When you've got a guy, these are the guys
By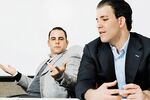 When Pope Benedict XVI came to Yankee Stadium in 2008 to say Mass, one of Ety Rybak's clients wanted a front-row seat for one of his sisters, who happens to be a nun. There was no box office. The Church was distributing tickets through its dioceses and parishes. Selling access to the sacrament, it said, was a sin. But Rybak had a buyer, so he went looking for a seller. After a few calls he found the event organizer for the New York Yankees who controlled access. The answer was a polite no. Then Rybak called again for the next three months, sometimes several times a day, until he got a different answer. "Of course my client thinks that there was some secret," he says, "like my brother-in-law is the pope or something, which is fine if he believes that."
Rybak, 35, is co-founder of Inside Sports & Entertainment Group, a New York ticket brokerage. The company's 25 employees make 20,000 sales per year totaling close to $45 million, a tiny but profitable sliver of the multibillion-dollar secondary ticket market. Its customers are bankers, lawyers, real estate brokers, and trust funders who want to be courtside for the Knicks, behind home plate for the Yankees, in the first row at the US Open finals, and backstage with the Rolling Stones.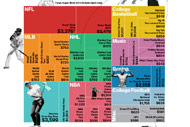 Most of all, they want to go to this year's Super Bowl at MetLife Stadium in New Jersey. For the city's power brokers, the National Football League championship on Feb. 2 is almost a mandatory event—a place to have the back of your head seen by competitors and a night to be recounted casually to colleagues. For Inside Sports, the game is a furious exercise in sizing up and serving its clientele. According to Jason Zinna, the partner in charge of Super Bowl sales, the company will handle as many as 3,000 tickets. It will buy them from the NFL, teams, players, fans, and other resellers, sort them into categories, and sell them, along with hotel reservations, transportation, parties, and meals, in packages that can cost as much as $25,000 per person. The game, Rybak says, will be the biggest event he's handled so far, maybe the biggest of his career.
Rybak has been in the ticket business for 12 years. Born in Israel and raised in Westchester, N.Y., he attended Tulane University, where, by his account, he "didn't do a goddamn thing other than drink and smoke weed." After college he took a job as a marketing assistant at the National Basketball Association, where he mostly made photocopies and "bound a lot of presentations." After 18 months he left for a corporate hospitality company called Superstar EXP. There he and a colleague, Alan Baum, were in charge of wrangling sports and concert tickets. Superstar's founders soon had their hands full with a private flight booking service called Marquis Jet (now a division of NetJets). So in 2004, Rybak and Baum branched out on their own as Inside Sports.
In the first days, the job was less about finding tickets than finding people who would pay for them. Rybak made dozens of cold calls daily. He would go to US Open tennis matches and circle the stadium writing down the names posted outside luxury suites. At golf tournaments, he would "borrow" the contact lists for hospitality tent occupants. He became a student of Hoover's online company directory, which lists contacts and job descriptions.
Once he had a "qualified buyer" on the phone, he would come up with something to sell. As a newcomer, he figured he couldn't outdo more established competitors on the marquee sporting events—the Kentucky Derby, the NCAA Final Four, the Super Bowl. He focused instead on events slightly more out of the spotlight—awards shows, film festivals, fashion weeks. When American Eagle Outfitters wanted to reward the managers of its top-selling stores, Rybak took them to the Grammys and played tour guide for a night out in New York. To his surprise, clients took these unusual offerings as a show of strength: "They were, like, 'Wow, you can get me the Grammys?' " Rybak recalls. " 'Then obviously you can do the Super Bowl.' "
While they were building a client list, Rybak and Baum sold a lot of "air," taking orders for tickets they didn't yet own. This is common practice in the business, especially at smaller agencies. It prevents getting stuck with inventory that can't be moved. (The risk, of course, is having to sell at a loss or getting caught without.) As it learned its clients' appetites, Inside Sports began buying more tickets ahead of time. A $750,000 deal with Verizon to send 100 people to the 2005 Super Bowl had provided a bankroll. Rybak and Baum knew without asking which seats they could sell at the US Open finals in September or at a Beyoncé show in December. Still, they leave trend-spotting to their customers. "I didn't know who One Direction was until our phones started calling off the hook saying, 'I need One Direction,' " Rybak says.
Inside Sports will sell almost anything a client requests. Zinna once arranged for Justin Bieber to serenade a construction magnate's daughter with One Less Lonely Girl onstage at Madison Square Garden. That cost $30,000. Last November the company paid Katy Perry $1.4 million to entertain 100 guests at a private tech industry event in Miami. Rybak has set up a round of play for a client at members-only Augusta National Golf Club in Georgia. The Papal Mass in 2008 ended as a favor trade: Rybak passed along the ticket at a nominal cost to build goodwill with his client. The only request he's ever turned down on ethical grounds, he says, was access to a memorial ceremony in Normandy on the 69th anniversary of D-day last year. "I don't know why," he says. "It just didn't make me feel comfortable."
In the popular imagination, ticket brokers tend to fall somewhere between lawyers and morticians—they're middlemen whose job is to squeeze out the little guy. Nobody grieves as the Web wreaks havoc on the trade. Online marketplaces such as StubHub and aggregators like SeatGeek and TiqIQ make it easy to see price ranges and trends and have cut into sellers' profits. Armed with only a smartphone, a buyer can scan the market and get on-the-spot access minutes before a game. "Sometimes the street scalpers and those guys don't take well to that, but that's the truth of the marketplace," says Will Flaherty, SeatGeek's director of communications. Sports teams and concert promoters, seeing how much money they are leaving on the table, are beginning to adjust prices according to demand.
The NFL, too, wants to cut into brokers' margins. "We are looking to close the gap between the face value of the ticket and its true value as reflected on the secondary market," league spokesman Brian McCarthy told reporters in September, when the NFL announced prices for this year's Super Bowl. At $2,600, the face price of the best seats is more than double that for last year in New Orleans. (Still, the $2,600 tickets are going for as much as $10,000 online, according to SeatGeek.) Ten years ago the league launched its own hospitality program, NFL on Location, to offer luxury travel packages. According to McCarthy, it will sell about 2,000 for this year's game. Some of its biggest customers are brokers, though the league keeps them at arm's length. "We know that some of these packages, and also game tickets, are resold," McCarthy wrote in an e-mail. "It is buyer beware for fans who are not buying the tickets directly."
 
 
At Inside Sports, they don't use the word "scalper." That's the guy barking on the sidewalk in front of the stadium. The company is part concierge, part trading floor. Its 11th-floor office in Midtown Manhattan has an open layout and a single conference room with an autographed Joe Namath photo still waiting to be hung and a Don Mattingly baseball bat left on a chair. Zinna, 37, joined the company in 2009, when Inside Sports acquired his agency, One Event Group. He commutes from Greenwich, Conn., where he lives with his wife and two kids, and dresses in standard business-casual attire: Oxford shirt, cable-knit sweater, and jeans.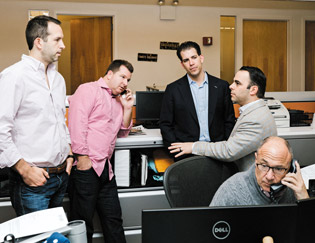 Rybak looks more like a frat brother. He wears faded polos, half-zip sweatshirts, and a backwards New York Mets hat. He's not married and often works through the night. (He got into the business, he says, because he knew that "if you just outwork everybody, then you can thrive.") He doesn't make many cold calls these days. His BlackBerry flickers with as many as 1,000 e-mails and texts per day. He narrates the flow of requests on a Monday afternoon in November: "Justin Timberlake at Madison Square Garden, Saturday Night Live, New York Knicks vs. Oklahoma City Thunder on Christmas Day, NBA in London."
The company occupies a relatively Web-proof niche. Its customers aren't jostling for nosebleed seats at a New York Jets game. They expect to call and get prime seats, and maybe a steak dinner for two, on short notice. (The online market still provides a check on prices, though. "Even millionaires don't like to feel like they are getting ripped off," SeatGeek's Flaherty says.) Sales at Inside Sports have grown steadily, from about $1.5 million in 2004 to $5 million two years later to $37 million in 2012 to $45 million last year. The profit margin, Zinna says, is usually about 20 percent, with huge variation among events. After the financial crisis, Rybak says, bankers retreated, their expense accounts trimmed and displays of wealth discouraged. They've been more than replaced, however, by new buyers. The online market, Rybak says, has made more people aware of what's available and within reach: "Credible new clients keep coming out of the woodwork."
Drew Sheinman first used Inside Sports to go to the Super Bowl in Arizona in 2008. He's been a return customer since and says he refers friends and colleagues when "they want the best of the best, what nobody else can have, and they don't mind paying for it." Sheinman, now the chief marketing and revenue officer for the Breeders' Cup horse race, has spent most of his career in sports and entertainment marketing, including stints at Madison Square Garden and Coca-Cola. The access Inside Sports can get, he says, often exceeds what leagues and events provide to sponsors. "It's one thing to go to the Super Bowl. It's another thing to go to the Super Bowl sitting side by side with Joe Namath," he says. "When you walk into a CEO's office and you see the pictures that they have of all the events that they have been to thanks to Inside Sports & Entertainment Group and the prominence it holds in their offices, it speaks volumes."
For those who question the social value of his work, Rybak likes to tell the story of President Obama's inauguration in 2009. He knew there would be intense demand to see the swearing-in or attend one of the official balls. "People would have given up their firstborn or their left leg to be in the same room as that guy," he says. Online brokers such as StubHub and EBay had forsworn selling the 240,000 ceremony tickets distributed by lottery through congressional offices. The Senate passed a bill that January that would make their sale a misdemeanor punishable by fines up to $100,000 and a year in jail. "The chance to witness [the inauguration] should not be bought and sold like tickets to a sporting event," said Senator Dianne Feinstein (D-Calif.), the bill's sponsor. It failed to get through the House.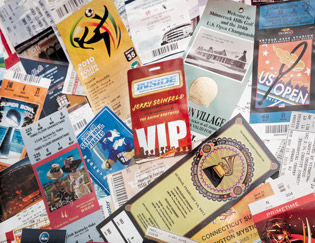 Inside Sports divvied the seats in front of the Capitol steps and standing-room areas in the National Mall into tiers ranging from $1,750 to $20,000 per head, with transportation, hotel, and ball access to be added. (The Washington Post published the company's ticket map. "I know there is a lot of concern about the selling of swearing-in tickets," Rybak told the newspaper, "but we're selling packages and making the best effort to connect people with the different prices out there.") The Friday before the event, with about 250 customers booked, he went to Washington, got a room at the Churchill hotel, and started answering Craigslist ads offering tickets. "It was nerve-racking," he says. "The only thing that matters is getting the clients the tickets I promised them. It's just a matter of how much I'm going to pay."
The first ad was four reserve seats at $5,000 each. Rybak arranged to meet the seller in front of the hotel. "So I've got $20,000 in cash in my hands," he says. "I'm outside, and it's, like, 2 degrees. I have no idea what's about to happen." Up rolls a beat-up Toyota Corolla with a woman, a dog, and three kids inside. "It's like some middle-aged mom," he says. Her tickets, he can see from his research, are legitimate. He hands over the money.
For the next few hours, the traffic to his room was nonstop. Rybak stopped bothering to go downstairs. On Inauguration Day, his sellers were counting their money, his buyers were seeing what they'd paid as much as $24,000 to see, and Rybak was in his hotel room eating eggs Benedict. "Who is doing something wrong here?" he asks.
 
 
Inside Sports began planning for this Super Bowl about 18 months ago. It made lists of clients who go to the game every year and those who might be persuaded this year. It also began mapping out logistics and extras. It booked hotels, limos, and tables at restaurants and clubs. Last June it approached Redd's Restaurant & Bar, less than a mile from MetLife Stadium, about hosting a pregame party. The NFL, Inside Sports knew, was not going to allow tailgating, and other than Redd's, there isn't much around except for interstate, ponds, and grass. The company teamed with the Pro Football Hall of Fame to book former players—Buffalo Bills legends Jim Kelly and Bruce Smith are tentatively scheduled—to mingle at the bar and give a "chalk talk." Clients who don't want to spring for the official pregame party in the stadium can come to Redd's for an extra $595.
There are 82,500 seats at MetLife, closer to 80,000 once you account for extra cameras and security for the game. The league claims 20,000 of these to sell and sort among sponsors, partners, and the rest of officialdom. The participating teams—the Denver Broncos and Seattle Seahawks—each get 14,000. The Jets and New York Giants, as hosts, split about 5,000. The other 28 teams share the remaining 27,000. Zinna created a map that divides MetLife into 11 categories: The A seats, field or club level between the 35-yard lines, go for $11,500. The next step down, club level between the 35-yard line and the end zone, costs $9,500. And so on, down to K, upper bowl end zone, for $2,500.
A top-end transaction looks like this: Early in 2013, a retired energy executive and longtime client requests a Super Bowl package with hotel stay and entertainment for 10 people, Thursday through Sunday. Inside Sports puts together an offer including category A tickets, pregame in-stadium and postgame on-field access, five-star hotel, stretch Lincoln Navigator with a dedicated driver for the weekend, a "celebrity NFL host" to accompany the group to all events, a table at Rao's in Harlem on Thursday night, a party at Cipriani 42nd Street on Friday—featuring live performances by Mary J. Blige, Marc Anthony, and John Legend, and a fashion show with Naomi Campbell—and, on Saturday, a choice of courtside seats to the New York Knicks vs. Miami Heat or ringside seats at an Ultimate Fighting Championship event at the Prudential Center in Newark, N.J. Cost: $25,000 per person. A month later, the client responds: sold.
In this case, Inside Sports buys the tickets directly from the NFL's hospitality program, which includes pre- and postgame events and food and drink inside MetLife. By rule, these are resold at cost, but Inside Sports makes money on the other extras. Most tickets come from the league; others, from teams, players, or fans who won a league or team lottery. Some come from barter with corporate sponsors. AT&T, for instance, might offer passes to the Masters Tournament in exchange for Super Bowl tickets. Come April, Verizon might want into the Masters and promise access to next year's Super Bowl. The perks—the celebrity encounters and dinner reservations that help set Inside Sports apart from a random vendor on Craigslist—come from connections built from countless phone calls. "When I didn't know where to go or how to start," Rybak says, "I would just find someone and I would act like a really, really nice guy. And I would tell them what I was looking for." Eventually, somebody points him in the right direction.

In early January the Inside Sports spreadsheet shows 912 Super Bowl tickets sold, including 245 in category A. Of those, 794 are in hand. So far, 808 people want to go to Redd's, 371 to the Friday night party. After the Broncos and Seahawks won the conference championships on Jan. 19, sales more than doubled in two days, Zinna says.
The two weeks prior to the game are a sleepless sprint. Inside Sports fields last-minute requests, makes last-minute buys, and scrambles to align the two. Employees are dispatched to pick up tickets from wherever they become available. "There are 50 tickets in Jacksonville," Zinna says. "Get on a plane. Go get them." (At that point, it's too late and the stakes are too high to trust FedEx.)
All NFL players have a contractual right to buy a pair of tickets from their team. Most choose to resell. As that market grew to a point where strength and conditioning coaches were taking bags of cash to act as go-betweens with brokers, owners have tried to make scalping less convenient. Many require their players to pick up tickets on the Thursday before the game in the host city. This makes for a lively cash market in hotel lobbies. Inside Sports keeps hundreds of thousands of dollars on hand.
Sometimes the puzzle fits together beautifully. At the 2011 Super Bowl in Dallas, Zinna delighted a last-minute buyer by seating him next to actors Chace Crawford and Blake Lively, also clients. Occasionally—but very occasionally, Zinna says—there is an awkward phone call: "Hey, I know we promised you the first 10 rows. I can put you in the first row one section over, or I can put you in row 12 instead of row 10, but I'm going to throw you a couple of pregame passes." He might offer dinner with an NFL player or an autographed ball. If that doesn't satisfy, he'll try moving a different client.
If they do it right, Zinna and Rybak and the rest of Inside Sports will turn a 30 percent profit on this year's Super Bowl and further cement relationships with valuable clients. Until then, Rybak will be scheming: "Howard Stern is having his 60th birthday party on Friday night," he says. "How are we going to get access to that?"
Before it's here, it's on the Bloomberg Terminal.
LEARN MORE