Record Grain Crop Stuck on Prairie as Railways Tap Oil
Jen Skerritt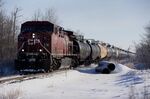 Rising shipments of crude oil by train are tying up railway resources in Canada, leaving as much as 3 million tons of grain stuck on the Prairie after a record wheat and canola harvest.
Grain shipments to export terminals are two months behind due to a shortfall of rail cars, said Keith Bruch, vice president of operations for Paterson GlobalFoods Inc., a 106-year-old Winnipeg, Manitoba-based company with more than 30 grain elevators. Canadian National Railway Co. and Canadian Pacific Railway Ltd. are hauling more oil while engines and crews are needed elsewhere to move grain, he said.
"It's looking more and more that grain is becoming second choice to oil," Bruch said in a Jan. 17 interview at his office in Winnipeg. "The railways make decisions on where they put their power and crews to maximize revenue."
Canada's two major railways are tapping into the growing demand for crude shipments amid pipeline bottlenecks and rising production in Alberta's oil sands. Canadian railroads shipped 34 percent more cars of fuel oils and crude petroleum in October than a year earlier and more than twice the same month in 2011, Statistics Canada data show. Carloads of crude oil surged to 53,453 in 2012 from 143 in 2009, according to Transport Canada.
'Upset Buyers'
Railroads can't get enough grain cars to customers after wheat and canola production across the Canadian Prairies rose to a record. CP Rail reported a 19,934-car shortfall, according to a January service report to Paterson GlobalFoods. Outstanding grain-car orders for CN Rail totaled 17,726, according to a Jan. 17 report posted on its website.
That means there are probably more than 3 million tons (2.7 million metric tons) of grain waiting to move from Prairie elevators and farms, because each car holds about 90 tons, Bruch said. "There are a lot of very upset buyers," he said.
Allocating rail resources for grain and oil can take months of planning to ensure crews and locomotives are ready, said Mark Hemmes, president of Edmonton-based Quorum Corp., which monitors grain transportation in Canada. A surge in weekly orders for one cargo type can leave railroads struggling to respond, he said.
If demand suddenly goes to 6,000 cars, "what do they do?" Hemmes said in a telephone interview. "It's not like a thermostat on the wall where they can just crank it up."
Railroads Respond
CP is moving record volumes of Canadian grain during an extraordinary crop season, Ed Greenberg, a spokesman for Calgary-based Canadian Pacific, said yesterday by e-mail.
"Grain is Canadian Pacific's single largest commodity and therefore very important to our railway," Greenberg said. "We are responding to our grain customers as efficiently and quickly as possible."
Crude oil constitutes a very small portion of Canadian National's business and accounted for less than 2 percent of the carrier's freight-car loadings, Mark Hallman, a spokesman, said by e-mail.
Grain-car orders jumped in mid-September as the Prairie harvest came in, and Montreal-based Canadian National performed well until recent severe weather, Hallman said. Grain-car placement in Western Canada rose to a record and is 12 percent higher than the five-year average, he said. CN will improve weekly car-spotting performance as the cold ease, and plans to deliver 4,000 cars at country elevators this week, Hallman said.
"The notion that crude oil is displacing grain on CN's network has absolutely no merit," Hallman said. "CN's network has ample capacity to move current traffic volumes, including grain."
Ships Waiting
Patterson's Bruch said delays are costing grain companies money. Ships have been idling as long as six weeks in Vancouver waiting for grain, a cost of C$12,000 ($11,000) to C$20,000 a day. Canada-based grain companies have been charged more than C$20 million in fees for delays at the port of Vancouver since August, according to the Western Grain Elevator Association, whose members include Glencore Xstrata Plc's Viterra unit and Cargill Ltd.
"Moving crude by rail has definitely impacted our ability to supply our facilities," Sam Snyder, director of corporate development for Grain Millers Inc., a Minneapolis-based processor that ships cereal grains from Canada to Iowa, Oregon and Wisconsin, said in a telephone interview.
Shares Rise
Canadian Pacific rose 50 percent in the 12 months ended yesterday and Canadian National climbed 27 percent, beating the 9.1 percent gain in the Standard & Poor's/TSX Composite index. CP fell 0.3 percent to C$164.73 at 11:39 a.m. in Toronto and CN rose 0.8 percent to C$59.89.
CN's return on equity of 22.6 percent is the highest of its six North American peers, according to data compiled by Bloomberg.
While railroads have played down crude's role in recent service disruptions, oil is probably a significant contributor to shippers' inability to move grain, Snyder said. The carriers are responding to market demand for oil, and it's difficult to tell whether this is a "blip or the new standard," he said.
Canadian National's third-quarter crude shipments ran at an annualized pace of about 70,000 carloads, Chief Marketing Officer Jean-Jacques Ruest said on a conference call Oct. 22. The 2010 tally was 216, the railroad said its 2013 fact book for investors.
Revenue from petroleum and chemicals rose 17 percent to C$485 million in the three months that ended Sept. 30, while grains and fertilizer revenue fell 3 percent to C$357 million, according to the company.
Grains, Fertilizer
At Canadian Pacific, the industrial-goods category that includes oil showed a 10 percent increase in carloads to 386,000 in 2013's first nine months, according to an Oct. 23 filing. Grain carloads rose 2 percent to 317,000 in the period, the latest for which figures are available.
Revenue from industrial and consumer products, the segment that includes oil, rose 17 percent to C$384 million in the third quarter, more than twice the 8 percent growth in grain revenue to C$319 million, Canadian Pacific reported.
Canada plans to spend more than C$1.5 million to reduce port and rail delays and open new domestic and international markets, Agriculture Minister Gerry Ritz said at a Jan. 21 press conference in Winnipeg. Orders for 40,000 grain cars have yet to be filled and industry groups are discussing whether it's possible to catch up, he said.
"We've given the railways a bit of homework over the next couple of weeks to come up with a plan as to how they address this," Ritz said. "I'm not interested in how many cars they allocate. I'm interested in how many actually get to port."
Seed, Elevators
North American rail congestion is affecting delivery of seed from the Canadian Prairies and North Dakota, Legumex Walker Inc. Chief Executive Officer Joel Horn said in a Jan. 15 statement. The Winnipeg-based company said it agreed to a six-month contract to deliver some canola oil by truck to a biofuel company in Washington state.
Farmers are getting paid less due to the risk that companies may incur penalties if they can't deliver grain by rail on time, said Blair Rutter, executive director of Western Canadian Wheat Growers, which represents Prairie farmers. Some farmers unable to deliver to backlogged elevators are storing grain on the ground because storage bins are full, he said.
Curtis McRae will probably have to keep 30,000 bushels of wheat and 30,000 bushels of canola on his 5,000-acre farm in St. Andrews, Manitoba, until the next harvest because of the gridlock. One local elevator isn't taking grain while awaiting 600 rail cars to move the crop that's already on hand, he said.
"Elevators have no interest in buying our grain right now," McRae said yesterday by telephone. "They'd rather it sit in my yard than their yard."
Before it's here, it's on the Bloomberg Terminal.
LEARN MORE