Old Idea to Fix Inner Cities Gets New Name: 'Promise Zones'
Obama is the latest president to push for enterprise zones—despite their very mixed results
By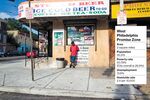 In 1994, Bill Clinton tried to revitalize the mean streets of West Philadelphia. At the time, unemployment and crime were high, graduation rates were low, and businesses were exiting. Clinton's Philadelphia-Camden Empowerment Zone, one of several in troubled urban areas around the country, received $100 million over 10 years in federal grants and tax credits for companies that hired neighborhood residents and invested in the community. Two decades later, not a lot has visibly changed in West Philly. Shop owners work behind bulletproof glass, jobless men sit on stoops drinking beer, and another president is looking to local leaders and businesses to turn things around.
At a White House ceremony on Jan. 9, President Obama announced the first 5 of 20 "promise zones" in parts of San Antonio, Los Angeles, southeastern Kentucky, the Choctaw Nation of Oklahoma, and West Philadelphia, including a half-dozen blocks that also were part of Clinton's zone. Obama's plan calls on federal agencies to help business owners cut through bureaucracy to win federal grants and bring together schools, companies, and nonprofits to support literacy programs and job training. "We will help them succeed," the president said. "Not with a handout, but as partners with them, every step of the way. And we're going to make sure it works."
"I'll believe it when I see it," says 54-year-old Celestine Moore, who recalls that the last infusion of federal aid cleared away a crack house across the street from her apartment building but didn't drive off the drug dealers who still conduct business in front of the corner store where she shops. "Things got a little better with Clinton," she says. "Just a little."
The idea of giving business owners incentives to combat unemployment, failing schools, and urban blight began as a conservative reaction to the welfare programs of Lyndon Johnson's War on Poverty. Over the years it's taken different forms with similar names. Before Obama's promise zones and Clinton's empowerment zones, George H.W. Bush's housing secretary, Jack Kemp, zealously promoted enterprise zones, which cut taxes and reduced regulations for companies in struggling neighborhoods. In December, Kentucky Republican Senators Rand Paul and Mitch McConnell introduced legislation for a similar set of breaks they're calling "economic freedom zones."
It's easy to like the notion of zones, which evoke the ideals of civic-mindedness and local self-sufficiency rather than endless federal checks. That makes them especially attractive to a president who's simultaneously calling for a "year of action" to help those in need and looking to cut the federal budget. Yet it's not clear they've done much to alleviate the complex, entrenched problems of inner city poverty and crime that have defied solutions for decades, says Robert Turner, a professor at Skidmore College who studies the programs. "Empowerment zones, by and large, have not proven to be very successful or money wisely spent," he says.
Other researchers say it's too early to draw conclusions about the long-term impact of the empowerment zones program, which ended in 2009. Douglas Noonan of Indiana University's Public Policy Institute in Indianapolis measured results from the first round of Clinton funding in 1994 and found an initial uptick in employment and wages. "It wasn't earth-shattering, but there was an appreciable effect," he says, adding more study is needed to say whether those improvements persisted.
No one, however, argues that the program succeeded in revitalizing places such as West Philly. All told, the Clinton administration spent $1.8 billion on empowerment zones nationwide, according to a 2009 report by Congress's Joint Committee on Taxation. Of the $100 million that went to the Philly-Camden zone, West Philadelphia got about $19 million. Some businesses opened, including a shopping center that has a Lowe's, a ShopRite, and a half-dozen smaller stores. Yet a 2006 study of the zone program by the U.S. Government Accountability Office found no link between federal money and improvements to living conditions in zones around the country. "It's tricky," Turner says. "When a business moves into a zone, would it have moved there anyway?"
A 2001 investigation by the Philadelphia Inquirer found that the population inside the West Philadelphia zone had dropped 20 percent in the years after the program began and that businesses trying to take advantage of government incentives were "ensnared in red tape and local politics." In West Philly and the city's two other neighborhoods included in the empowerment zones, modest reductions in the poverty and unemployment rates were offset by an almost 30 percent drop in the number of jobs, the GAO concluded.
Henry Cisneros, who was Housing and Urban Development secretary when Clinton rolled out the zones, acknowledges the program's shortcomings. Before running HUD, he was mayor of San Antonio. Part of the city was chosen as an empowerment zone, and it's also on Obama's promise zone list. The Clinton initiative showed that "tax incentives work" to stabilize neighborhoods, Cisneros says. But he says the effort in some places focused too heavily on improving living conditions without providing job training and transportation to connect residents with employers. "You can't simply subsidize your way to prosperity," he says.
Megan Martin of the Center for the Study of Social Policy in Washington says Obama will try to avoid these problems, in part by choosing areas that have leaders who've already secured federal grants on their own—demonstrating they're taking advantage of what's available instead of waiting for someone to do it for them. West Philly's Mantua neighborhood, home to about 35,000 residents, landed on Obama's list after city leaders secured $250,000 from HUD's Choice Neighborhoods Initiative and almost $600,000 from the Department of Justice's Byrne Criminal Justice Innovation program. "The idea is that people already working together will do things faster," says Eva Gladstein, director of the Philadelphia Mayor's Office of Community Empowerment and Opportunity. She notes that nearby Drexel University and the University of Pennsylvania have also pledged to support the program, helping to create jobs for zone residents.
Philadelphia's unemployment rate is "stubbornly high" at 9.9 percent, says Officer and Economic Advisor Luke Tilley with the Federal Reserve Bank of Philadelphia. Job growth over the last year was a dismal 0.3 percent, and most of the 2,200 net positions created were in education and health, requiring skills that are hard to come by among the poor. Still, Tilley calls himself cautiously optimistic that an infusion of low-wage jobs will fuel prosperity in the zone.
On the street outside the rowhouse apartments off Lancaster Avenue, where 5 in 10 people live in poverty, twice the city average, residents are skeptical that blocks of boarded-up houses and lots piled with garbage will be reclaimed, businesses will reopen, and jobs will come back. "This community is a forgotten community and always will be," says Robert Branch, a retired Baptist minister who keeps a pit bull for safety. "Oh, the government remembers for a little while," he says. "Then they forget."
BOTTOM LINE -
The bottom line: A GAO study of Clinton's empowerment zones found no link between the money and improved living conditions.
Before it's here, it's on the Bloomberg Terminal.
LEARN MORE