Meet Warren Buffett's Top Troubleshooter: Tracy Britt Cool
The 29-year-old chairs four Berkshire Hathaway units employing more than 10,000 people
by and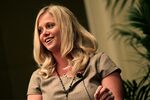 When Warren Buffett bought half of a commercial real estate finance operation in 2009, he hired Tracy Britt Cool, a 25-year-old fresh out of business school, to keep tabs on the investment. Since then the company, now known as Berkadia Commercial Mortgage, has earned back most of the $217 million that his Berkshire Hathaway spent on the deal. Its success has also helped propel Cool's career.
Now 29, Cool is one of Buffett's most trusted advisers, traveling the country to assist a constellation of companies too small to command her boss's attention. "She thinks like I would," Buffett says. His confidence in Cool is one reason he agreed to acquire party-supply seller Oriental Trading in 2012: "I might not have bought it" if it meant adding another CEO to supervise, he says. "To not add one more to my list, I just said, 'Tracy, take this on.' "
In 2012, Cool was named chairman of Berkshire subsidiaries including Oriental Trading and Benjamin Moore paints. The businesses have more than 10,000 workers and combined sales exceeding $4 billion. In the past two years, Cool dismissed three chief executive officers at units she oversees and presided over turnaround efforts that put other managers out of jobs. She also worked with Berkshire subsidiaries to coordinate purchasing and share expertise on employee health care. "There are companies that I've never been there, and we've owned them a lot of years," Buffett says. "Tracy is available to work on things that I probably should work on but either am too busy or too lazy."


Along with Todd Combs, 43, and Ted Weschler, 52, who also were hired in the past four years, Cool is part of a triumvirate of aides Buffett calls the "Ts." Both men ran hedge funds before joining Berkshire, where they help oversee a stock portfolio valued at more than $100 billion.
Growing up in Kansas, Cool helped manage the family farming business with her brother. "Every minute that I had to work on the farm, I hated it," she told Harvard Magazine for a 2007 profile. "But it actually shaped my dedication, my work ethic, and the way I follow through on the commitments I have made." She declined to comment for this story. Her high school classmates in Manhattan, Kan., voted her most likely to become a billionaire. She won a $10,000 scholarship in 2003 from the Horatio Alger Association of Distinguished Americans. As an undergrad at Harvard, she coached students who joined a women's group she founded on how to write businesslike e-mails and behave on conference calls. "When I first met her I thought, 'Oh my gosh, this girl's scaring me. She's so professional,' " says Teresa Hsiao, a Harvard classmate. "Her idea of fun may not be what we consider fun, like looking at 10-Ks," the annual reports corporations file with securities regulators.
Cool met Buffett through Smart Woman Securities, the group she and Hsiao founded while undergraduates. SWS aims to educate members about everything from compound interest to preparing an investment pitch. Cool and Tiffany Niver, a Harvard classmate from Nebraska, wrote to Buffett and asked if members could visit Berkshire's Omaha headquarters. He agreed. The pilgrimage has become an annual event for the group, which has expanded to chapters at 17 campuses.
Cool was inspired by Buffett's value-investing principles when she built SWS, says Rebecca Horne, a member who visited Omaha as a Fordham University student: "I don't think that was unconscious. She clearly had Warren in her sights." While at Harvard Business School, Cool wrote in an essay: "My goal is to work with a great investor, who even more importantly is a wonderful teacher and mentor." She found all that in Buffett, who stood in for her late father, Richard, walking her down the aisle at her September wedding to Omaha attorney Scott Cool.
After graduation, Cool did some work for Berkshire, analyzing Lehman Brothers' bankruptcy, and then became an analyst at Fidelity Investments. When the Berkadia Commercial Mortgage deal surfaced soon after, Buffett offered her a full-time job. In her new position, she visited Berkadia, where she soaked up information that she reported back to Omaha. She also made stops in places such as Indiana, where Berkshire owns Forest River, a recreational vehicle maker, and CTB, which sells agricultural equipment like pig sorters and chicken eviscerators. Cool became chairman in 2012 of two units deemed in need of changes: Benjamin Moore and Larson-Juhl, a picture frame company. She got the same title at insulation maker Johns Manville after the unit's new CEO, Mary Rhinehart, asked if Cool could be a "sounding board," Buffett says.
That year she fired Steve McKenzie, who had helped sell Larson-Juhl to Berkshire about a decade earlier and was working to stem profit declines. She also removed Benjamin Moore's Denis Abrams, a 17-year veteran of the paint company who had disagreed with Buffett on strategy. She ousted his replacement about a year later. "If someone needs to be canned, sometimes you have to do it with dispatch and with not a lot of emotion," says David Rolfe, chief investment officer of Berkshire shareholder Wedgewood Partners. "These things will test her, and I think that's part of the gig."
Cool's eclectic portfolio shines light on how sprawling Berkshire has become after decades of takeovers that have swelled annual revenue to more than $160 billion. In addition to household names such as car insurer Geico and railroad Burlington Northern Santa Fe, Berkshire has dozens of smaller units that can occasionally create headaches. "If you have 60 or 70 children, you're going to have one or two that are going to be problems from time to time," says Buffett, who focuses on acquisitions, large stock bets, insurance, and the railroad. "Part of her job is to make sure that, where there is some area where the companies can benefit from some interaction, they actually do benefit. I've never done anything along those lines."
Buffett, 83, may envision a bigger role for Cool as he prepares the company for his eventual departure. He picked her for the board of H.J. Heinz in June after Berkshire and 3G Capital bought the ketchup maker for about $29 billion. Cool organized a get-together around Berkshire's annual meeting last year to allow managers to meet and discuss common challenges. A similar gathering is scheduled for this year, with Buffett invited. The groundwork and relationships that Cool's building through her travels and events will serve the next Berkshire CEO well, says Buffett, who hasn't publicly identified his replacement. "Tracy can be of particular value, I think, to my successor," he says. "She'll have so much operational familiarity with the really dozens of companies, probably more than anybody else."
Before it's here, it's on the Bloomberg Terminal.
LEARN MORE