McDonald's Admits It Has a 'Customer Relevance' Problem
by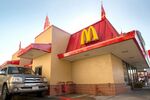 McDonald's, the world's biggest restaurant chain, has had a tough time of it lately. Some of its U.S. workers, and plenty of others, have been criticizing its low wages. Franchisees, who operate almost 90 percent of the more than 14,100 locations in the U.S., have been frustrated with the expanding menu and constant promotions. Customers have complained of slow service.
And now the company's chief executive officer, Don Thompson, has summed out the domestic situation facing the fast-food giant: "We've lost some of our customer relevance." That comment came Thursday after the chain announced that sales at established U.S. restaurants fell 0.2 percent in 2013. The number of customers declined even more: 1.6 percent.
One relatively good bit of news is that customers are spending slightly more when they do come in. Globally, sales were up only 0.2 percent, and 1.9 percent fewer customers came in to the restaurants than in 2012. The company's revenue for 2013 grew 2 percent, to $28.1 billion.
McDonald's is facing serious competition from chains that offer fresher food with a healthier reputation and also from chains that offer dude food with no such promises. So McDonald's created a chicken McWrap and offered Mighty Wings, and neither seems to have drawn in more customers.
The chain also added "& More" to its Dollar Menu in early November, so that it now includes sandwiches that cost as much as $5. The results from the new menu are about what the company expected, Thompson said, without being more specific.
He also said McDonald's plans this year to offer customized burgers and will "emphasize" coffee and breakfast. Does that mean all-day breakfast? No one would say. But that should go a long way with McDonald's "relevance" problem.
Before it's here, it's on the Bloomberg Terminal.
LEARN MORE