How Imgur Became a Photo-Sharing Hit
Imgur, the latest hit photo-sharing hub, is a meme machine
By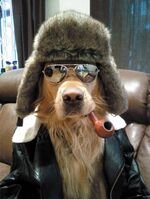 There is a website where cats and dogs rule the day, profanities are common, and clips from Lord of the Rings movies can be used to convey universal sentiments like the joy of revenge. All right, there are plenty of websites like that, but this one is more popular than those of the Weather Channel and the New York Times. Although it looks like just another photo-sharing hub, it's the best example yet of how a new generation of Internet users prefers to express itself.
Imgur (pronounced "imager") is a place to post and browse GIFs, the Internet's de facto file format for pictures and short, punchy animated clips designed for sharing on social networks. The company has only 11 employees and is located in a seedy San Francisco neighborhood, on the fourth floor of a low-rise building whose lobby combines the scents of trash and disinfectant. Yet Imgur's already profitable, thanks to a stream of display ads from movie studios and video game publishers, and is well on its way to becoming one of the highest-traffic sites in the world, with more than 120 million monthly unique visitors posting images and searching for jolts of humor and insight. "GIFs work because the punch line is instantaneous," says Imgur founder Alan Schaaf, 26. "It's entirely different from almost any other form of content on the Internet, which takes time to consume."
Imgur's morsels of media are typically trivial, pleasantly distracting, and sometimes bewildering. A quarter of the user-submitted images involve cats and dogs, often running into objects, falling off tables, and cuddling with or fighting other animals. Many images are overlaid with short captions, meant to convey an emotion that could turn that slim slice of content into a meme that resonates with Internet users and inspires them to use it in their conversations on Facebook or Twitter. "You guys are adorable," reads the caption on one image of the Mars rover. "Shaken, not stirred," reads the caption on a photo of a dog with tuxedo-patterned markings wearing a bow tie.
The company hasn't raised any venture capital, making it an anomaly in high tech. It charges heavy users $24 per year for features such as unlimited image storage and the ability to post high-bandwidth animated GIFs.
The site's appeal lies partly in its ease of use: Users don't have to register. They can jump between images with a click, and they quickly show their approval or disapproval of an image with either an up or down vote or a short comment. The most popular images are posted in a gallery on Imgur's home page that gets about 77 million views per day. "It's easy to laugh at and to downplay when you don't take into account the sheer scale at which Imgur is operating at now," says Tim Hwang, co-founder of ROFLCon, an annual conference about Internet culture. "People are finding out they can say more with Imgur and an animated GIF than they can with anything else."
Schaaf started the company while a junior at Ohio University in Athens, Ohio, in 2009, as a photo-uploading tool for Reddit, the popular news and entertainment website. Traffic from Reddit was overwhelming other photo-sharing services: When an image was in high demand, sites such as Photobucket would pull the file and ask the person who posted it to pay for a premium account. Because of that upper limit on popularity, Schaaf says, "images could not go viral in the same way videos could take off on YouTube." His site let Reddit users easily augment their posts with pictures. He launched it with a post entitled, "My Gift to Reddit: I created an image hosting service that doesn't suck. What do you think?"
Imgur ran off user donations for the first six months. Then Schaaf got a $25,000 grant from a small fund associated with his university and eventually started running Google ads to pay his storage costs. Over the next few years he opened the gallery and turned the site into an online destination in its own right. In 2011, Schaaf moved the company to San Francisco to be closer to the rest of the tech industry. It has since surpassed Reddit, whose monthly audience numbers around 85 million.
Imgur's users upload about 1.5 million images a day and spend an average of 10 minutes on the site (more than the average time spent on a well-known porn site, Schaaf says). "You can easily spend an hour going through 100 pictures," says user ShamrockFury, whose real name is Stephen, and who asked that his last name be withheld because he doesn't want his boss to know how he spends time at work. He says he's drawn to the site as an easy source of distraction and enjoys trying to reach the home page gallery with his contributions, like a recent clip of a raccoon stealing pet food as two cats watch. Sampling the unfiltered stream of GIFs as they upload to the site "is basically like looking into the mind of a 14-year-old boy," he says.

Imgur is the latest in a long line of image-sharing services that have captured large online audiences. Sites such as Photobucket, Flickr, Shutterfly, and Instagram all were acquired or had initial public offerings. While many such sites focus on allowing users to organize their photos and create collections, Imgur "was purely optimized for getting your image on the Internet as quickly and easily as possible," says Schaaf. The site provides a short link with each image to facilitate sharing on Twitter, Facebook, and blogs.
There have been a few rumors that Imgur was in acquisition talks, including recent reports of interest from Yahoo! A Yahoo spokeswoman said the company doesn't comment on speculation. Chief Operating Officer Matt Strader says only that Imgur constantly talks to other companies and prospective investors. In January the company released a "meme generator" app for the iPhone that allows users to convert any photo into an Imgur-ready image. It's also working on hiring a sales team and creating tools that will let users track their images across the Web and see where they're reposted.
One challenge will be mollifying Imgur's impassioned community if the site becomes more commercial. Schaaf doesn't seem worried. "We want to become the best place on the Internet for self-expression and entertainment," he says. "If we have to raise money to achieve that goal and maybe move faster, we'll do it."
Before it's here, it's on the Bloomberg Terminal.
LEARN MORE