Con Man Minkow Convicted. Again. This Time for Cheating Church
Paul M. Barrett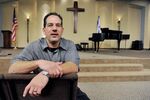 In December we brought you the strange tale of how the publicly traded homebuilder Lennar battled an inventive shakedown scheme. Lennar's antagonists were a San Diego real estate developer with whom the company had earlier done business amicably and the notorious con man Barry Minkow. A teenage sensation in the 1980s whose ZZZZ Best carpet cleaning business turned out to be a massive fraud, Minkow went to prison (again) for his role in extorting Lennar. Now—surprise—he's in trouble again.
On Wednesday, Minkow pleaded guilty to embezzling money from the San Diego Community Bible Church, where he had served as pastor after finding God during his earlier prison stint on the ZZZZ Best conviction. Even as Minkow admitted ripping off his spiritual flock, he's still serving time for the securities fraud violation he confessed to in the Lennar episode. He potentially faces five more years behind bars when he's sentenced for defrauding the church.
Under his latest plea, Minkow admitted that he opened unauthorized church bank accounts, forged checks, and used donations for himself, the Associated Press reported. Minkow was running a stock-research and short-selling operation out of the same building that housed the church.
One of my favorite bits from the Lennar article—apologies for immodestly quoting myself—was the account offered just last month by Minkow's criminal defense lawyer. In light of Minkow's latest guilty plea, it's worth savoring this non-apology:
"Minkow … has been serving his time at a federal prison in Lexington, Ky. His lawyer, Alvin Entin of Fort Lauderdale, says that as a result of completing a drug-treatment program, Minkow could gain his freedom early next year. Potentially postponing his release, though, is a separate investigation into whether Minkow swindled members of his former church in San Diego, now under the leadership of a new pastor. In a September court filing, a federal prosecutor in Miami said the convicted con man was 'likely to be transported soon' to Southern California in connection with the Community Bible Church probe. Playing down the magnitude of the church case, Entin says, 'That matter concerned only a few hundred thousand dollars, and most of it was paid back.' Some church members 'made a bundle of money with Barry when he was short selling,' the lawyer adds, 'so it's strange that they're complaining at this point.'"
Obviously, Entin was wrong about his client getting out soon. Can't fault the lawyer for optimism, though.
Before it's here, it's on the Bloomberg Terminal.
LEARN MORE