Specter of Default Stalks Argentina
Inflation is high, foreign reserves are low, and the economy is stalling
By and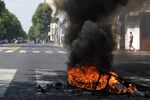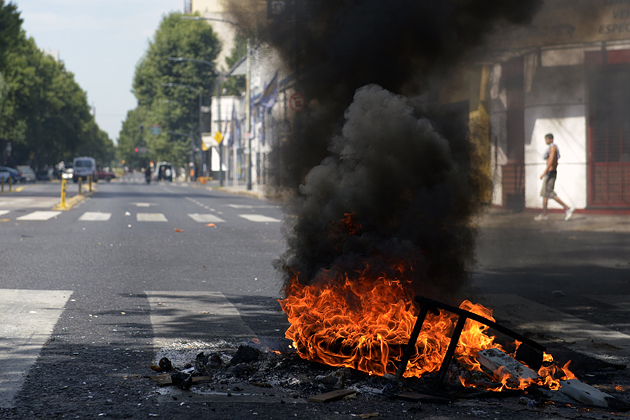 For Dominga Kanaza, it wasn't the soaring inflation or the weeklong blackouts or even the fear that looting would spread from the outskirts of Buenos Aires that frayed her nerves. It was all of them combined. At one point, the shop owner refused to open the shutters protecting her corner grocery more than a few inches—just enough to sell soda to passersby on a sweltering summer day.
"It was scary," says Kanaza as she yells out prices to customers. The looting broke out days earlier after police went on strike in the nearby province of Cordoba. The walkout left Cordoba to criminals, who spread mayhem all the way to Buenos Aires. Kanaza says it was like nothing she had seen since the rioting that followed the nation's record $95 billion bond default in 2001.
President Cristina Fernández de Kirchner is running out of time to avert another crisis. The policy that Fernández and her late husband and predecessor, Néstor Kirchner, used to propel 7.2 percent average annual growth over the past decade—higher government spending financed by printing money—is unraveling. An official spokesman turned down a request for an interview with Fernández.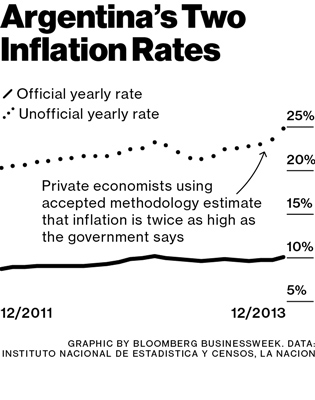 Inflation climbed to 28 percent last year, according to opposition lawmakers who broadcast findings of economists operating clandestinely. These academics have been cowed into silence by Fernández's crackdown on price reports that clash with government figures. The official data collectors say inflation last year was only 11 percent. The peso has fallen 26 percent in the past 12 months, its worst rout since the devaluation that followed the 2001 bond default.
Power outages like the one that plunged Kanaza's shop into darkness have become more frequent. The power grid was starved of investment as the government kept electricity prices low to contain inflation. The International Monetary Fund, which censured Argentina for misreporting inflation, predicts the economy will grow 2.8 percent this year, about half the 5.1 percent average for developing nations.
The biggest financial problem is the loss of foreign reserves. They've dropped 44 percent in the past three years, to $29.5 billion, as prices for soy and wheat exports slumped and Argentines changed pesos to dollars and stashed them abroad. The government says it will shore up reserves in 2014.
The country remains locked out of international debt markets as it haggles with billionaire hedge fund manager Paul Singer over lawsuits stemming from the 2001 default. Argentina's attempt to link its currency to the dollar in the 1990s throttled the economy, leading to its default. Singer wants full reimbursement on the defaulted debt his fund holds, having rejected restructuring terms that other creditors accepted. Foreign exchange reserves are the government's main source of dollars to pay holders of $50 billion in bonds.
The country's average bond yield of 12 percent is the highest among major developing nations after Venezuela. Trading in swap contracts that insure bonds against nonpayment shows a 79 percent probability of default over five years. "We're seeing some sort of day of reckoning," says Diego Ferro, co-chief investment officer in New York at Greylock Capital, which has invested in the country's debt. "The adjustment will have to happen if Argentina doesn't want to hit a wall before 2015." He foresees a run on deposits, hyperinflation, and a steep drop in reserves if the government doesn't change its policies.
In her first day back on the job in November after surgery to remove a blood clot near her brain, Fernández replaced most of her cabinet. The new cabinet has pledged to work with the IMF to improve the quality of economic data. It has started talks to settle $6.5 billion of overdue debt with key creditor nations and unveiled plans to compensate Spain's Repsol for the seizure of its local oil business in 2012.
Ferro doubts any of this will be enough to avoid another crisis. Bolder measures, such as reaching a deal with Singer to regain access to overseas markets and lifting currency controls, are needed to win back investor confidence, he says. Fernández hasn't signaled her next move. She gave a radio address on Jan. 22, breaking a silence that began on Dec. 19.
That's what angers Argentines like Miguel Llanes the most. While looting spread across the country and the blackouts in Buenos Aires dragged on day after day, Fernández was nowhere to be seen. Llanes, forced by the blackout to keep his curtain shop in downtown Buenos Aires closed for more than a week, finally joined protesters burning tires and garbage in the streets. "Where was the president?" he shouted. And then he raised a question that holders of $50 billion of Argentine bonds are asking, too. "How long will this last? They've spent all the money."
BOTTOM LINE -
The bottom line: Civil disorder, capital flight, and slowing growth are undermining Argentina's effort to avoid default.
Before it's here, it's on the Bloomberg Terminal.
LEARN MORE