Lloyd Blankfein Was a History Major. Just Sayin'
By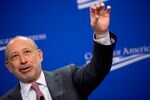 Business majors who are beavering away in college on accounting and finance in hopes of becoming the next Lloyd Blankfein might like to know that the original Lloyd Blankfein was a history major long before he ran Goldman Sachs.
Today at the World Economic Forum annual meeting in Davos, Switzerland, Harvard University President Drew Gilpin Faust cited Blankfein's college studies to make her case that humanities—including history—"are more important than ever." She said the study of history helps students understand change.
Of course, she would say that. Faust got her Ph.D. in history and wrote six history books, mostly about the Civil War and the antebellum period. She said her history training has been "absolutely essential" during her leadership of Harvard.
Faust asserted that JPMorgan Chase's chief executive officer was also a history major, but that appears to be historically inaccurate. Jamie Dimon majored in economics and psychology at Tufts University.
But if Faust wanted to impress her audience that history isn't just one damn thing after another, she could have cited such other history majors of past and present as—quoting here from a University of California, Davis Web page—John F. Kennedy, Richard M. Nixon, Joe Biden, Anthony Kennedy, Sonia Sotomayor, Newt Gingrich, Robert Johnson, Carly Fiorina, and, well, Conan O'Brien.
If you don't know who all those people are, it's time to hit the (history) books.
Before it's here, it's on the Bloomberg Terminal.
LEARN MORE