JPMorgan's Creditors Look Past Madoff Fees in Bond Sale
Charles Mead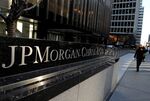 JPMorgan Chase & Co. is paying a lower relative cost to borrow than before the financial crisis even after ceding more than a year's profit to settle disputes linked to faulty mortgages and Bernard Madoff's Ponzi scheme.
The biggest U.S. bank borrowed $5.25 billion yesterday in an offering that included 10-year securities yielding 1.125 percentage points more than Treasuries, the narrowest spread among similar JPMorgan notes since 2005. The measure, used to gauge creditworthiness, has contracted from 1.33 points a year ago and is the tightest among similar-maturity bonds of Wall Street competitors including Citigroup Inc. and Morgan Stanley.
"They still command some of the best rates among the big universal banks, by all means," Chris Baker, a credit analyst at Morningstar Inc. in Chicago, said in a telephone interview.
That's after spending more than $23 billion on legal settlements in 2013, which helped end a three-year streak of record annual earnings even as it led the world in corporate-bond underwriting for the sixth straight year. While litigation expenses may remain elevated in 2014, JPMorgan's earnings power means any legal issues should be manageable, according to Standard & Poor's.
5-Part Issue
JPMorgan's five-part offering included $1.5 billion portions of five- and 10-year debentures, $500 million of three-year notes, $750 million of floating-rate securities due in 2019 and $1 billion of 4.85 percent, 30-year bonds paying the same spread as the 10-year allotment, according to data compiled by Bloomberg.
"We have a hard time making sense out of extending 20 years, but picking up no additional spread," Baker said. The equivalent relative yields may be due to "pension funds needing long-duration assets and having a hard time finding the supply to match up with their longer liabilities," he said.
The 10-year bonds traded at 99 cents on the dollar to yield 4 percent at 9:43 a.m. in New York, according to Trace, the bond-price reporting system of the Financial Industry Regulatory Authority.
Tasha Pelio, a spokeswoman at New York-based JPMorgan, declined to comment on the bond sale.
JPMorgan's litigation costs sapped $1.1 billion from fourth-quarter profit of $5.28 billion, down 7.3 percent from a year earlier with the firm paying $2.6 billion to resolve criminal and civil allegations it failed to stop Madoff's fraud. That brought its legal settlements from the past two years to more than $29 billion.
Narrowing Spread
The bank, led by Chief Executive Officer Jamie Dimon, booked a $7.2 billion charge in the third quarter amid provisions to cover legal expenses, including part of a record $13 billion settlement of mortgage-bond probes. Still to be resolved are inquiries into whether hiring practices in Asia violated anti-bribery laws, as well as possible manipulation of interest rates and currency benchmarks.
That hasn't stopped investors from accepting lower relative interest rates to own JPMorgan's debt. The average spread on the bank's dollar-denominated, senior unsecured debentures declined to 88 basis points on Jan. 20 from 117 at the end of September, Bloomberg data show. That's below the 101 basis-point average for similar debt linked to Citigroup, Morgan Stanley, Bank of America Corp. and Goldman Sachs Group Inc., which paid an extra 136 on Sept. 30, the data show.
The JPMorgan bonds mature in 7.5 years on average, compared with 5.5 years for its competitors. A basis point is 0.01 percentage point.
'Earnings Power'
While the bank has a lower Tier 1 capital ratio than each of its U.S. peers, it still generates the most profit, Bloomberg data show. Net income of almost $18 billion in the last four quarters is 29 percent more than second-ranked Citigroup, giving JPMorgan greater ability to withstand charges.
"When we talk about ability to absorb legacy settlement costs and other charges, no one's better equipped to do that than JPMorgan because they can simply earn so much," said Conor Pigott, a credit analyst at Barclays Plc in New York.
The company may produce an almost 11 percent return on equity this year, the highest estimate among competitors that may generate an average of 8.6 percent, Bloomberg data show.
"The earnings power of the baseline bank has remained strong and its businesses have not been impacted by the litigation," said Stuart Plesser, an analyst at S&P, which has an A credit rating for JPMorgan. "That earnings power is going to take over at some point in time."
Before it's here, it's on the Bloomberg Terminal.
LEARN MORE