Floating Notes Debut in U.S as Cash Chases Fewer Securities
Kasia Klimasinska and Liz Capo McCormick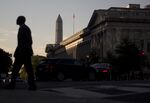 The U.S. Treasury Department's floating-rate notes may generate strong investor demand given a scarcity of money-market securities and a looming debt limit that's accelerating a decline in bill supply.
Floaters would be the Treasury's first new security in 17 years. Details of the inaugural sale of the two-year notes Jan. 29 will be announced tomorrow even as legislation on the nation's borrowing limit causes the Treasury to scale back on bill sales and as dealers reduce activity in the repurchase agreement market.
"With money-market mutual fund assets at the highest in the last few years and supply at relatively low levels, there is more cash chasing less securities," said Andrew Hollenhorst, a fixed-income strategist in New York at Citigroup Inc., a primary dealer required to bid at the auction. "There is more cash now in the money funds and less investable assets on the supply side -- both of which should support demand at the Treasury's auction this month."
The confluence of less supply and robust demand may help counter risk that the Treasury's financing costs will rise as faster economic growth boosts interest rates. Critics including Campbell Harvey, a professor at the Fuqua School of Business at Duke University in Durham, North Carolina, argue that the government is ill-advised to sell floaters now with borrowing costs near record lows. Harvey proposed the government sell floaters about two decades ago.
Inflation Hedge
The new kind of debt offers investors a short-term security that's a hedge against a potential rise in interest rates. The securities are considered short term because they are benchmarked to a short-term index -- the high rate from a 13-week bill. The rate at which interest will accrue on the notes will be re-set daily.
For the Treasury, the goal is to provide additional debt that appeals to investors. Debt managers plan to auction them monthly, with four new offerings a year and two reopenings each. The move is an addition to its strategy over the past few years of locking in near-record low rates by issuing longer-term debt.
"It is very difficult to make a convincing case that the time is right to sell floating-rate debt," Harvey said in an interview yesterday. With the Federal Reserve tapering its bond-buying program, "the Treasury should be locking in low, fixed interest rates for their debt."
In 1993, when Harvey recommended the debt, Treasury 10-year notes yielded about 6 percent and the Fed's target rate for overnight loans between banks was 3 percent. The federal funds rate target has been zero to 0.25 percent since December 2008, and the 10-year yield was 2.85 percent at 9:02 a.m. in New York.
Rate Risk
The Treasury is already exposed to short-term interest-rate risk, because it must regularly roll over maturing bills. If rates rise, the new debt will be issued at higher rates. By swapping some of the bill issuance for floating-rate notes, the Treasury is getting the advantage of a longer-term debt instrument with a similar interest-rate risk.
The market should demonstrate sufficient demand, said Joe Abate, a money-market strategist in New York at primary dealer Barclays Plc.
"These two-year floaters were designed with money fund investors in mind," Abate said on Jan. 14. The money-market funds "could absorb the entire issuance set to come this year," he said.
Assets in taxable money-market mutual funds have risen 5 percent to $2.427 trillion over approximately the six months ending Jan. 7, according to data compiled by fund research firm iMoneyNet in Westborough, Massachusetts, and published Jan. 7.
Narrow Spread
High demand will translate into floaters having a "fairly narrow" spread of about eight basis points, or 0.08 percentage point, over three-month Treasury bills, according to Abate.
With about $8 trillion of debt auctioned last year, the U.S. is the world's largest debt issuer. Besides asset managers, investors willing to buy the floaters might include corporate Treasurers, municipalities and government-sponsored enterprises and central banks, said Fidelity Investments senior Vice President Karthik Ramanathan, a former Treasury debt management director.
Demand for the safest short-term investments has increased in recent years as investors and institutions respond to more stringent liquidity and capital standards imposed by regulators aiming to reduce the risk of another financial crisis.
Debt Limit
When it suspended the U.S. debt limit until Feb. 7, Congress obliged Treasury Secretary Jacob J. Lew not to borrow more than he needs to fund government operations. To meet that obligation, the Treasury will aim to bring its cash balance on Feb. 7 to the level no higher than it was at when the suspension began, Louis Crandall, chief economist at Wrightson ICAP LLC in Jersey City, New Jersey, said in an interview.
Analysts predict that in order to bring down the cash balance, the Treasury will limit the supply of bills as Feb. 7 approaches.
Additionally, after increasing bill issuance to fund emergency programs during the financial crisis, the Treasury has cut sales of short-term debt as it pushed to lock in record low rates over the longer term.
After reaching a near quarter-century low in March 2009 at 49.4 months, the average maturity of the government's debt has risen to 67 months. Treasury bills, securities due in a year or less, are down to $1.59 trillion outstanding from a peak of $2.1 trillion August 2009.
Bank Regulation
Rising interest rates and heightened global bank regulation will make the U.S. tri-party repurchase agreement market -- another favored investment of money funds -- continue to contract in 2014, according to Fitch Ratings. The value of securities outstanding in the tri-party repo market shrank 14 percent in 2013 to $1.61 trillion, according to Fitch.
Repos are transactions used by the Fed's primary dealers for short-term funding, with money-market mutual funds typically the cash providers. In a tri-party arrangement, a third party, one of two clearing banks, functions as the agent for the transaction and holds the security as collateral.
Amid rising need for safe collateral, and inflows of cash to money funds, demand for bills has risen at the government's auctions. Investors bid an average of $4.50 for every dollar of six-month Treasury bills offered at auctions over the past three years, compared with a bid-to-cover ratio that averaged $2.20 during the three years prior to 2007.
The Treasury estimates floaters will represent about 2 percent of its debt portfolio by the end of fiscal 2016. The share of bills in the portfolio will decline to 10.4 percent in 2016 from 13.2 percent in 2013, the Treasury said in a Nov. presentation.
Three years in development, they are the first new U.S. government debt securities since Treasury Inflation-Protected Securities were introduced in 1997.
Japan and Italy have also been offering floating-rate notes.
Before it's here, it's on the Bloomberg Terminal.
LEARN MORE