NATO Builds a Pricey New Home, Complete With Cost Overruns
By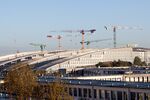 Even as North Atlantic Treaty Organization members pare their defense spending, the cost of building a high-tech new headquarters for NATO in Brussels keeps spiraling upward.
Germany's Spiegel  magazine reported today that a construction consortium led by Royal BAM Group of the Netherlands is seeking a 9-month extension and an additional €245 million ($332 million) to complete the project. That would bring its total cost to about €1.3 billion, almost three times the €460 million contract awarded in 2010 to replace NATO's Cold War-era headquarters with a soaring glass-and-steel structure to house some 4,000 staff.
Representatives of NATO member governments are angry at the request, which was formally presented at a Jan. 10 meeting, Spiegel said. Germany said it would approve extra funds only if they "don't spell the beginning of further demands on the part of BAM," according to a German diplomatic cable that the magazine said it had reviewed.
NATO gets about 22 per cent of its budget from the U.S., almost 15 per cent from Germany, and smaller shares from other European governments and Canada.
BAM spokesman Arno Pronk tells Bloomberg Businessweek that costs have risen because of "unforeseen circumstances, including significantly higher security requirements." However, he says Spiegel erred in reporting that BAM faces serious financial problems and might have to stop construction if no extra funds are approved. "Any suggestion of financial difficulty is completely unjustified," he says. "The work will not stop."
NATO spokeswoman Oana Lungescu says BAM's request is being reviewed by the Belgian government, which is managing the project on NATO's behalf. The new headquarters building, which includes energy-saving features and advanced security systems, "is a large and complex project," she says in a statement issued by her office. "Such projects carry the risk of claims for additional cost and time."
The cost overruns in Brussels come amid deep military-spending cuts across much of Europe and the U.S. A report last year by the Stockholm International Peace Research Institute found that global defense outlays shrank in 2012 for the first time in 15 years; it said spending would probably keep falling for the next two or three years.
Even at €1.3 billion, the expense of the NATO's new headquarters is dwarfed by the $4.5 billion the U.S. is paying for the new home of the Department of Homeland Security. That project is at least 10 years behind schedule.
Before it's here, it's on the Bloomberg Terminal.
LEARN MORE