Goldman Sachs Sees IPOs on South Africa Private-Equity Exits
Renee Bonorchis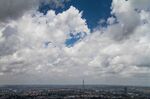 Goldman Sachs Group Inc., which was the top underwriter of initial public offerings last year, expects new listings in South Africa to jump for the first time in three years as private-equity buyers sell investments.
"There could be a new wave of listings because of private-equity portfolio exits," Colin Coleman, head of Goldman Sachs for sub-Saharan Africa, said in a Jan. 17 interview. Coleman declined to say which companies might go public other than Alexander Forbes Ltd., the retirement-fund administrator that's already announced plans for an IPO in the second half of 2014.
Last year, 12 companies went public on the Johannesburg stock exchange, the same as 2012 and down from 16 in 2011, JSE Ltd. data shows. Retailer Edcon Holdings (Pty) Ltd., acquired in 2007 by Bain Capital Partners LLC for $2.5 billion, may consider a listing, according to Chris Gilmour, an analyst at Absa Asset Management Private Clients.
Coleman declined to comment on a potential listing for Edcon. Alexander Forbes, bought by private equity investors, including Actis LLP and Ethos Private Equity Ltd. for 8.2 billion rand ($757 million) in 2007, has hired Deutsche Bank AG and Rand Merchant Bank to advise on an IPO.
Emerging-market initial share sales will gain speed this year with economic conditions "steadying" and the reopening of China exchanges in 2014, Ernst & Young LLP said in a report last month. That will result in at least 50 IPOs in the first quarter, it said, with technology, real estate and financial companies to dominate this year's listings.
M&A Opportunities
Primedia Ltd., bought by South Africa's Brait SE in 2007, yesterday named Roger Jardine as chief executive officer. The move is part of a plan to list the company on the Johannesburg Stock Exchange as Brait prepares to exit, Business Day said today, citing Primedia executive Ryan Williams. PSG Group Ltd., a financial-services company, wants to list its PSG Konsult unit, the newspaper also said, citing the unit's head.
Aside from IPOs, "opportunities for investment banks include refinancing, risk management, the restructuring of asset pools and balance sheets," Coleman said. Mergers and acquisitions, which declined as South Africa's growth fell to the slowest pace in more than four years in the third quarter, may also be on the agenda, he said.
"There will be mergers and acquisitions in South Africa, I'm just not relying on it," Coleman said, adding that Johannesburg will remain the entry point for investment elsewhere in the continent. "One of the key themes remains how to buy into Africa and South Africa is the platform. South African companies are well-managed and transparent" making them attractive targets for foreign buyers, he said.
Barclays Plc and Standard Chartered Plc are among the banks to have moved staff to Johannesburg in a bid to tap growth rates in Africa outpacing those of developed nations.
Declining Growth
While cross-border transactions may slow in South Africa before general elections this year, there will be domestic deals and the rest of continent will remain active, Coleman said.
Elections, due to take place by July, will test the support for the ruling African National Congress and its ability to implement a National Development Plan that's been welcomed by investors, yet rejected by labor unions. The plan spells out the investment needed to boost growth to 5.4 percent by 2020, from the government's forecast of 2.1 percent for last year, and cut the nation's 25 percent unemployment rate by half.
"The biggest issue for the year is the team that gets put in place post the election," Coleman said. "We need to see the depth and quality of the administration -- not just in the financial portfolios, but also mining, public works, education."
South Africa can't afford another round of stoppages in the platinum industry, Finance Minister Pravin Gordhan said yesterday in an interview with SAfm from the World Economic Forum in Davos, as the union representing most workers at the world's top three producers of the precious metal served notice that its members will start a strike over wages later this week.
Before it's here, it's on the Bloomberg Terminal.
LEARN MORE