Buffett's Berkshire Hathaway Brand Helps Sell Homes
Berkshire Hathaway puts its name on a brokerage business
By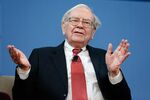 Warren Buffett has invested for decades in strong consumer brands—from Geico to Dairy Queen—counting on the power of a trusted name to move merchandise. Now, in a rare use of his holding company's name as a consumer brand, he's testing the ability of "Berkshire Hathaway" to sell houses.
Since last year, For Sale signs bearing the Berkshire Hathaway HomeServices name have been popping up on lawns from New Jersey to California as Buffett expands his real estate operations and licenses the name to independent brokerages. While the Berkshire brand may help sell houses, thousands of people will be doing business under the name that Buffett, 83, has spent decades burnishing. Some brokers joining the network have received a pamphlet with his photo urging workers to act ethically and report anything that might compromise the company's reputation. "It's an innocent strategy until proven guilty," says Jeff Matthews, a Berkshire shareholder and author of books about the company. "A bunch of bad actors could sully the brand."
At an open house for brokers in December, cabernet-and-white Berkshire Hathaway HomeServices signs directed visitors into a four-bedroom home in Princeton, N.J. After the event, Helen Sherman, the listing agent for the property, said the Berkshire Hathaway name gives people confidence and a sense of stability. Catherine O'Connell, a sales associate, put it more succinctly: Buffett is "a big name-drop," she said.
Ron Peltier, chief executive officer of Berkshire's HomeServices of America unit, has spent almost $500 million on acquisitions in recent years. In 2012, he bought a majority stake in a venture that licensed the Prudential and Real Living brand names to more than 500 brokerages. "The market was in the early stages of correcting," says Peltier. "We saw the franchise network available, and we were in need of a great brand to build this national network."
He also bought eight brokerages in cities including Philadelphia and Seattle. The purchases helped the company's agent force to swell by more than 50 percent in the past two years, to about 22,000. In 2013, HomeServices-owned brokerages participated in home sales valued at $55 billion, up from $42 billion in 2012. In some cases, the company's brokerages operate under their own names, such as Edina Realty in Minnesota.
Buffett acquired HomeServices in 2000 as part of Berkshire's buyout of MidAmerican Energy Holdings, an electric-and-gas utility. In his 2013 shareholders letter, Buffett said he "barely noticed" the brokerage business at the time. Its operating profit was $117 million in the first nine months of 2013, more than double a year earlier.
Housing has long been a key area of investment for Buffett. Other Berkshire subsidiaries include brick, paint, and carpet companies; Clayton Homes, a seller of manufactured and modular houses; and insulation maker Johns Manville. Berkshire also owns more than $20 billion in stock of Wells Fargo, the country's largest mortgage lender.
In February 2011, Buffett forecast that the housing market would rebound in a year or so. While he called that prediction "dead wrong" in early 2012, housing soon started to come back as dwindling inventory pushed up prices and spurred new construction. He's about to learn how potent the company name really is. "It's always been used as an investment brand," says Stefan Swanepoel, a consultant and author on real estate trends. "The question is: Can you position it as a consumer brand?"