Yen Carry-Trade Gauge Rises to 2008 High Amid BOJ Easing
Masaki Kondo, Mariko Ishikawa and Shigeki Nozawa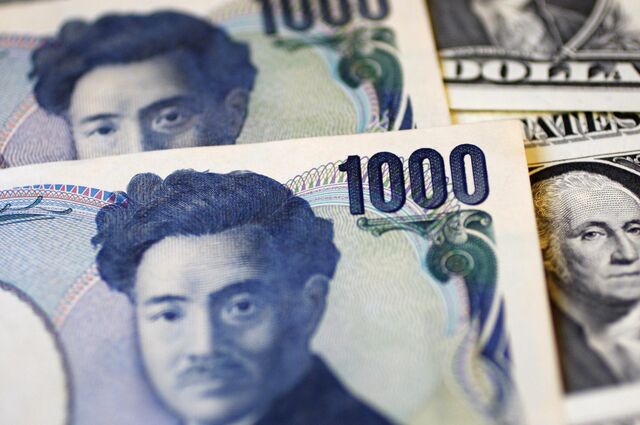 A gauge of demand for yen carry trades is at its highest since 2008 as Bank of Japan Governor Haruhiko Kuroda keeps borrowing costs near zero while global interest rates climb.
Foreign banks' lending in Japan to their main offices, an indicator of demand for the yen to fund purchases of higher-yielding assets, climbed for a fourth month in November to 8.3 trillion yen ($79.5 billion), the most since December 2008, the latest BOJ figures show. Yen carry trades delivered 10.4 percent returns against the won in the fourth quarter and more than 6 percent versus 11 other major currencies.
The yield gap between Japanese government bonds and 19 other sovereigns has widened from a 20-year low in May, according to Bank of America Merrill Lynch indexes, on speculation the BOJ will expand its unprecedented monetary easing. Japanese investors increased their holdings of overseas bonds in November by the most in three years, a report from the Ministry of Finance showed yesterday.
"Carry trades will pick up," said Mitul Kotecha, the global head of currency strategy in Hong Kong at Credit Agricole Corporate & Investment Bank SA. "You're going to see yield differentials widen further, particularly against the yen, and I think the yen will increasingly be used as a funding currency."
In the third quarter, the highest yen carry return was 7.1 percent against the New Zealand dollar, followed by the won gaining 5.9 percent. The strategy delivered profit against all 16 major peers in the fourth quarter, while it lost money against three in the third.
Falling Yen
The yen weakened 0.2 percent to 104.36 per dollar as of 4:19 p.m. in Tokyo today, after posting an 18 percent drop in 2013, the most since 1979. It will depreciate further to 110 by the year-end, a level unseen since August 2008, according to the median estimate of economists compiled by Bloomberg.
Japan's 10-year yield rose half a basis points, or 0.005 percentage point, to 0.66 percent, the lowest globally. An auction of 1.7 percent, 30-year debt today attracted bids valued at 3.34 times the amount available, the lowest bid-to-cover ratio since March.
Overseas financial companies in the Asian nation could borrow from local interbank markets and send the funds to their headquarters, which could then be used to buy currencies like the Australian dollar cheaply, said Daisuke Karakama, a Tokyo-based market economist at Mizuho Bank Ltd.
Yen Funding
"There appear to be people who want to get funding in yen as rates will continue to be low in Japan," said Karakama, whose company is a unit of the nation's third-biggest financial group by market value. "Yen carry trades could gain traction."
Foreign banks' inter-office lending peaked at 23.2 trillion yen in February 2007 when the yen was at around 120 per dollar, according to BOJ data.
Global government bonds excluding Japan yielded 1.27 percentage points higher than the Asian nation's debt, the Merrill Lynch indexes show. The yield spread has widened from the 20-year low of 0.77 percentage point on May 16 as the Federal Reserve started to reduce monetary stimulus that propped up asset prices worldwide.
Nations that have current-account deficits saw their currencies slump in the fourth quarter against the dollar, including Indonesia, Brazil, Turkey and South Africa. Their economic growth this year will be slower than the pace seen in 2007, according to economist estimates compiled by Bloomberg.
Additional Stimulus
"Carry trades aren't attractive unless the position can be held for a long time, but it's hard to imagine emerging markets will pick up rapidly in two to three years," said Satoshi Okagawa, a senior global-markets analyst in Singapore at Sumitomo Mitsui Banking Corp., a unit of Japan's second-biggest financial group by market value. "Time isn't on our side for carry trades."
Analysts see Japan's economy contracting an inflation-adjusted 4.25 percent in the second quarter as the government raises the consumption tax by 3 percentage points to 8 percent in April. The BOJ, which buys more than 7 trillion yen of government bonds every month, will boost stimulus by the end of September, 80 percent of the 35 economists surveyed by Bloomberg last month estimated.
Meanwhile, the Fed is forecast to trim asset purchases in $10 billion increments over the next six meetings before ending them in October.
Faster Growth
The World Bank raised its global growth forecast yesterday to 3.2 percent this year from a June estimate of 3 percent. The Washington-based lender maintained its projection for the U.S. economy to expand 2.8 percent, a one percentage point acceleration from 2013.
U.S. 10-year notes yield 2.20 percentage points more than similar-maturity Japanese bonds, approaching the 2.30 percentage point gap on Dec. 24 that was the widest since February 2011. The spread will expand to as much as 2.58 percentage points by the year-end, according to the weighted averages in Bloomberg polls of analysts.
"Given the economic outlook in the coming year, yields in the U.S. are likely to rise more than in Japan, so the trend is for their spread to widen," said Akito Fukunaga, the chief rates strategist at Royal Bank of Scotland Group Plc's RBS Securities unit. "If Japan's GDP trails estimates in the second quarter, that may open the door for additional BOJ easing."
Before it's here, it's on the Bloomberg Terminal.
LEARN MORE