Toyota Supplier Looks for Electronic Parts Manufacturers
Anna Mukai and Masatsugu Horie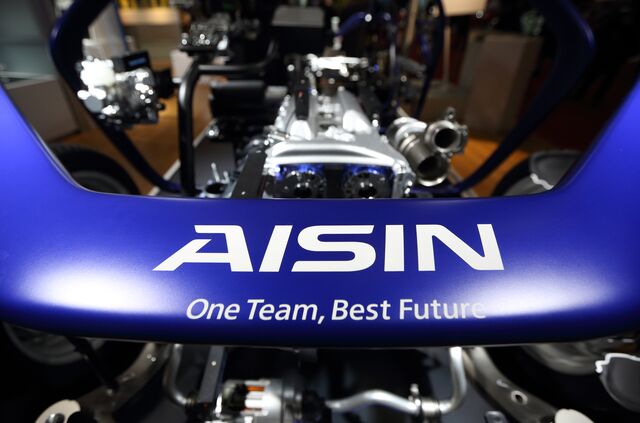 Aisin Seiki Co., an auto-parts maker that counts Toyota Motor Corp. as its biggest customer, is considering acquiring or collaborating with electronic component makers to develop parts.
"It's not possible to develop everything by ourselves," President Fumio Fujimori, 65, said in an interview at Kariya, Japan, where Aisin Seiki is based. The component maker is part owned by Toyota Motor.
Toyota last year said it will introduce systems in about two years enabling cars to communicate with each other to avoid collision. As self-driving systems and such new features become the next big trend for automakers, component makers are ramping up their efforts to supply for such vehicles.
"We are looking at companies of the electronics industry to help improve usability and comfort in cars," Fujimori said on Jan. 8. He didn't provide details of companies Aisin Seiki is looking to acquire or partner with.
Denso Corp., Toyota's biggest supplier and part-owned by the automaker, partnered with Sharp Corp. last year to develop technology using home electronic technologies.
Aisin Seiki, which makes auto transmissions, may consider forming a similar partnership, Fujimori said. Acquisitions bigger than 100 billion yen ($953 million) would be "too big" for the company, he said. Aisin Seiki had 395.33 billion yen in cash and short-term investments as of Sept. 30, according to data compiled by Bloomberg.
New Technologies
"Among major auto parts makers, Aisin is relatively weak in electronic parts, which is rapidly advancing as carmakers are now looking into technologies for products such as autonomous cars," said Takeshi Miyao, a Tokyo-based auto analyst at Carnorama Japan. "The fact that Aisin is interested in acquiring tech parts makers means they can finance that."
Japanese automobile component makers spent $499 million on acquisitions last year, lower than the $1.1 billion spent on purchases in 2012, according to data compiled by Bloomberg.
Denso in September said it will buy a 50 percent stake in ADASENS Automotive GmbH, an image-recognition technology company.
Shares of Aisin Seiki rose 1.7 percent to 4,150 yen at the close in Tokyo. The stock surged 60 percent last year, compared with the 57 percent increase in the benchmark Nikkei 225 Stock Average.
Toyota accounts for about 65 percent of Aisin Seiki's revenue in the last fiscal year. Net income will probably increase 3.2 percent to 80 billion yen in the year ending March 2014, the company forecasts.
Before it's here, it's on the Bloomberg Terminal.
LEARN MORE